The city issued a permit Jan. 5 for UF Health to build a hybrid free-standing emergency room and urgent care center at 11251 Lamb Tail Lane in Campfield Commons, off Baymeadows Road east of Interstate 295.
Batson-Cook Co. is the contractor for the $6 million construction job for the 12,490-square-foot project on 1.96 acres.
Plans show seven treatment rooms, trauma areas, office and lab space, five fast-track rooms, CT scan and radiology rooms and other areas. 
UF Health said previously it expected it to be completed toward the end of 2022.
UF Health Jacksonville, with Dallas-based Intuitive Health, announced in late 2021 that it was bringing a new emergency health care concept to Jacksonville.
The centers combine the facilities of an emergency room and an urgent care center. 
Health professionals triage patients to determine if their circumstances warrant emergency or urgent care treatment.
UF Health estimated that up to 70% of patients can be treated in less expensive urgent care facilities rather than emergency rooms, according to the news release.
The three Jacksonville locations will be open in fall 2022 at New Kings Road near Dunn Avenue; along Lane Avenue south of Interstate 10; and at the Baymeadows Road East site.
UF Health said the centers are based on successful facilities in Texas. Intuitive Health also has centers in southeast and northwest Florida.
The UF Health and Urgent Care Centers have full, 24-hour emergency room care. The urgent care is open seven days a week in the same building.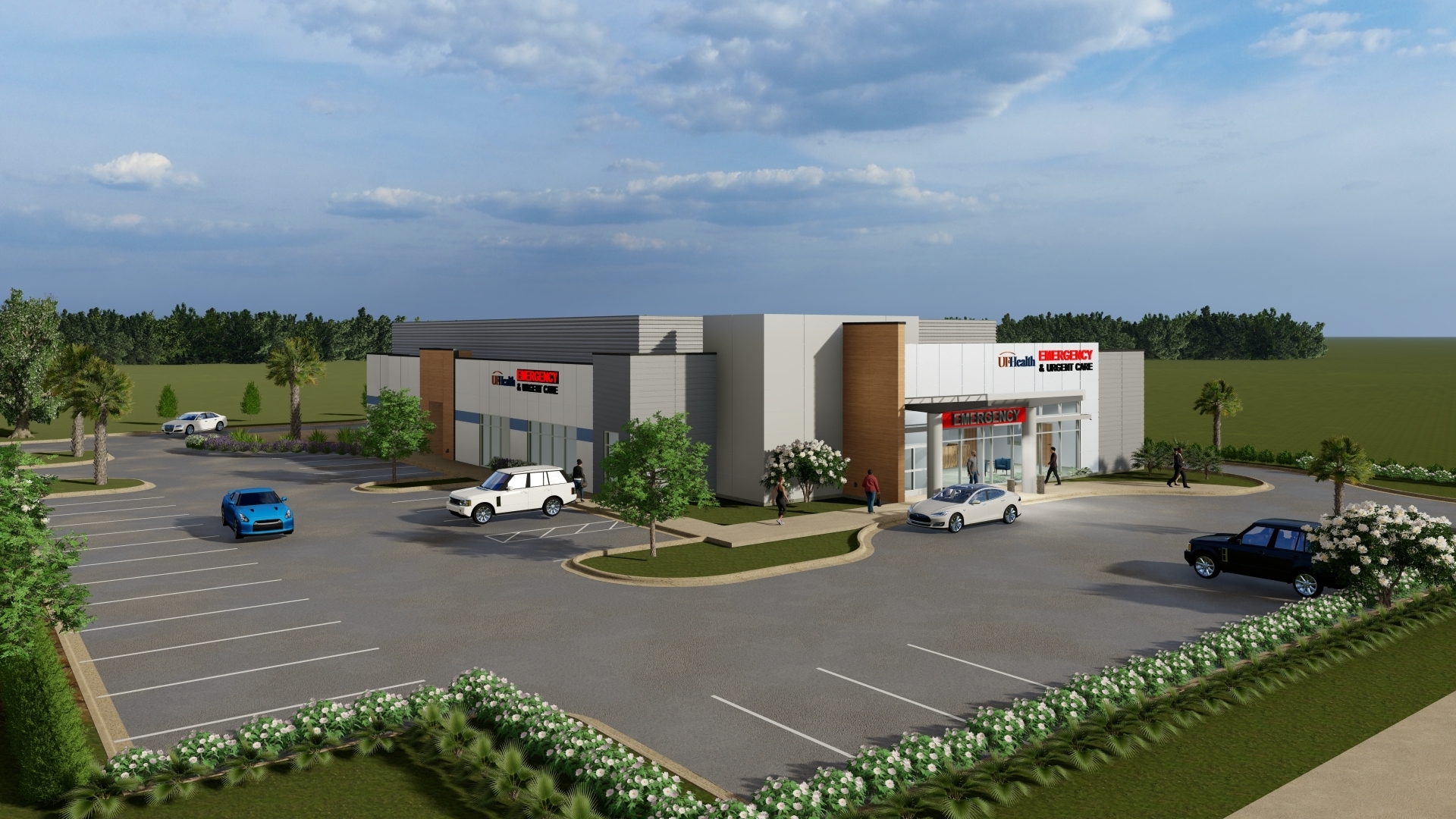 The buildings are equipped with labs, a radiology suite with X-ray and CT scanners. The facilities accept most insurance plans as well as Medicare and Medicaid, the release said.
The Campfield Commons center is the third Jacksonville free-standing hybrid UF Health ER and urgent care centers under construction.
On Oct. 18, the city issued a permit for UF Health to build a center at Dunn Village at Dunn Avenue and New Kings Road/U.S. 1 in the Dinsmore area in Northwest Jacksonville.
The 12,275-square-foot Dunn Village location will be built on 1.52 acres at 11277 New Kings Road. 
The city issued a permit Sept. 29 for UF Health to build a center at 888 Lane Ave. S. in West Jacksonville.
The Lane Avenue site is a former Ameris Bank branch demolished to make way for the 11,716-square-foot free-standing emergency department. 
Charles Perry Partners Inc. is the contractor for both of those at $6 million each.
UF Health operates two free-standing ERs in Gainesville and one in The Villages The centers are an outpatient department of UF Health Jacksonville.
"Our focus is on providing the best clinical care to citizens in our service area in the most efficient way possible," said Steve Wylie, director of development for UF Health Jacksonville, by email Sept. 14.
"We are currently and will continue to evaluate the market for additional locations to meet that need," he said.
UF Health Jacksonville in Springfield is the largest UF campus outside of Gainesville.
When UF Health Jacksonville North began building at Max Leggett Parkway, it led with a stand-alone emergency department in 2015, which was converted into a hospital emergency room when the patient tower was constructed in 2017.
Staff Writer Dan Macdonald contributed to this report.