Two major chains that offer pharmacies are branching into primary care.
Walgreens and Walmart plan to open at least 13 neighborhood clinics in Northeast Florida that offer medical services. 
They are adding the clinics at existing stores rather than building free-standing locations.
Walgreens
Walgreens plans to add six Village Medical clinics in its area stores starting this year.
The Deerfield, Illinois-based chain plans to invest $1 billion in Village Medical's parent company, VillageMD, over the next three years. 
In return, VillageMD will spend 80% of those funds to open clinics in Walgreens stores around the country.
The investment in Jacksonville so far is in the millions.
Four of the six clinics have been permitted. It is expected that the six locations will have a combined cost of $3.9 million.
The four permitted locations are at 866 Dunn Ave. in North Jacksonville; 7224 Merrill Road in Arlington; and two Westside stores at 7546 103rd St. and 654 Cassat Ave.
The two in review are at 14405 Beach Blvd. in the San Pablo area and 5340 Soutel Drive in Northwest Jacksonville.
Village Medical offers primary care services. The Jacksonville offices range from 2,400 to 3,300 square feet and will be built in existing Walgreens stores. They include a vestibule, waiting area, exam rooms and support space. 
Walgreens Village Medical combines medical and pharmaceutical services under one roof. 
The physician-led Village Medical offices are described by Walgreens as "ideal for patients with chronic conditions who need multiple daily prescriptions." 
The clinics accept health insurance and offer in-person and virtual appointments.
They offer traditional primary care physician services, including treatment of ear infections, asthma, digestive issues as well as sprains and minor injuries. 
Some offices will provide blood, urinalysis and bone density tests.
Walgreens is selling convenience. A prescription written by a Village Medical doctor can be filled in the store, negating a second trip to a pharmacy.
Also, Village Medical records are available throughout its system, so a  primary-care patient can visit any of its centers.
That is advantageous if someone needs medical care while out of town in a Walgreens market area.
The six Jacksonville clinics are part of Walgreens' plan to open 600 or more Village Medical centers by 2025 and another 400 more by 2027.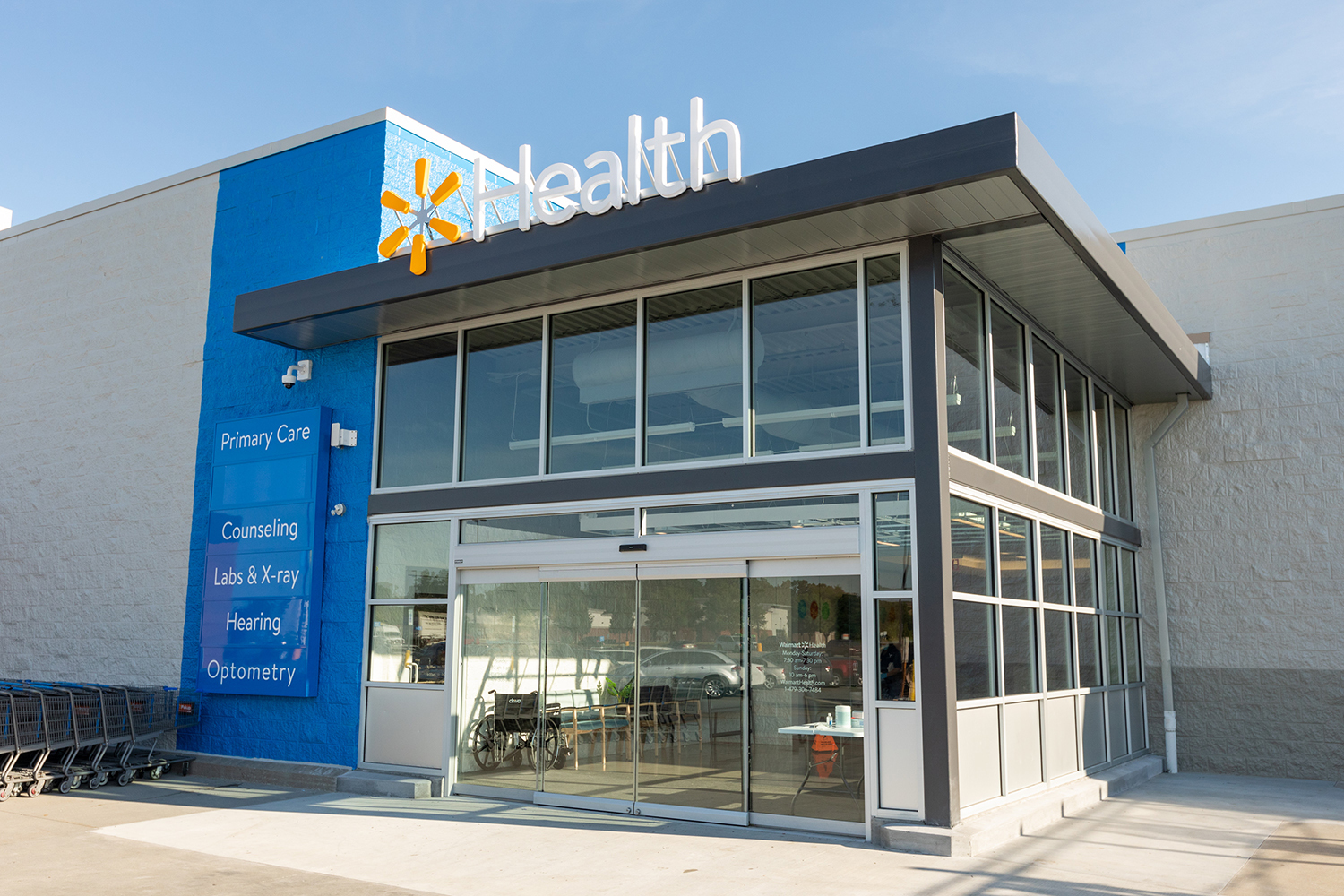 Walmart
Bentonville, Arkansas-based Walmart operates Walmart Health in Arkansas, Illinois, Georgia and Texas. 
It has at least seven planned in Northeast Florida.
The Jacksonville locations are at 6830 Normandy Blvd. in West Jacksonville; 7075 Collins Road in Southwest Jacksonville; 12100 Lem Turner Road in Northwest Jacksonville; 4250 Philips Highway in the Englewood area of South Jacksonville; 11900 Atlantic Blvd. in East Arlington/Sandalwood; and at in 10991 San Jose Blvd. Mandarin.
The Clay County location is at 1588 Branan Field Drive in Middleburg.
The Walmart Health centers usually are 6,500 to 7,000 square feet and offer primary care, urgent care, dental and lab services, imaging, counseling, and optical and hearing services.
Walmart announced in a 2020 blog post it would build seven Walmart Health centers in Jacksonville, with the first opening in early 2021, although that appears to have been delayed during the pandemic.
Walmart opened its first health center in September 2019 in Dallas, Georgia.
It is building-out some of the area health centers within existing stores and expanding other Supercenters with additional construction.
"We recognize we can make an impact by increasing access to quality, affordable and convenient healthcare as we invest millions of dollars and expand Walmart Health into Florida," Walmart said in the blog post.
"With 90 percent of Americans living within 10 miles of a Walmart store, we believe we can help by bringing quality healthcare to the communities that need it most," it said.
Doctors working at the Walmart Health centers are not employed by Walmart, but are part of a professional entity that practices at Walmart Health, its website said.
Walmart Health centers will also provide community health resources, online education and in-person workshops focusing on preventive health and wellness, the blog post said.