Ellis McGhee's old-school boxing and fitness gym in the Rail Yard District doesn't come with frills.
There is no juice bar. There are no TVs with headsets. There are no treadmills with screens showing a virtual mountain jog. 
There's not even air conditioning at the 5,200-square-foot cinder-block building.
"You're going to get the authentic 100% boxing experience here," McGhee said. 
"What they should expect is that one-on-one boxing experience without getting hurt."
Duval Boxing and Fitness Club opened in June at 1330 W. Beaver St. in a former thrift store. The district is west of Interstate 95 from Downtown.
McGhee offers a sparring ring and a phalanx of boxing bags, weights, ropes, medicine balls and other heavy workout equipment.
He said people who join his gym will get in shape. 
The workouts used for most boxers are known to be the most rigorous, and that's the hook.
"I give them that boxing experience as if they're getting ready for a fight," McGhee said. 
"I'll put them in the ring. We do a lot of conditioning and I'll get in there with them if they want to get into sparring. It's that boxing experience but more importantly it's getting them in shape."
McGhee, 56, began financially planning the gym last year and opened it last month.
He is leasing the space and planning upgrades that include signage and improvements to add to the $28,000 he has invested through business loans.
Jacksonville-based 121 Financial Credit Union financed the club opening.
"Ellis McGhee is precisely the type of entrepreneur that we at 121 Financial Credit Union take particular pride in helping turn their passion into brick-and-mortar reality," said credit union President and CEO David Marovich in a news release.
"He has built a strong following and momentum, and his passion for the community and the sport is exceptional. We look forward to seeing and supporting his long-term success."
McGhee also continues his position as a financial services executive at Black Knight Inc., a software, data and analytics company for the mortgage industry.
So far, 35 clients, including police officers, doctors and lawyers, have signed up.
Membership is $125 for six months. 
McGhee said it is starting to take off by word-of-mouth and social media.
"I'm getting every walk of life coming to this gym. Why do they come back? You get the best workout you can get," he said.
"You get the opportunity to train like a fighter. You get the opportunity to get in the ring and you get the opportunity to be coached by a certified boxing coach," McGhee said.
McGhee is certified as an instructor with USA Boxing.
About 20 years ago, McGhee started working out and training in muay thai, a combat sport that combines Asian martial arts, boxing and other elements.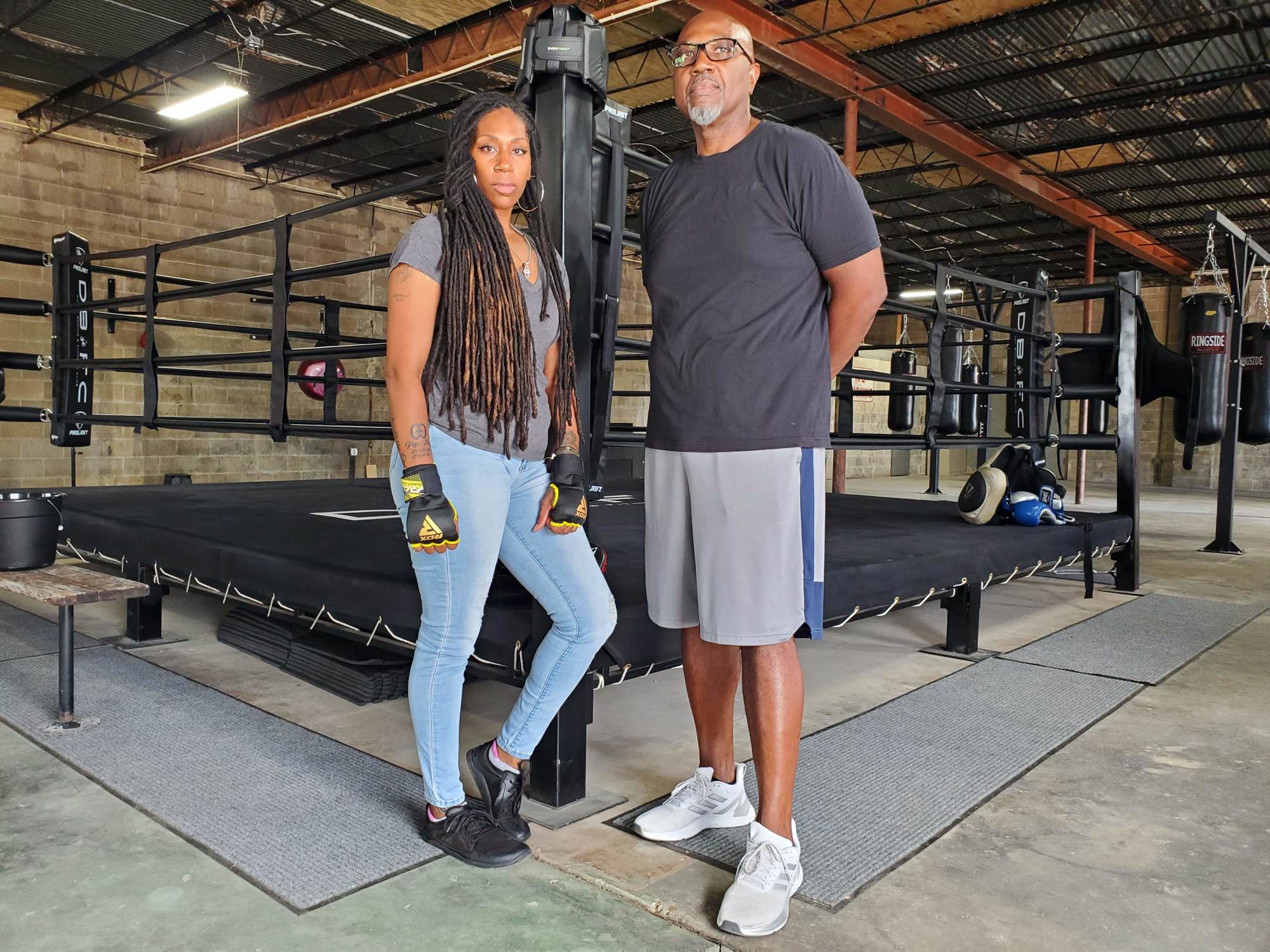 After some competitive experience, he switched to traditional boxing in Jacksonville at a former Downtown gym known as The Boxing Yard on East Union Street that was run by Hector Medina.
He stepped into the ring with Medina. "Brother, he lit me up."
McGhee then committed to boxing, but that is not the limit for his new gym.
There also are mental aspects. McGhee hired Keyana Guion as a yoga instructor.
Guion also is a boxer, but she helps clients connect the "dance" between a strenuous workout and the spiritual balance of the Eastern philosophy.
The registered yoga instructor has been teaching the discipline since 2017. 
"I feel like yoga is a complementary physical practice. It complements everything you do. It creates functionality in your day-to-day life," she said.
"Therefore, it also enhances the athletic capability of someone in the boxing ring."
She said yoga in a boxing gym is a good fit.
"When you bring elements like mindfulness, it actually flows together well. You do have to be mindful in how you move in the ring. You have to move intelligently," Guion said. 
"You really have to work your breath in the ring along with your body. So you really have to be in alignment."
Guion, 36, is a retired U.S. Army sergeant who received a Purple Heart after she was injured in Kandahar, Afghanistan, during a rocket attack in 2012. That led to her specialty in trauma-sensitive instructing in yoga.
"Every athlete has to recover," Guion said. 
"A deep-stretch class is going to help elongate those muscles that have been used consistently."
A power yoga class also helps boxers.
"When you're having a power yoga class where you're moving faster, you're incorporating the jabs. You're incorporating the movements that you would mimic or you would have to utilize when you step into the ring."