Inflation and supply chain challenges are affecting the hotel business, like almost all others, causing an across-the-board increase in room rates.
The average daily rate for hotels in Duval County was $115.01, up 8.9% in May compared with May 2021, according to data compiled by STR, a lodging industry analytics firm, and provided by Visit Jacksonville.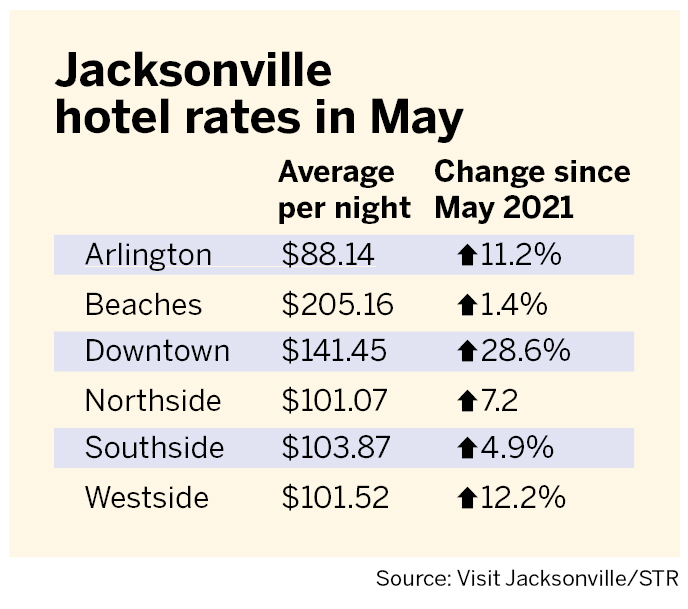 A report by Bloomberg.com says higher costs for labor and shortages of supplies needed to operate are being felt by hotel operators nationwide.
Wages in the hotel industry are up about 30% compared with 2019, before the coronavirus pandemic, Bloomberg says.
Inflation and supply chain issues are forcing hospitality operators to pay more for essential products, in some cases having to buy cleaning supplies, linens and even toilet paper in the retail market when wholesale suppliers are experiencing backlogs of weeks or months for delivery, it says.
The bottom line: Bloomberg reports that purchasing, about 15% of a hotel's budget pre-pandemic, is now about 30%.
Average occupancy in May in Duval County was 73.4%, a loss of 3.7% compared with May 2021.
With the higher rates this year, total room revenue in May in Duval County increased by $2.5 million, despite selling 15,000 fewer rooms than in 2021.
Last May, participants and visitors for an NCAA track and field event booked almost 11,000 room nights and the Marine Corps was Downtown, using 750 rooms nightly to house recruits who were in quarantine for two weeks before being sent to basic training in Parris Island, South Carolina.
Year-to-date average occupancy is 75.2% in Duval County, up 3.5%. The average daily rate is $113.60, more than $21 above the first five months of 2021. Year-to-date room revenue is $236.7 million, $53 million more than 2021.