Saxum Real Estate is moving ahead on plans to develop a 334,022-square-foot freezer warehouse in Imeson International Industrial Park in North Jacksonville.
The application and plans filed July 5 with the St. Johns River Water Management District follow civil engineering plans submitted to the city in December and approved.
Saxum proposes the project on about 32 acres at North Main Street and Van Dyck Road. Primus Builders is shown as the contractor for the "Saxum Real Estate new freezer facility."
There are 32 loading docks, 62 trailer storage spaces and 109 parking spaces.
The project was confirmed in a news release about another deal.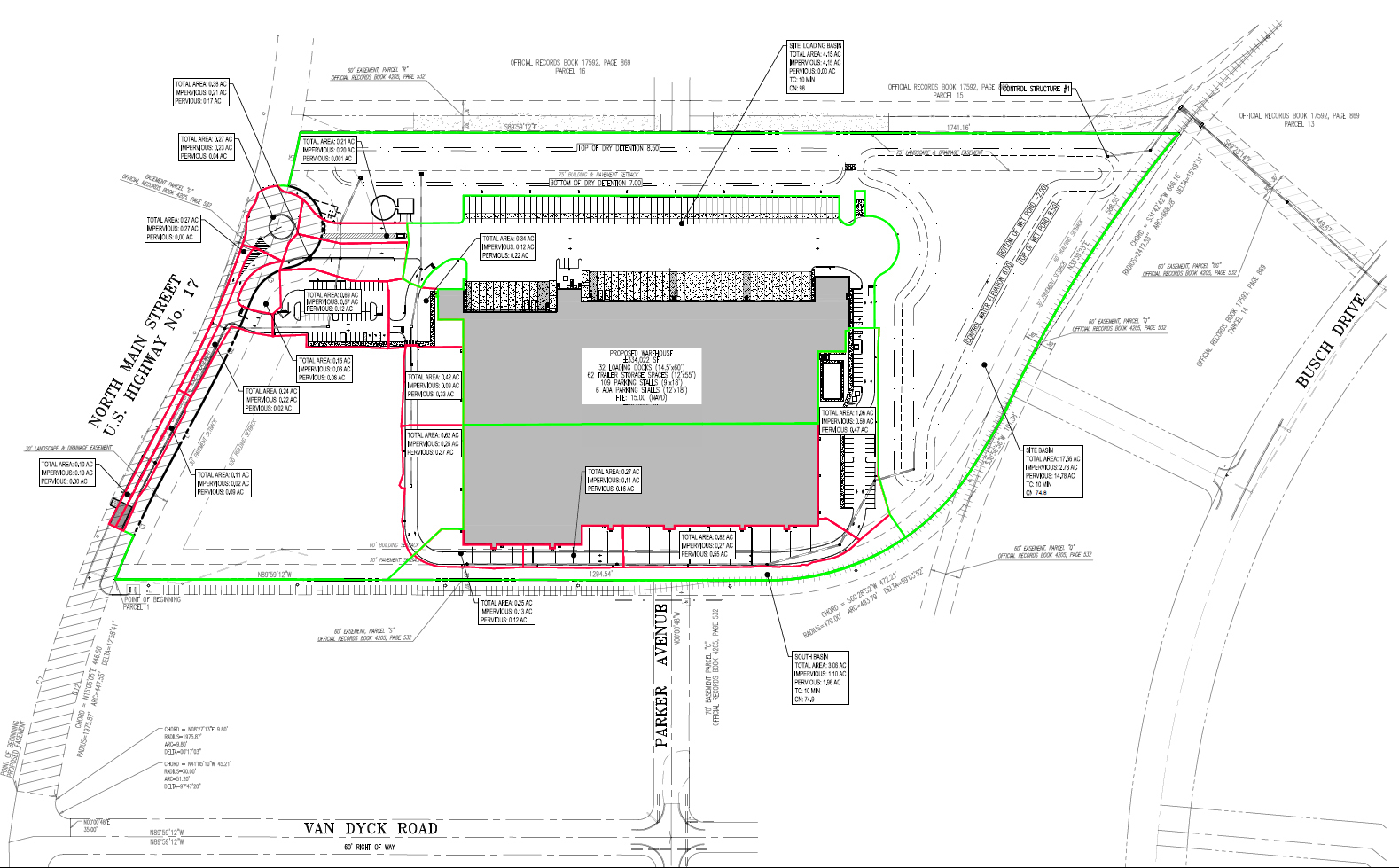 Primus Builders, of Woodstock, Georgia, broke ground July 6 with Saxum Real Estate on a two-building, 427,000-square-foot cold-storage development in Burleson, Texas. The news release said upcoming projects for Saxum include Jacksonville and in Ridgeville, South Carolina.
Primus's services include cold storage construction on dedicated distribution facilities and public refrigerated warehouses in North America.
Saxum is a vertically integrated investment and development firm with a portfolio of more than 2.6 million square feet of cold storage development. It has offices in Austin, Texas, and Summit, New Jersey. 
Its development pipeline totals more than $700 million in project capitalization across multifamily, student housing, cold storage and industrial asset classes.
It formed Jacksonville Imeson PropCo LLC in November 2021 for the North Jacksonville project.
The water management district application shows Anthony Renaldi as the applicant and operator. Dynamic Engineering Consultants PC, of Delray Beach, is a consultant.
Rinaldi is the founder and managing principal of Saxum. He also is CEO of Saxum Investment Co. LLC and Jacksonville Imeson PropCo LLC.
He and the engineer of record could not be reached immediately for comment.
A Nov. 30 agent authorization letter shows that Jacksonville Imeson PropCo LLC and Saxum Investment Co. have a contract to buy the Imeson land.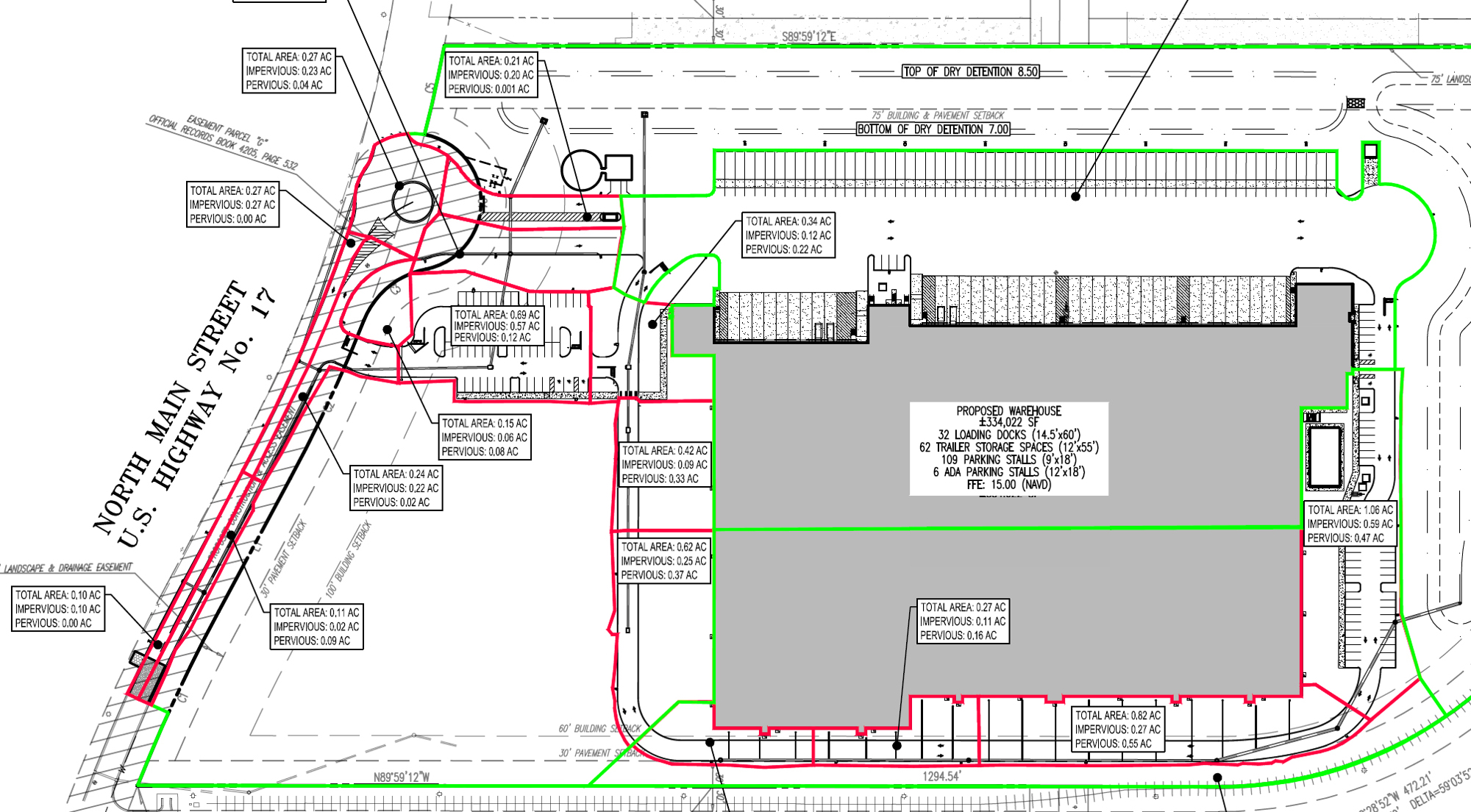 Saxum Investment Co. LLC is affiliated with Saxum Real Estate Companies LLC of Summit, New Jersey.
The principal business office is shown as Saxum Real Estate Partners of Austin, Texas.
A June 10, 2021, memorandum and notice shows that Orlando-based Industrial Park Investments LLC and Saxum Investment Co. LLC executed a purchase and sale agreement June 7, 2021, for the property.
Saxumre.com says Saxum focuses on buying undervalued and underperforming assets or sites in high-growth markets comprising major logistics and port hubs as well as transit-oriented markets.
It is one of two cold-storage facilities confirmed for Jacksonville.
BG Capital, a Philadelphia-based real estate investment and development company, intends to build an almost $101.2 million industrial cold-storage project near JaxPort in North Jacksonville.
BGCap.com says the company will buy 20.5 acres at 8730 Somers Road to build the 272,400-square-foot facility called Jacksonville Cold Storage on its portfolio list.
BG Capital says the property now is a storage area for trailers, shipping containers and automobiles.
The Wall Street Journal reported June 30 that developers are stepping up development of cold storage warehouses because of COVID-related consumer buying behavior, including home delivery and curbside pickup.
It cited a CBRE report that almost 3.3 million square feet of refrigerated warehouse space was under construction through the second quarter nationwide without signed tenants, about 1,000% more that was built in 2019.
It said Americans stocked up on frozen foods while supermarket chains and food suppliers worked to meet demand.