The Downtown Investment Authority will allow developer AXIS 404 Julia LLC to build-out fewer apartments in its renovation of the historic Central National Bank Building without reducing its $5.81 million taxpayer incentive deal.
The DIA board voted 6-0 on July 20 to reduce the minimum number of apartments the developer must build from 34 to 30 units in the 96-year-old structure at 404 N. Julia St.
DIA board documents said in order for the developer to receive the National Park Service's approval to move forward with the project, AXIS could not install windows planned for a section of the building's south-facing facade.
That limited the number of residential units the company could develop, said DIA Downtown Real Estate and Development Director Steve Kelley.
AXIS, a subsidiary of Augustine Development Group LLC, told the DIA it plans 32 units, down from 36, in the historic renovation portion of the project.
If City Council approves the deal, the amount of money AXIS would receive from the city for the $14.91 million renovation remains unchanged.
It would comprise:
• A $2,261,349 historic preservation, restoration and rehabilitation forgivable loan.
• A $2,303,348 code compliance forgivable loan.
• A $1,250,000 deferred principal loan.
The loans would be awarded through the DIA's Downtown Preservation and Revitalization Program, which is meant to encourage developers to adapt and reuse historic buildings in the core.
According to Kelley, the city's return on investment in the project remains unchanged from the original agreement.
The city is expected to receive 70 cents for every $1 investment, which is above the 50-cent floor in the incentive program.
The Central National Bank rehab also would include 5,769 square feet of ground-floor commercial/retail space.
The historic renovation is part of a $53.54 million multifamily project that includes construction of an eight-story, 103-unit apartment addition and a 487-space parking garage.
The 0.78-acre site is bordered by Church, Pearl and Duval streets.
The DIA signed off on a $2.67 million Recapture Enhanced Value Grant property tax refund for that addition.
The board also recommended the city spend $1.8 million to buy 90 parking spaces in the garage for the nearby Jacksonville Fire and Rescue Department headquarters.
All three of the proposed incentives will require Council approval. Kelley said the DIA hopes to file legislation with a redevelopment agreement in August.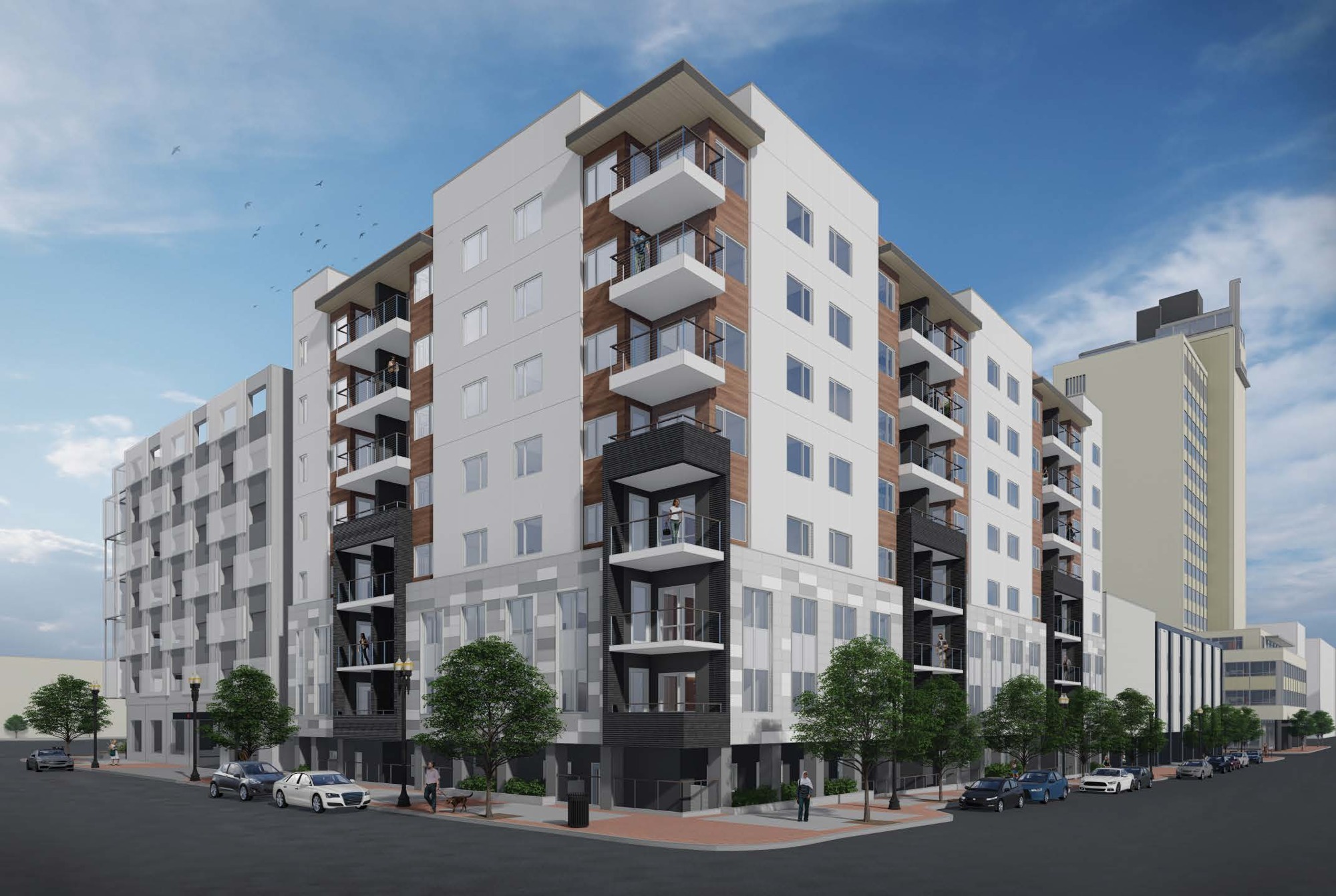 Augustine Group President Bryan Greiner and CEO George Bochis are working toward renovating two other historic buildings within two city blocks of the Central National Bank — the  Ambassador Hotel at 420 N. Julia St. for a TRYP by Wyndham hotel/restaurant and the 19-story Independent Life Building at 233 W. Duval St. into apartments and a grocery store.