When a two-term Jacksonville mayor drops their final city budget, it's natural to turn to the question of legacy.
Chris Hand, a government law attorney who served four years as former Mayor Alvin Brown's chief of staff, said mayors generally build their legacies through consistency.
"While it takes time to distill a mayor's place in history, there's no question that this administration has consistently prioritized budgetary investments like infrastructure and public safety," Hand said. 
Curry's eighth budget of $1.55 billion for fiscal year 2022-23 is up 9.15% from last year. It includes a $500 million Capital Improvement Plan — money used for infrastructure, like road resurfacing.
His infrastructure spending has grown steadily from a $71 million Capital Improvement Plan in 2015.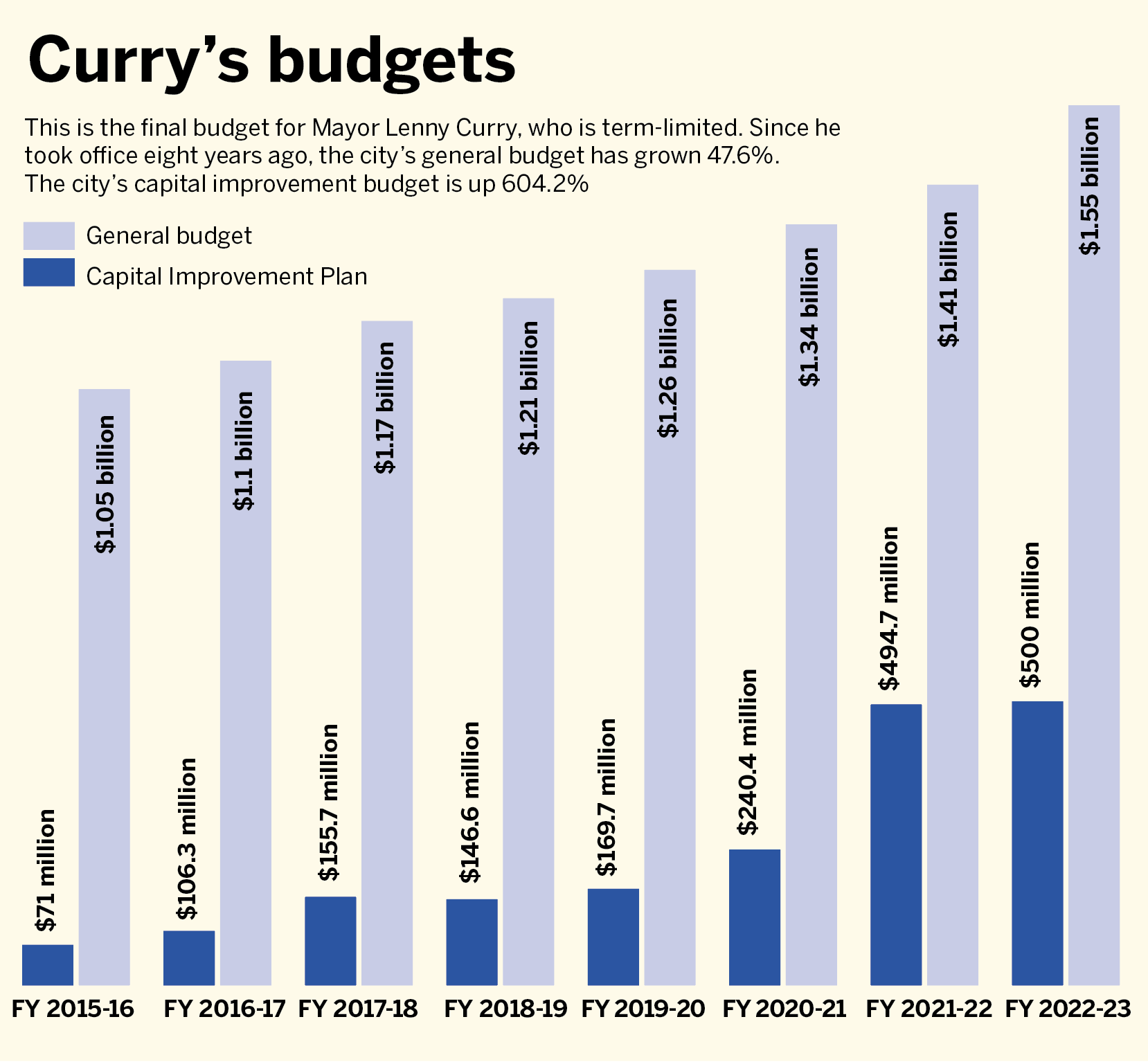 Mayors and Council members have dealt with promises to fix the city's streets, sidewalks and phase out aging septic tanks since the county and city governments consolidated in 1968.
"I think there's been a sense for a long time that Jacksonville's been behind on infrastructure investment, and the investments this administration and the City Council have made in infrastructure is part of both trying to catch up and get ahead," Hand said.
Curry says reducing the city's property tax rate by 1/8-mill could partially ease the financial impact of inflation. However, most property owners won't see a decrease in their bill because of surging values.
The Capital Improvement Plan proposes $6 million for fire station work and $10 million for climate change resiliency. 
Hand said those projects could lower property insurance costs in Duval County.
"Elected officials at every level of government right now are looking for ways to combat the impacts of inflation," Hand said.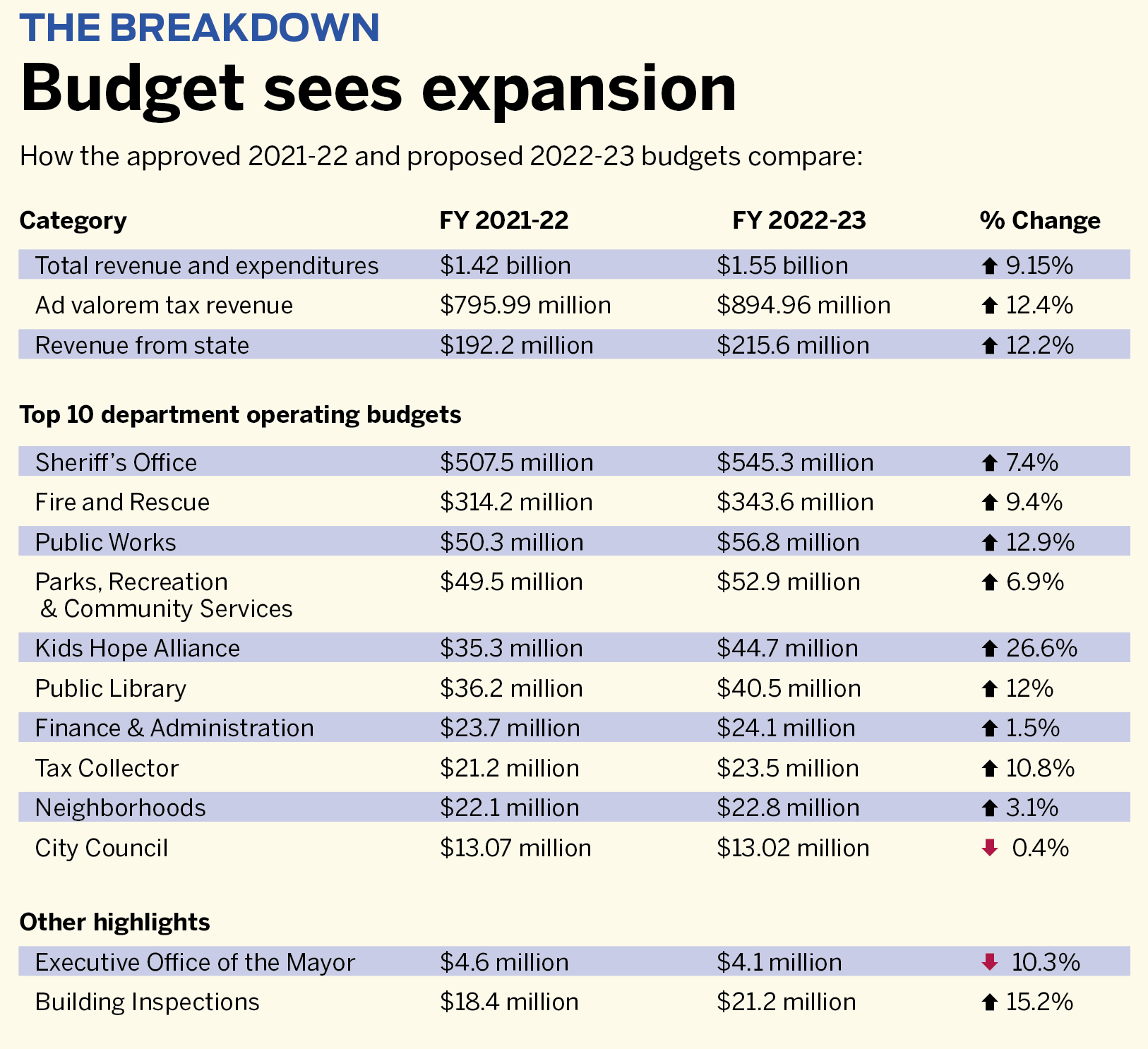 "Some of the new spending in the CIP might be spending that could have an impact on costs citizens pay day in and day out," Hand said. 
The budget's $163.55 million emphasis on Downtown for riverfront bulkheads and parks, facility improvements for the Jacksonville Jaguars and Jumbo Shrimp and other infrastructure projects for planned private development address what has become a repeated line for Curry: "You can't be a suburb of nowhere." 
The mayor told news reporters July 21 after his budget address to Council that he wished construction work for his Downtown vision would have been further along by the end of his term.
Hand said it is common for those analyzing a city budget to focus on the bigger investments, but smaller line-item projects could have a big impact, such as $1.3 million for Cultural Council grants and $2.5 million to convert Monroe and Julia streets Downtown from one- to two-way.
The Council Finance Committee will review Curry's budget during seven hearings from Aug. 11-26, but Council voted unanimously July 27 to sign off on Curry's property tax rate cut. 
City Chief Administrative Officer Brian Hughes said that will mean about $11 million less in revenue than expected in 2023. 
That does not mean the city doesn't have cash.
Hughes said $347 million in reserve funding, bolstered by $73 million in one-time federal pandemic relief money, is set aside for the next mayor and Council as a cushion allowing the tax cut.
The budget shows nearly a $100 million increase in the city's ad valorem tax revenue from fiscal year 2021-22.
Hand called that figure "eye-popping" and a flip from what former mayors John Peyton and Brown faced during the Great Recession when the city's millage rate did not change but property tax revenue dropped by $50 million.
According to Council Auditor Kim Taylor, the millage cut could reduce what the city brings in over the next 10 years by $120 million to $150 million. 
For the next year, Finance Committee Chair Aaron Bowman said July 26 that budget talks will begin with a $3 million surplus.
For candidates running for mayor in 2023, Hand said the Curry administration's final budget is a road map for the spending plan the winner will have to turn around weeks after taking office next year, July 1, 2023.
He said he would counsel all the candidates and the general public to pay attention and become involved in the budget hearings. 
"No other governmental budget, not the federal budget, not the state budget, impacts our lives as directly and immediately as the city of Jacksonville budget," Hand said.