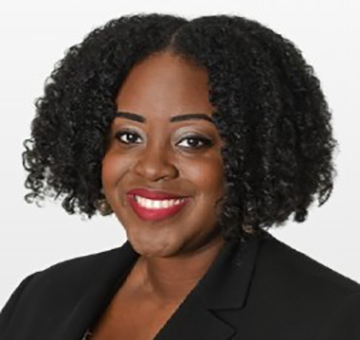 By Ciera Gainey | JBA Young Lawyers Section ex-officio board member
Believe in the "if" in life. Take a moment to rest in that thought.
While it may sound cliché, I stand by the mantra that "If you believe it, you can achieve it."
Believing in "if" can turn dreams into realities. The essence of the word resides at the corner of hope and action. Over the past few weeks, I have realized how important it is to empower youths to relentlessly believe in their potential.
It is no secret that as attorneys, it is easy to become bogged down in the day-to-day of our profession. One billable week can become hard to distinguish from the next.
We strive each day to make our work meaningful and to find purpose in what we do. To those searching for purpose or motivation, I encourage you to look no further than young people.
Recently, I had the opportunity to engage in a few youth activities in the Jacksonville area. I served as a mentor to students who participated in the Mock Trial Competition between Raines and Ribault high schools hosted by the Jacksonville Bar Association Young Lawyers Section.
I had the honor of being a guest judge at the Cheer, Step and Dance Showcase hosted by the Boys & Girls Clubs of Northeast Florida.
The tenacity and confidence that exuded from the students during each event was remarkable. It was evident that some students were nervous initially; however, support and encouragement swiftly turned things around.
I saw doubts and "what-ifs" transform into defining moments before my eyes. I left each event feeling inspired.
Paying forward some of that inspiration is now a goal of mine. Each event involved attorneys and members of the community who were willing to sacrifice time and invest their resources in the youths.
There always is room for more.
No matter your age, there is one challenge that we all face, and it is the challenge of life. Believing in the "if" in life gives us optimism. If keeps us motivated. Helping young minds believe in their what-ifs, and watching their faces light up as they transform is so rewarding.
Summer camps are starting, tutors are vital and the need for volunteers for youth activities is at an all-time high. Many of our local volunteer Bar associations have great opportunities to help attorneys invest time in our youth.
I challenge and encourage each person to find a way to get involved today.
Ciera Gainey is an associate attorney with Boyd & Jenerette.