While he was stuck at home during the coronavirus pandemic, Spencer Levy, global chief client officer and senior economic advisor at the CBRE real estate firm, spent a lot of time watching science fiction movies.
He noticed one ominous trend in movies going back a half-century.
"Several of them pegged 2022 as the year the world comes to an end," Levy said during a June 9 presentation to the NAIOP Commercial Real Estate Development Association Northeast Florida Chapter.
Watching the news these days, some people might think those movies were prescient. However, Levy is more optimistic.
"I think the world is in a much better place than the headlines suggest," he said at the lunch event at The River Club Downtown.
Rising prices have many people concerned but Levy has a positive outlook.
"We believe that inflation has peaked," he said.
Levy also believes long-term interest rates, as measured by the yield on 10-year U.S. Treasury bonds, have peaked. But short-term interest rates will continue to rise.
"This is what the Fed controls," he said.
The war in Ukraine has been a shock to the global economy. But Levy said studying events like that over the last 50 years shows the economic impact of the war will not be a long-term issue.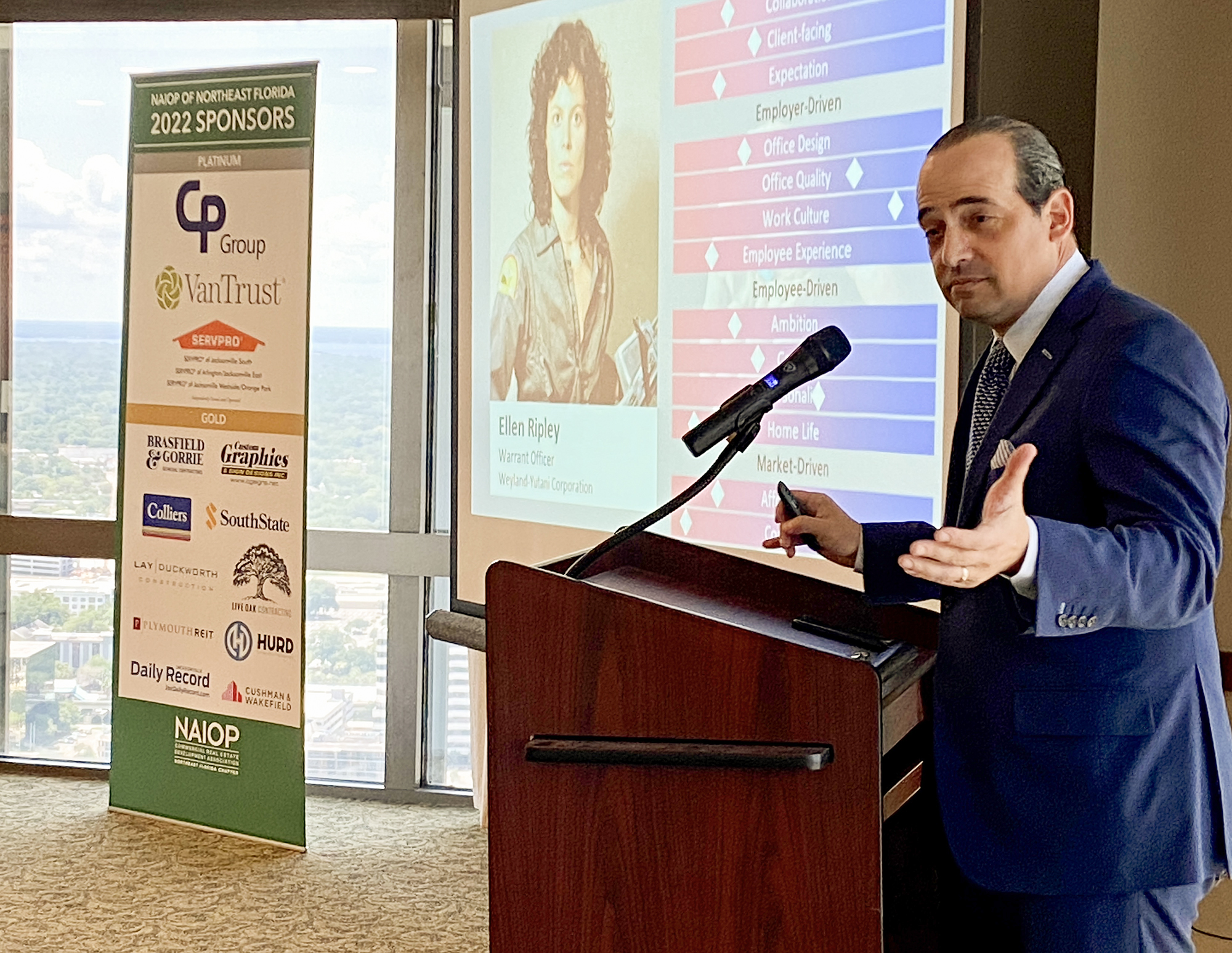 "Events like this don't affect the economy over a period of time," he said.
Levy said the chances of a recession in the U.S. economy are about 50-50 at this point.
"Don't be shocked if we're already in a recession," he said. "But don't be alarmed."
He said the balance sheets of consumers and businesses are strong enough to help the economy withstand a downturn.
Speaking to commercial real estate executives, Levy said the need for office space remains strong despite the continuing impact of employees working from home.
"We have been surprised at the upside in demand for space," he said.
He also said businesses remain willing to pay premium prices for office space because pricier buildings that offer more amenities will be attractive to employees reluctant to go back to the office.
"The ability to attract talent will drive Jacksonville forward," he said.
"Low-cost (office space) is a race to the bottom."
Jacksonville is a market known for companies opening back-office operations centers, but those are jobs that can be performed at home.
"You need to bring more front-office jobs here," Levy said.
Another economic concern is e-commerce businesses pushing out old-school brick-and-mortar retailers. However, Levy said the penetration of e-commerce sales into overall retail is going down.
It's another indicator that the economic outlook is not as gloomy as many people believe.
"The data suggests we are in a lot better place," said Levy.