Katie Cline is on the move in more ways than one when it comes to her entrepreneurial pursuits.
The 29-year-old initially established the Bumble and Bee Babysitting service in 2015.
Since then, she has developed a smartphone application to help manage some 50 sitters and is moving onward with her new company, Cheers 904.
In just more than a year, Cheers 904 has developed into a mobile bartending service for mixing cocktails and drinks for private events.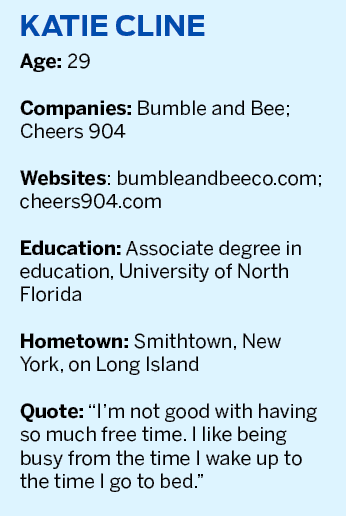 Cline moves the mobile bar with supplies and mixers in a trailer as her clients provide the liquor.
Ashtin Billhardt co-founded Bumble and Bee and additional investors helped launch Cheers 904.
Cline said she was surprisingly prepared to start her second business with Cheers 904.
"We got everything automated (through a mobile app) for Bumble and Bee and it freed up all my time," Cline said.
"I wanted to do something else. I'm not good with having so much free time. I like being busy from the time I wake up to the time I go to bed."
While Cline is dedicated to the mobile concept of business, she decided to start her second business in April 2021 during the second year of the coronavirus pandemic.
While a traveling bar service seemed counterintuitive, it turned out to be a fortunate move.
"Mobile bartending was an up-and-coming business so I decided to take it on," Cline said.
"I just knew I had the people skills and I can talk to anybody and I can sell pretty much anything. I figured as long as I got face-to-face with either vendors, clients or friends, I'd be able to sell them on a bartender for their event."
Cline also manages The Fig Room, an intimate venue on Second Street in Jacksonville Beach for clients who have events with fewer than  49 people.
She has two people helping on Cheers 904 and at least 50 babysitters with Bumble and Bee.
She said her success rests on the basic service industry paradigm of doing something for customers that they could do on their own, but would rather hire someone to do for them.
Cline moved to Florida with her parents from Long Island in 2007, initially to Port Orange. After she completed classes at Spruce Creek High School, she chose to attend the University of North Florida in 2010.
Cline said personality is the driving force for her success.
"I enjoy meeting people. I get along really well with people. I am very much a people person," she said.
"I love hosting the cocktail classes that we do and talking about things that bring me joy, which are making cocktails and making people happy."
She acknowledged she had no professional bartending experience but she learned the trade on her own.
Dentist Elizabeth Alfuente has known Cline for several years and had one of her children in the Palms Presbyterian Preschool where Cline was a child care professional. Alfuente said she is not surprised Cline is growing more successful in the business arena.
"It was very hard to trust other nannies or babysitters in the house and she was one we truly trusted," said Afluente, who followed Cline to Bumble and Bee.
"She's very outgoing, friendly and responsible. I can't put enough emphasis on that. She has started two businesses since I've known her," Afluente said.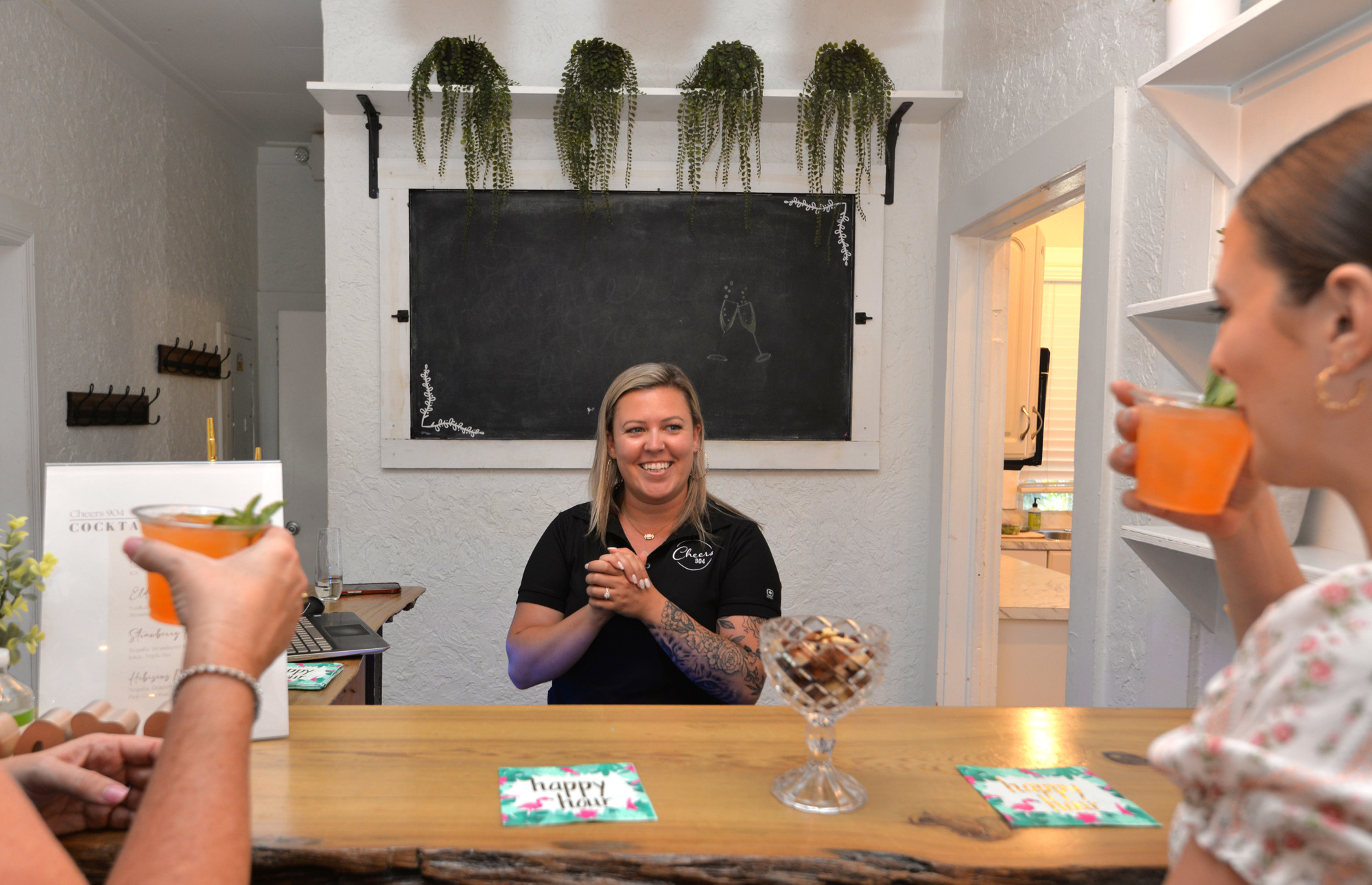 Both of Cline's businesses have shown success. Bumble and Bee averages about $120,000 in annual revenue while Cheers 904 has generated about $25,000 in the first year of operations.
"We're planning on doing double that (Cheers 904 figure) this year," she said.
While she enjoys her businesses, they are not going to be the end of the line for her professionally.
"I like sort of being the jack-of-all-trades. I like having my hand in all the pots and excelling at everything I do," Cline said.
"Once I find something that I care about, all my energy is in that, then I go on to the next thing."