The business model for Arcane Swim fits the mold for the young entrepreneur:
Create a product that your friends would buy.
Have concerns about where and how it is made.
Do as little harm to the environment as possible.
That is the credo of Arcane Swim in Jacksonville Beach. Currently, it is a bedroom project for owner Kirsten "Lulie" Mayo.
She says she designs practical swimwear for all body types, has it made in a factory that takes care of its workers in Brazil, and when the garment is discarded it is biodegradable.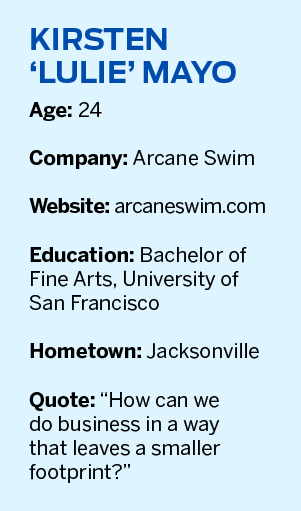 Mayo, 24, attended high school at Douglas Anderson School of the Arts. She had a job at a Jacksonville Beach surf shop and became interested in swimsuits.
"I was seeing so much of it, all of the styles and brands. I liked the fabric, but I didn't like the styles. They weren't practical for a woman's body," she said.
The swimwear all seemed to be suited for small women with size 0 bodies.
She was inspired to create her own.
Working with her cousin, Fear Perez, they would "Frankenstein" bikinis, taking the straps from one suit, matching it with the top of another and replicating the bottoms from another to come up with a swimsuit that was flattering for women of various sizes.
She turned to Instagram to poll women about what they wanted in a swimsuit and used that input to increase her designs.
Friends bought her first suits, but she lacked professional seamstress skills.
She sought a factory that treated its workers well. She found one in Brazil where most of the workers were young women of her age.
Mayo launched her brand in 2019 but had been researching it since 2016. She taught herself how to run a business, develop a website and create a brand.
She attended Florida State College at Jacksonville and received her bachelor of fine arts degree online in 2019 from the University of San Francisco.
Much of her free time while researching was spent finding biodegradable fabrics that held up to the ocean and only fell apart once in a landfill.
"We'd get swatches and take them to the beach. We'd run them under the water in the sink. We'd wear testings on all of the fabrics," she said.
"How can we do business in a way that leaves a smaller footprint?"
She found a fabric, Amni Soul Eco, that once it is discarded and in a landfill environment, 50% of it decomposes in the first three years.
Mayo's business is the definition of small. Last year her earnings were $12,000.
Her goal is for the business to grow to where she can leave her job as a manager at Urban Outfitters and devote her full time to her company.
Customers find her on social media and at pop-up shops around town. She knows she has a popular product in that she often sells out in a single afternoon. With the proceeds, she buys more swimsuits.
There is no summer line. She has new designs made as she creates them.
"The biggest challenge is maintaining our inventory. We are slow fashion. We sell out as soon as we draw something. We lose customers between drops," she said.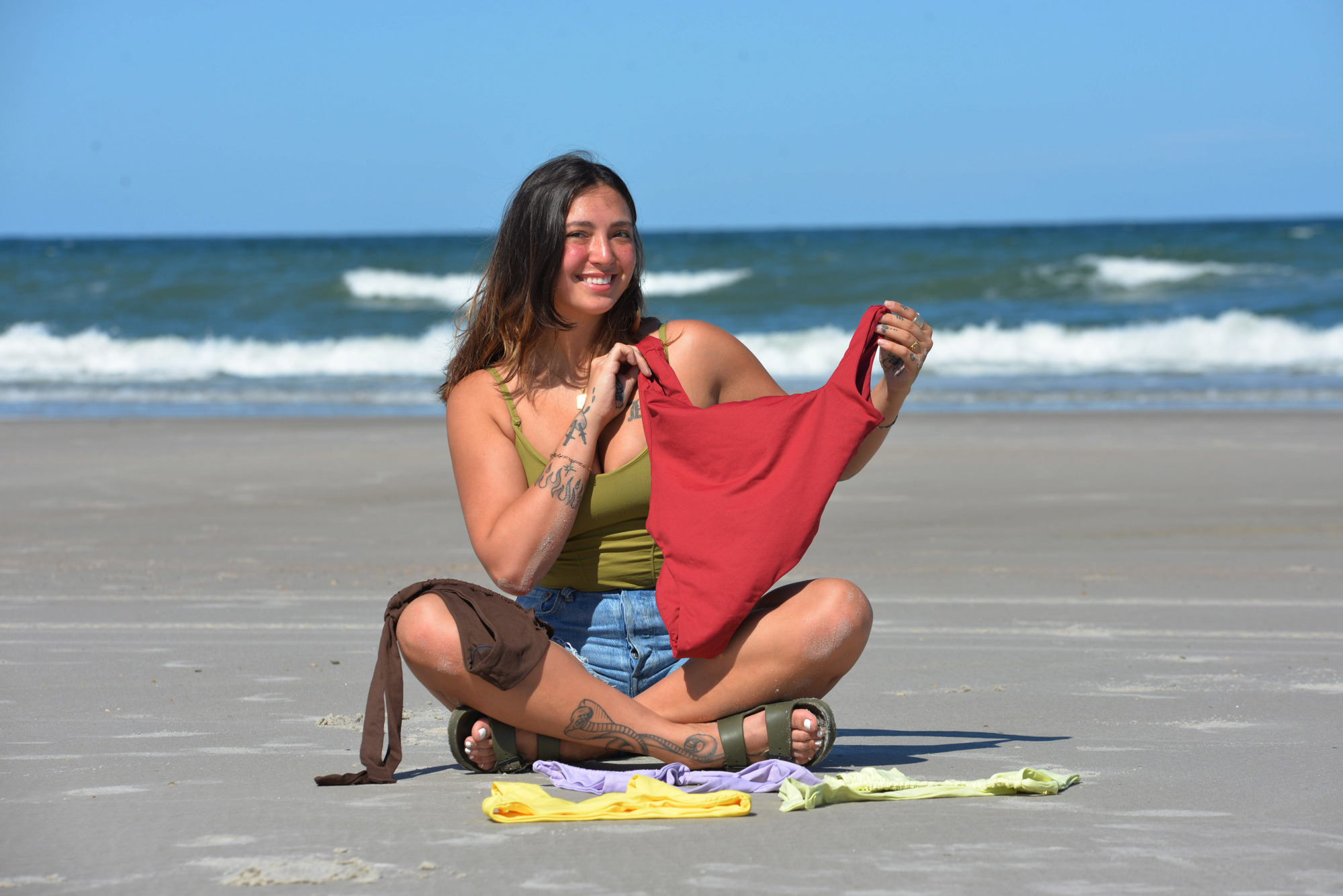 A visit to the Arcane Swim website visually explains her business. Her models represent her customers.
"To showcase one body type is ridiculous. To ask someone to go shopping online and put money on the line and hope it fits, they get it and it doesn't look like it did on the website. It doesn't fit because it was being worn by a model," she said.
"My clothes will fit because it is a representation of me and my body type."
Her customers have sent her photos of themselves in her swimsuits praising her for her designs and fit.
"That is so important that people feel included."
While she also sells T-shirts and accessories, her next endeavor is to design swimwear for men and androgynous swimwear.
"I want to make something people enjoy wearing. I want to design binder tops and unisex shorts so everyone can feel more comfortable being in a swimsuit," she said.
Arcane Swim was selected as a an interesting brand name with meaning.
"Arcane means understood by few. I think that is what we are as a business," she said.