Jacksonville University honored Mayo Clinic President and CEO Gianrico Farrugia with its 2022 Presidential Global Citizen Award.
JU presented the honor to Farrugia, a Mayo Clinic physician for 32 years, at an event March 3 at its Arlington riverfront campus at 2800 University Blvd. N.
Farrugia served as CEO of Mayo Clinic in Florida before his appointment as chief executive officer of the Rochester, Minnesota-based Mayo Clinic.
Mayo Clinic also has a campus in Arizona.
The Mayo system has 73,000 employees who care for more than 1.3 million people a year from throughout the U.S. and 130 countries.
He is jointly appointed in the Division of Gastroenterology and Hepatology, Department of Internal Medicine and the Department of Physiology and Biomedical Engineering.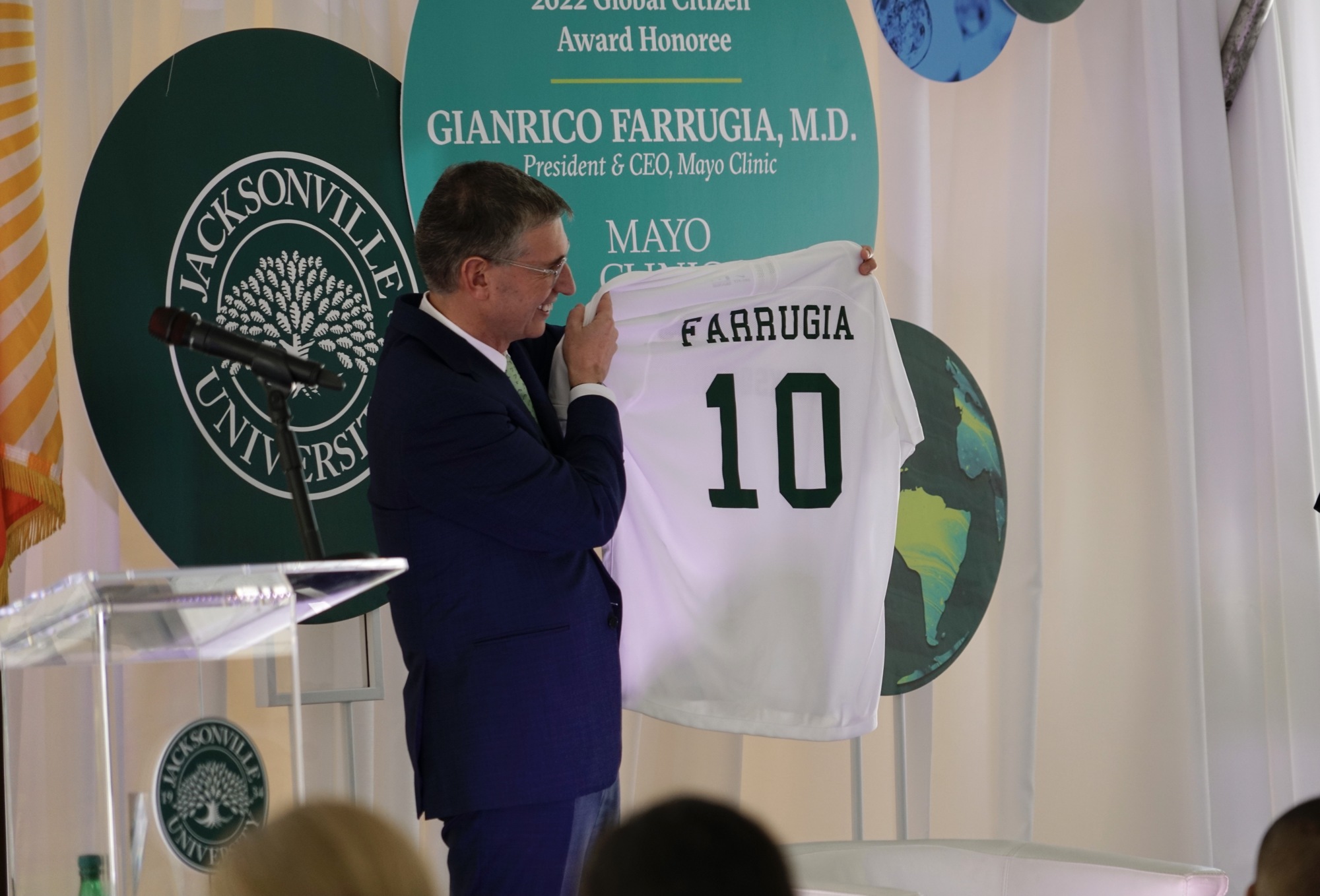 Farrugia is the co-author of "Think Big, Start Small, Move Fast: A Blueprint for Transformation from the Mayo Clinic Center for Innovation," a book that highlights the need for change in the delivery of health care.
He is a past president of the American Neurogastroenterology and Motility Society. 
"We have to transform health care from the inside out," Farrugia said at a lunch event after he accepted the award from JU President Tim Cost.
Farrugia told the World Affairs Council of Jacksonville in September that leaning into telemedicine, artificial intelligence and home-based medicine will be key to transforming health care and solving its issues such as access to and affordability of care.
He said then and again March 3 that Mayo Clinic can be the one to lead the charge, 
"I am absolutely convinced that for transformation to occur, we have to transform health care from a pipeline model to a platform model."
Farrugia said Mayo Clinic conceived the platform three years ago and launched it two years ago.
The platform collects health care data from patients, with the "strictest data privacy rules that keep patient data safe."
The data helps physicians diagnose and treat health risks, such as strokes.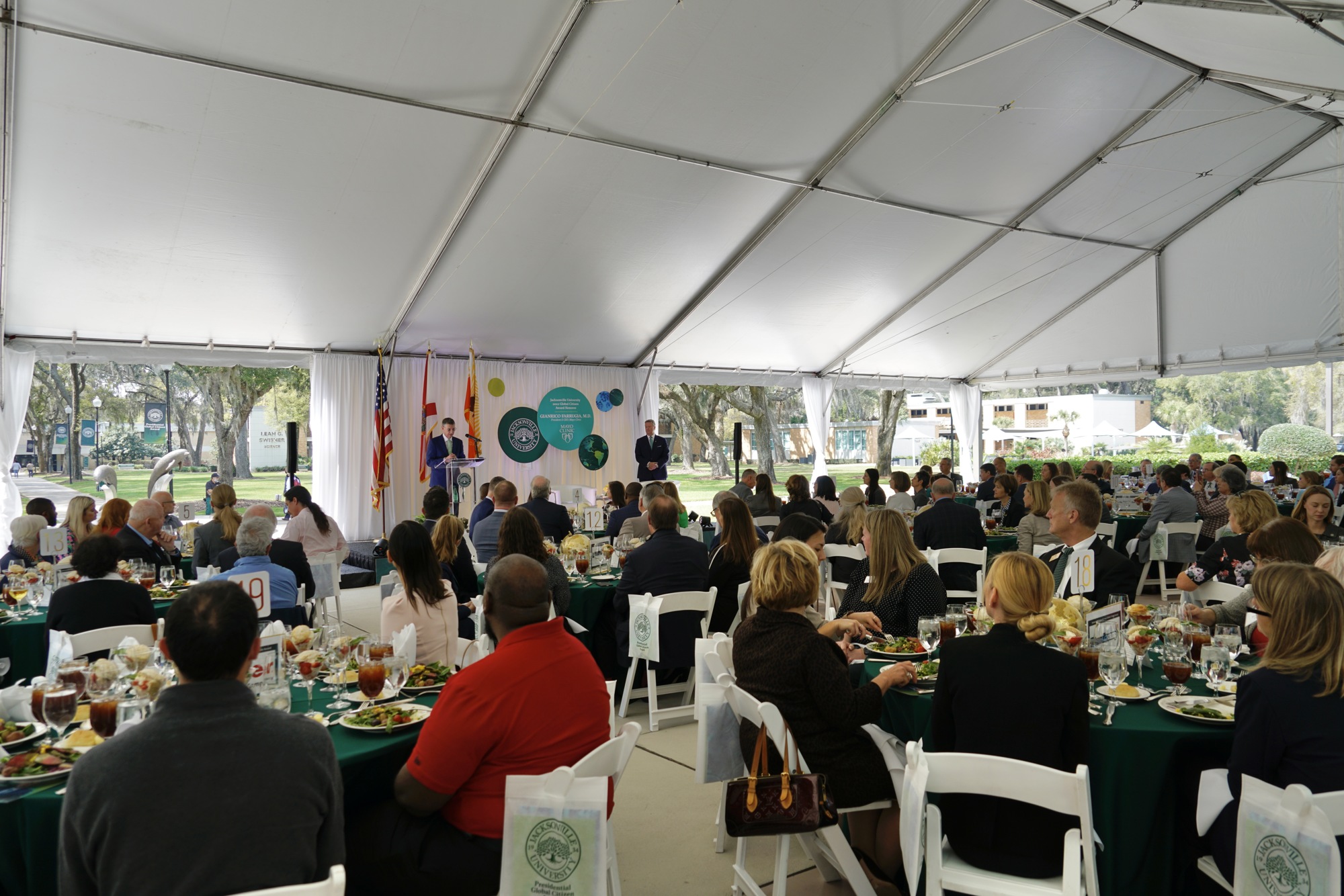 Farrugia said the health care system has to deliver "new ways to keep people well."
"One of the ways we've done that is through a new program that allows us to safely look after thousands of patients in their own homes, who normally would be admitted to our hospitals, and the results are excellent," he said.
Farrugia is the university's fourth recipient of the honor, which JU says it  presents to "an extraordinary, visionary leader whose impact is felt well beyond the bounds of their recognized responsibilities."
The honoree "fully embodies the University's ideal of a globally engaged citizen, bringing to bear their exceptional talents to create new opportunities to lead, live, and learn."
JU gave the inaugural award in 2014 to Indra Nooyi, the chairman and CEO of Pepsico. She retired in 2019 after 24 years with the company, half of which she spent in the top job, according to Forbes.com.
The university gave the second award in 2016 to documentary filmmaker Ken Burns.
The third honoree was Makaziwe Mandela in 2019. She is the daughter of the late Nelson Mandela, a 1993 Nobel Peace Prize winner and the first black president of South Africa, from 1994–99. Makaziwe Mandela leads the House of Mandela humanitarian organization.