Mayo Clinic Jacksonville has negotiated a lease in the city's Ed Ball Building for what a Downtown Investment Authority document and a tentative lease agreement with the city describe  as "general office use, administrative and clinical research purposes."
The DIA Strategic Implementation Committee voted 3-0 on March 14 to recommend its full board approve a parking agreement between Mayo and the city for monthly and hourly parking in the Ed Ball Garage concurrent with the lease term.
The DIA resolution includes the description of the project in 3,072 square feet of ground-floor space in the Ed Ball Building at 214 N. Hogan St. It appears to be the former bank branch. 
DIA CEO Lori Boyer told board members that Mayo negotiated the lease terms with the city's real estate department and the Office of General Counsel drafted the parking agreement.
A public records request for the documents March 14 shows Mayo and the city are considering a five-year lease with an option for two five-year renewals.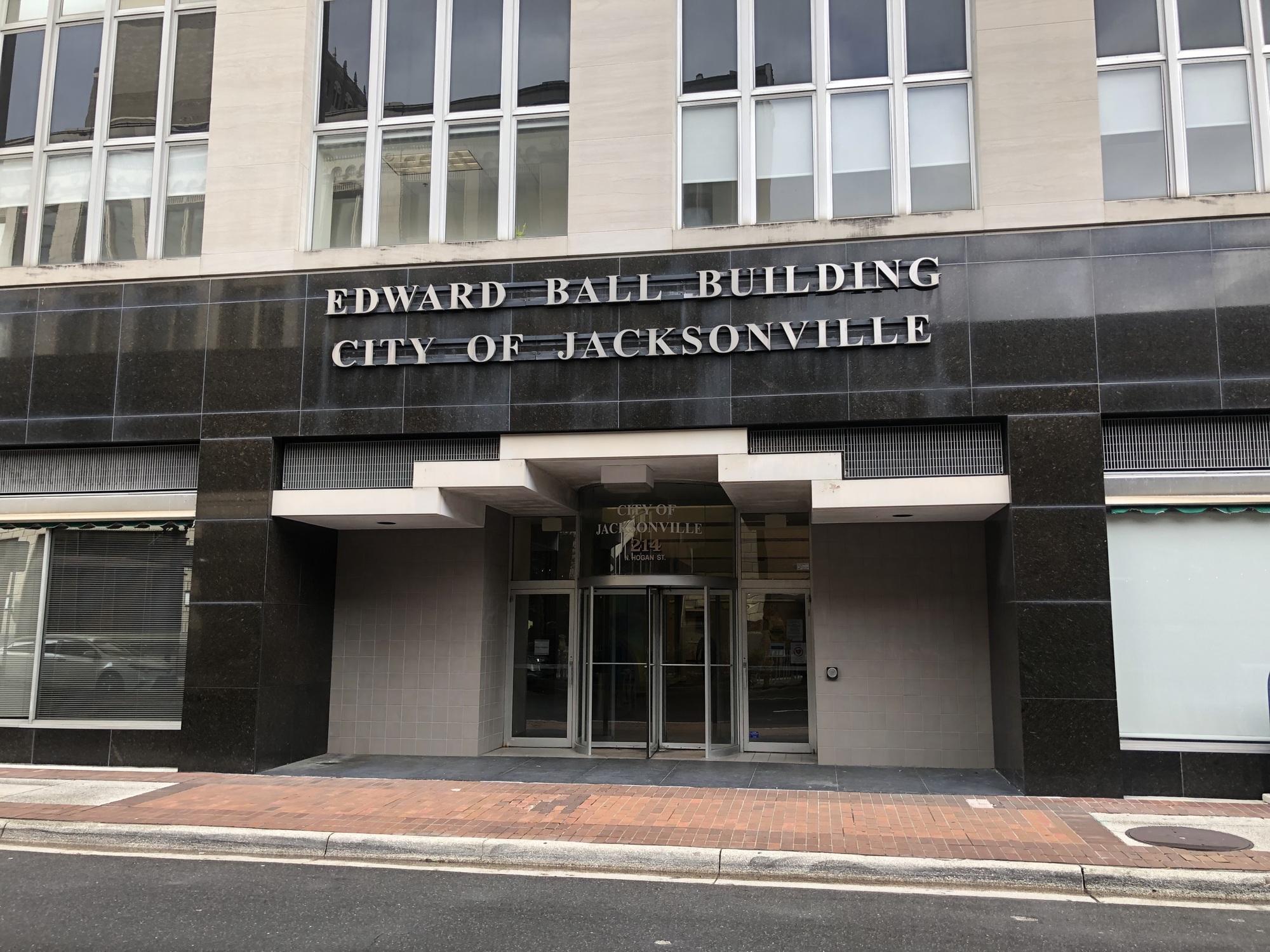 The DIA resolution says the office lease and parking agreement will require City Council approval.
Responding to an email March 14 about the lease, Mayo Clinic Communications Manager Kevin Punsky said the medical system does "not have any further details to share at this time."
A Feb. 28 memo from city Public Works Real Estate Division Chief Renee Hunter and Public Works Department Director John Pappas and a draft of the parking agreement outline access for Mayo patients.
"The agreement terms include providing Mayo employees with monthly access cards to the Ed Ball Garage and establishes a parking validation program providing free hourly parking to Mayo patients," the memo says.
When asked by board members March 14 what the facility will be, Boyer called it "a clinic."
The DIA is not involved in the Mayo project's build-out or the lease.
The DIA operates and regulates city-owned parking garages and street meters Downtown and is authorized to approve and manage long-term parking agreements and contracts.
The full board likely will vote on the agreement at its March 16 meeting.
A bill approving the lease agreement has not been introduced to the Council, but Mayo Clinic Jacksonville Vice President Kent Thielen signed the agreement Jan. 1 and the lease document's cover page is dated Dec. 30, 2021.
The public works memo sent to Mayor's Budget Review Committee Chair and city Chief Administrative Officer Brian Hughes requests permission  to file legislation with Council to approve the lease and asks for DIA board consideration of the parking agreement.
An exhibit attached to the lease shows Mayo will pay $49,152 in rent for the first year, increasing annually to $55,296 by the fifth year of the agreement.
Mayo has been expanding its Florida operations in Jacksonville in recent years because of what the medical system says is increasing patient demand for complex care.
Mayo announced Feb. 22 that it will start a $432 million expansion at its 4500 San Pablo Road campus to add five floors on top of its eight-story hospital, creating 121 new inpatient beds, including 56 in the ICU.
Construction will begin this year for completion at the end of 2026, Mayo said.
Mayo Clinic opened its hospital in Jacksonville in April 2008 with six floors and 214 beds. In 2012, Mayo added two floors and 90 beds.
When completed, the 13-floor, 1.4 million-square-foot hospital will have 428 patient beds.
In 2021, Mayo Clinic in Florida treated 168,000 patients, performed nearly 20,000 surgeries and provided care for patients from the 50 states and more than 80 countries.
Mayo said that since 2016, it has invested more than $1 billion in major construction projects, more than doubling its space by 2026 with new facilities for patient care, biomedical research, education and technology.
Those projects include the Discovery and Innovation Building and the Dorothy J. and Harry T. Mangurian Jr. Building.
Mayo also plans to add a 252-room, eight-story Hilton hotel to its campus by early 2024 in addition to other clinical, emergency and parking expansions underway.
Editor Karen Brune Mathis contributed to this report.