City Council member LeAnna Cumber announced March 21 that she is entering the 2023 Jacksonville mayoral race. 
The 49-year-old Republican spoke to about 100 supporters in an industrial bay at Florida East Coast Industries, where her husband, Husein Cumber, is chief strategy officer.
During her 15½-minute speech, the San Marco resident highlighted her opposition to the 6-cent increase to Duval County's Local Option Gas Tax that went into effect in January.
She also pushed for increased school choice; flood and transportation infrastructure upgrades; public safety; and growing outside investment for Downtown development.
"It's time to get moving on building infrastructure that truly improves the community. It's time to get moving on lower gas taxes. It is time to get moving on making the city safer and more prosperous for our children and our grandchildren," Cumber told the crowd.
Cumber has been a vocal opponent of the gas tax increase and extension that passed Council 14-5 in May 2021. She unsuccessfully pushed a bill in December to repeal the tax increase, which failed 5-13.
She has been critical of the $247 million gas tax bill approved for the Jacksonville Transportation Authority's proposed plan to modernize and extend the Downtown Skyway with automated vehicles.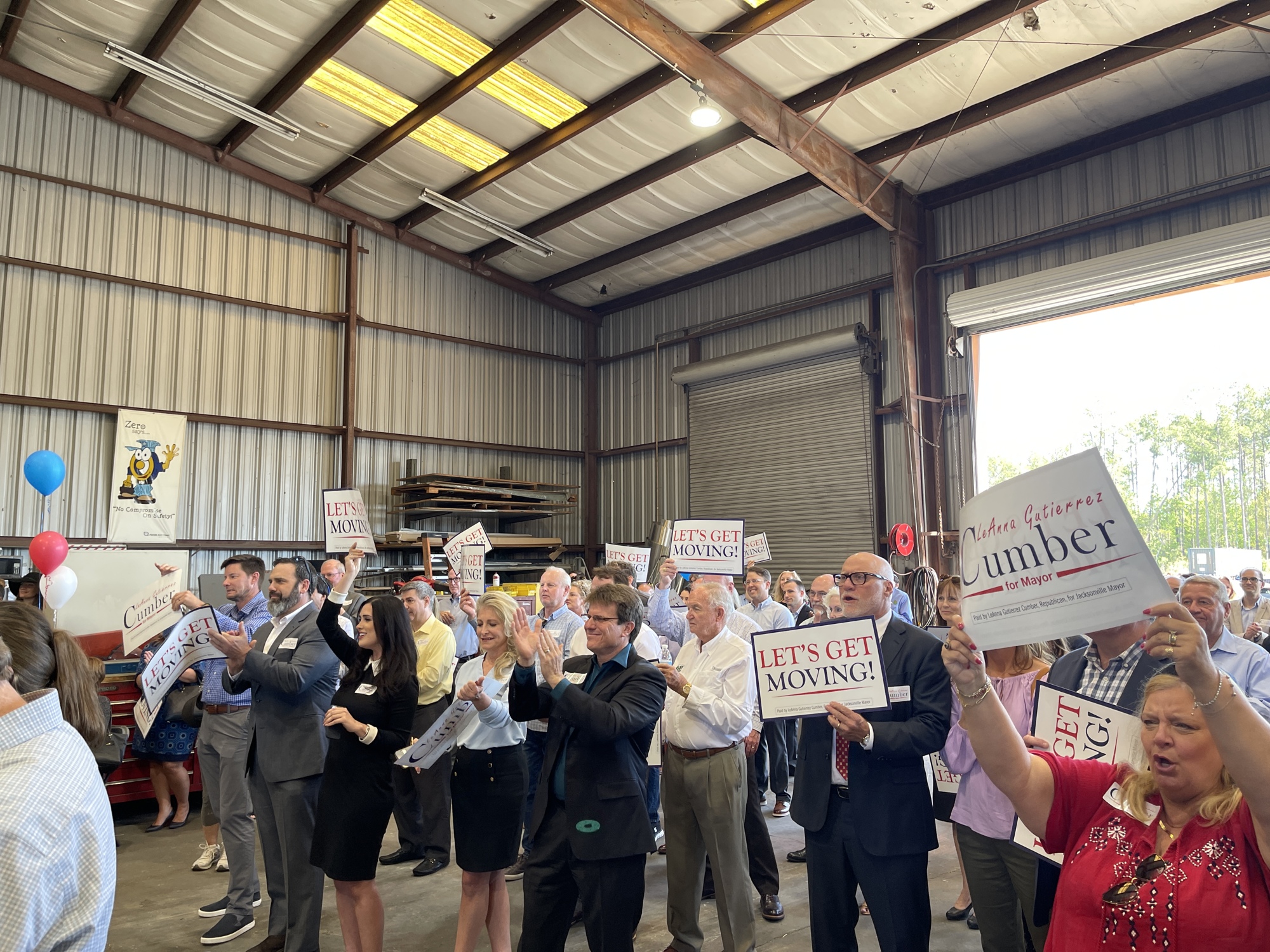 A 'pet project'
Cumber alluded in her speech to what the JTA calls the Ultimate Urban Circulator as a "pet project sponsored by career politicians." 
She told reporters that roads and bridges could be funded by the current gas tax and federal money.
"When we talk about our gas taxes being needed for infrastructure, that is not the sort of infrastructure that anyone can get behind," Cumber said. 
"When you look at what really needs to be fixed, whether it's sidewalks, bike lanes, safe roads and potholes, those things can be addressed by our current gas tax. And if we need additional funding, whether it's to rehabilitate bridges, what have you, there's $1.2 trillion of infrastructure financing from the federal government," she said.
Cumber was referring to the federal $1.2 trillion bipartisan infrastructure law signed in November that will fund infrastructure projects nationwide.
On Downtown development, Cumber said after the speech that the focus should not be on singular projects. Instead, it should be to make the area attractive to regional and global investors and developers.
"We have to create a different climate Downtown than we have today. Downtown is not going to improve because we're waiting for winning the lottery of some giant project to happen. We need to do the smaller things and the larger things," she said.
Cumber moved to Jacksonville in 2011 and has spent much of her career as a transportation consultant and lobbyist. She is CEO of LeAnna Cumber & Associates, worked as a legislative counsel from 2005-06 for the U.S. Department of Transportation and from 2006-09 for Washington, D.C., lobbying firm Baker Botts, LLP.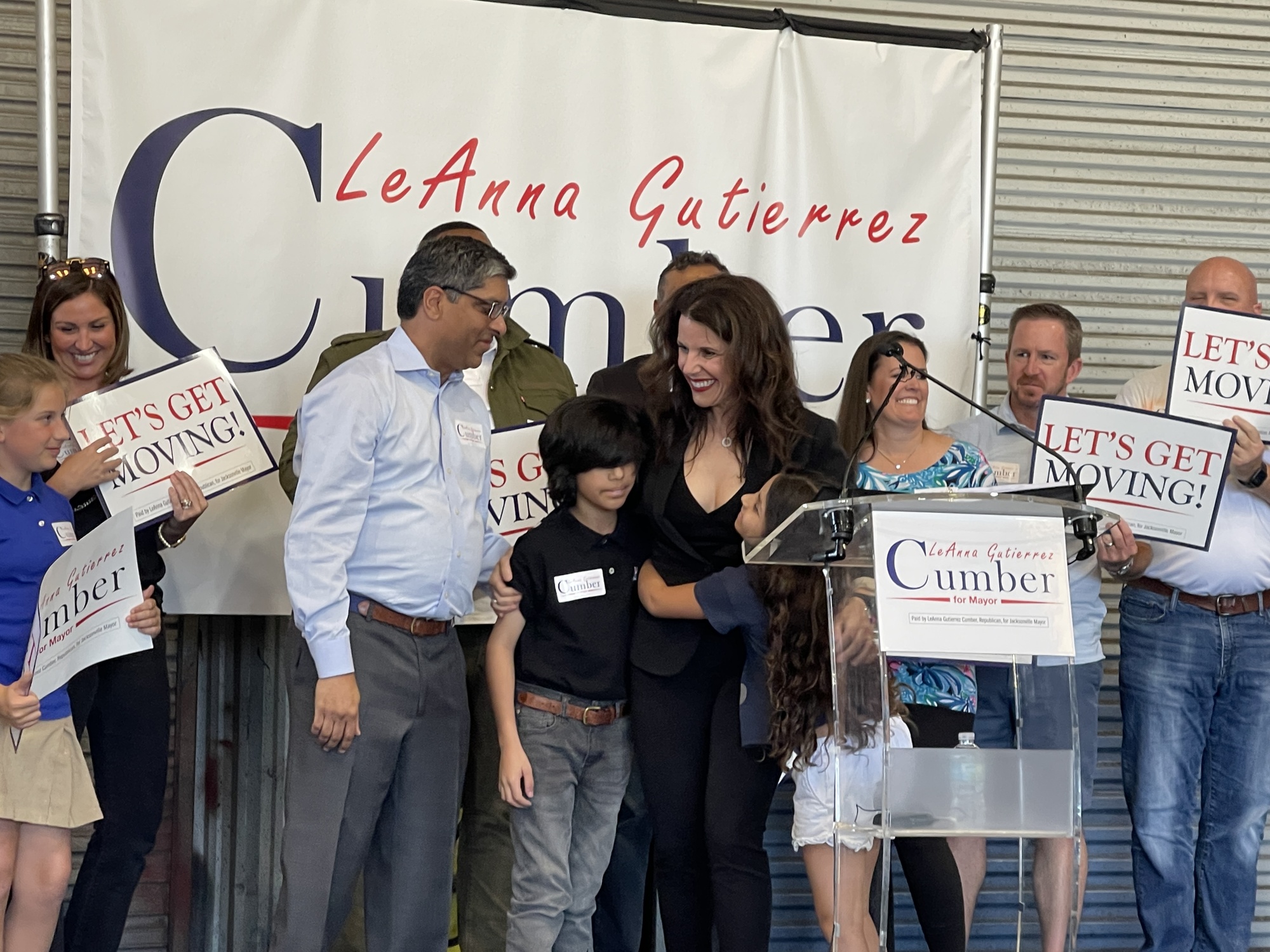 She filed a statement with the Duval County Supervisor of Elections Office on March 16 declaring her candidacy.
She joins a field that includes Democrat Donna Deegan, Donna Foundation founder and former First Coast News journalist; Republican City Council member Al Ferraro; and nonpartisan candidates Omega Allen and Darcy Richardson. 
The crowd at Cumber's March 21 event included former Council member Matt Schellenberg, former city General Counsel Jason Gabriel and lobbyist Deno Hicks. 
Gabriel was Mayor Lenny Curry's appointee in June 2015. Curry has not endorsed a candidate but is widely expected to back JAX Chamber President and Republican Daniel Davis should he run. 
Davis and Cumber lead in fundraising for the 2023 election cycle. 
State election filings show Davis's political committee Building a Better Economy had about $3.6 million in cash on hand as of the end of the most recent reporting period Feb. 28. 
Cumber's JAX First committee has raised about $2.03 million since it launched in fall 2021, filings show.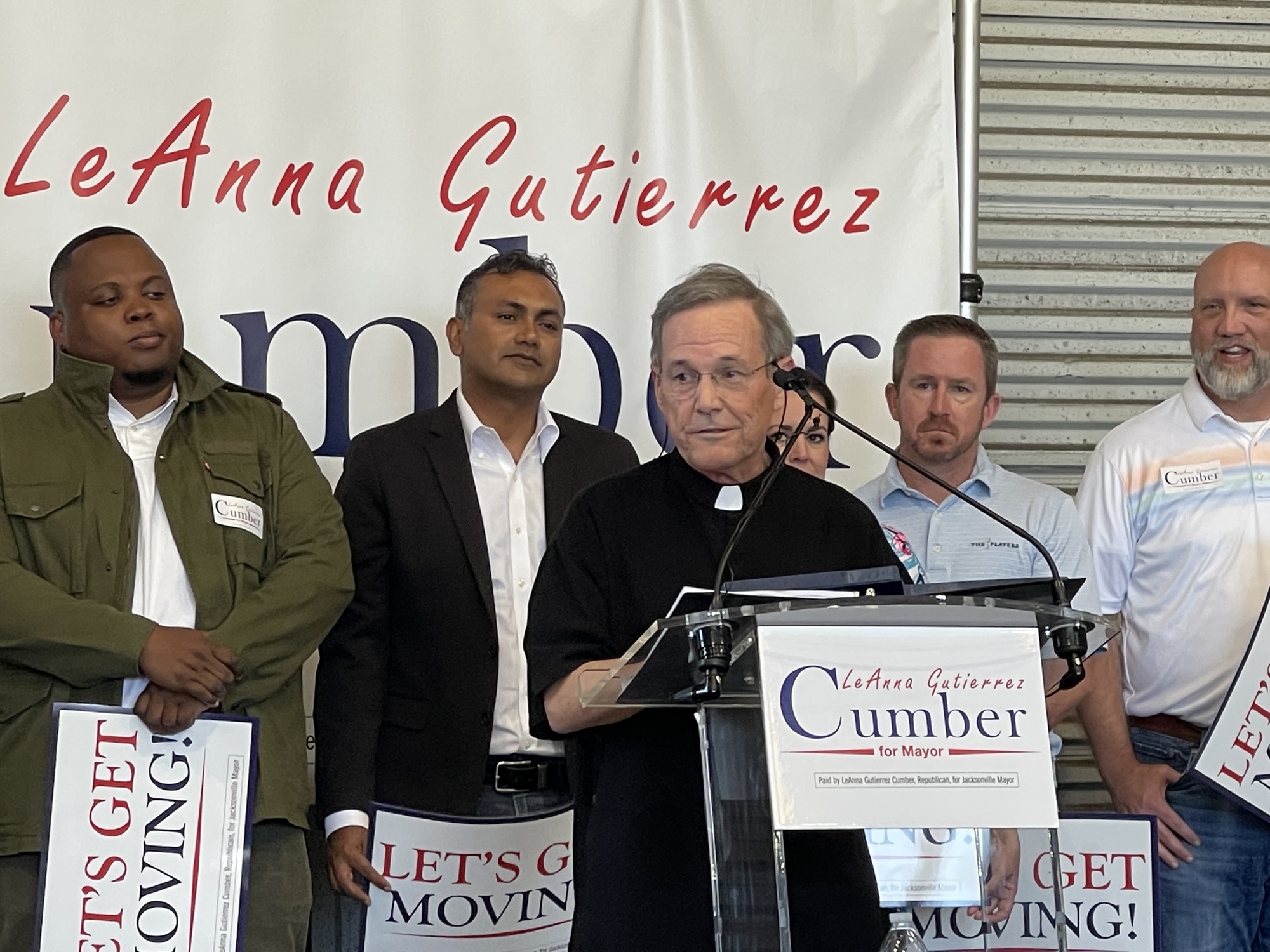 Democratic response 
Moments before Cumber's announcement, the Duval County Democratic Party released a response to the Republican entering the race trying to link her to national corporate and pro-Donald Trump donors, as well as the indicted former JEA CEO Aaron Zahn 
Husein Cumber voted as a member of the JEA board in 2018 to hire Zahn to run the city-owned utility. Zahn's federal indictment is linked to his efforts to allegedly personally profit off of a push to sell JEA to a private company. 
"She is the very type of politician that a majority of voters dislike: a calculating and corrupt political opportunist in the mold of Donald Trump who will do or say anything to get elected," Duval Democratic Party Chair Daniel Henry said in an email. 
"Jacksonville voters deserve to know about every facet of the JEA scandal and the millions of dollars being spent by right-wing extremists to buy the Mayor's office."