APELLIX | 2021 REVENUE: $391,000
Robert Dahlstrom was on a ladder on top of scaffolding in 2014 putting a fresh coat of paint on his Florida Cape San Blas beach house, a job he'd done dozens of times working his way through school decades earlier in California. 
"I quickly realized I'm not in college anymore. There's got to be a better way and I thought, drones," said Dahlstrom, now 60.
"With software, I could keep them (drones) the right distance from the wall to paint. And then I'm like, 'Nah, that won't work.' Paint's really heavy, batteries have limited life, you have to land all the time," he said. 
"And I look down at the ground and there's the paint compressor … You keep the paint on the ground, the power on the ground, send it all up the cord to the drone and then spray paint." 
A software architect, Dahlstrom built a proof of concept around the idea and formed the aerial robotics systems startup Apellix. 
He launched the company out of his garage in San Marco with neighbor and co-founder Jeff McCutcheon, flying and testing drones in the backyard. 
In the past seven years, the company launched the first market application for its custom-designed and built drones — nondestructive testing for metal structures in the nuclear power, oil, gas and maritime industries. 
Using sensor probes, Apellix drones measure the thickness and structural integrity of ship hulls, storage tanks, natural gas and oil flare stacks to meet industry and government regulatory standards, Dahlstrom said.
The Apellix approach can eliminate the need for workers to tether and climb sometimes more than 100-foot-high structures, improving safety, he said. 
According to Dahlstrom, the drones also save time by allowing tests without taking assets like stacks and towers out of service.
He said that can cost nuclear and gas companies up to $5 million a day.  
Dahlstrom said putting out Apellix drones would increase safety for coating industry workers and enable them to do "higher value things."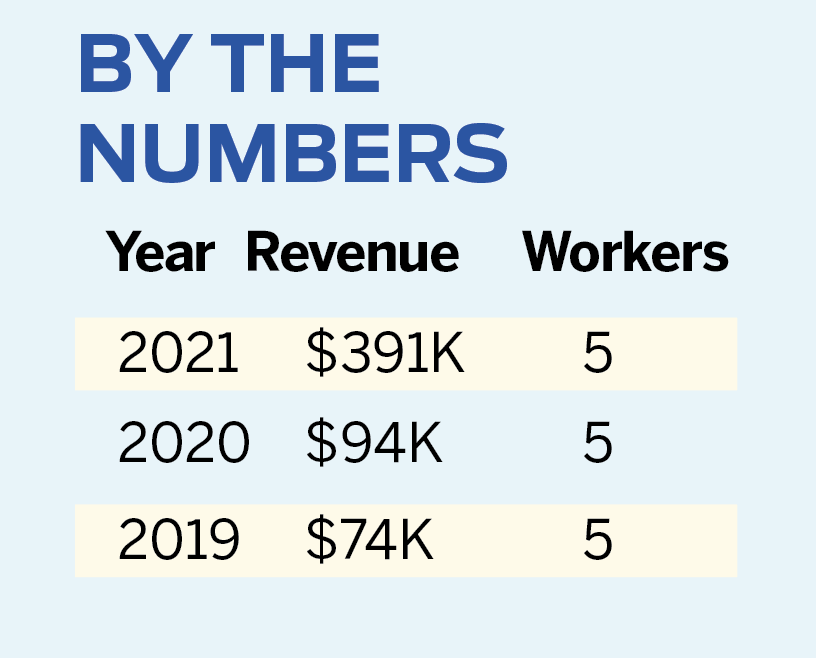 "I was talking to one CEO in the oil and gas industry. He said, 'Bob, I had to tell five mothers their sons are never coming home again.' So, this is something that can save lives," Dahlstrom said. 
Apellix is testing drones to power-wash, paint and coat the exterior of buildings, water towers and other infrastructure.  
The company's power-washing drone recently field-tested window and building washing at UF Health Jacksonville and part of a water tower for the city of Wooster, Ohio.
Dahlstrom said the coating industry sells $800 billion in paint globally every year. 
He said the drone can compile a database of ambient temperature, barometric pressure, relative humidity, surface temperature and more to inform coating-industry workers on the best conditions to paint. 
Company leaders also see Apellix as a solution for a worker shortage in the coating industry.
Dahlstrom said there are 100,000 unfilled painter positions, and the industry has an aging workforce with many people over the age of 55.
The shop and 'playground'
Apellix's five full-time employees and pool of part-timers and interns custom design, manufacture and test drones at its workshop at 2180 Emerson St. in the Southside, where the company has been for five years. 
Dahlstrom calls Jeremy Countryman "the magic man that makes it happen."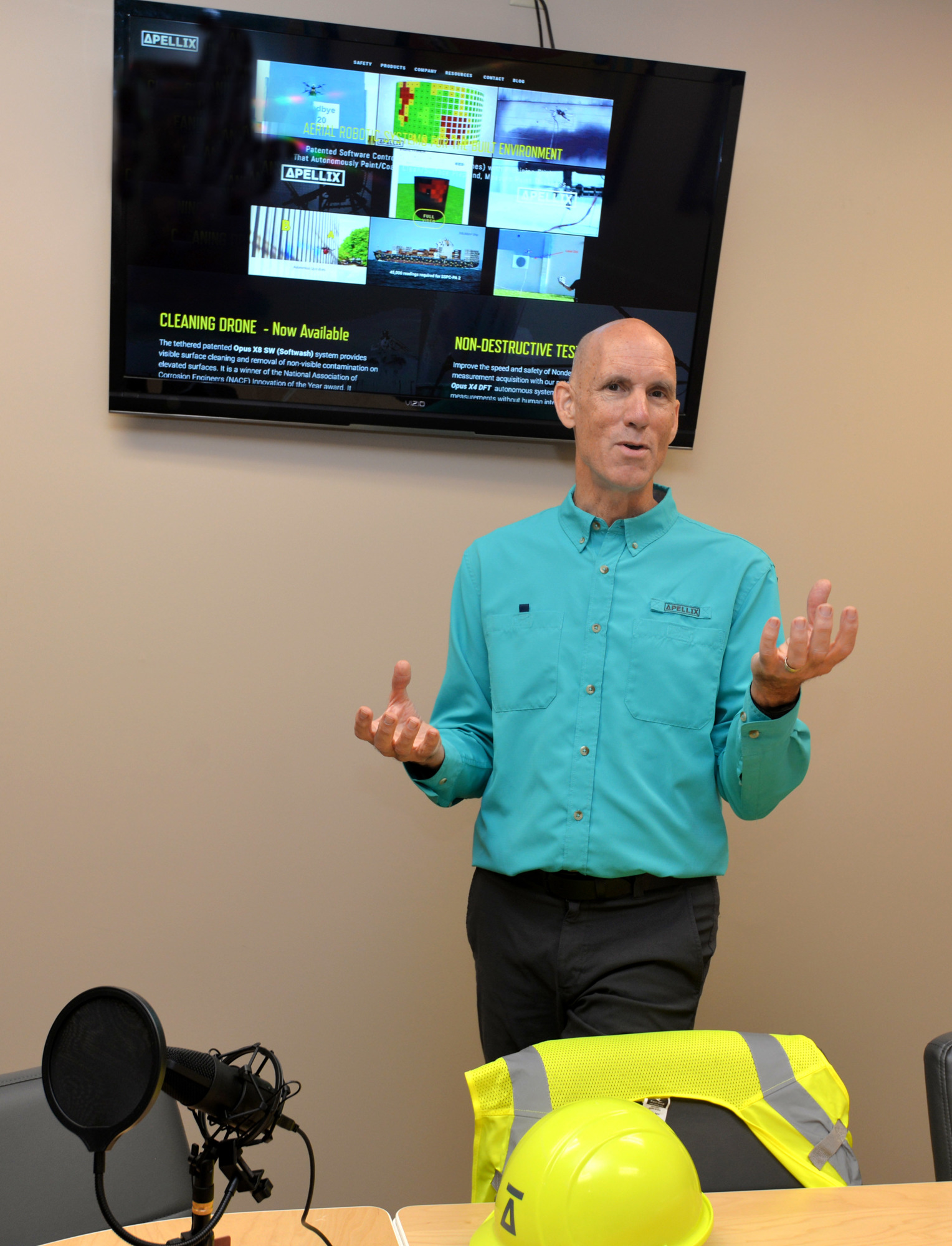 Countryman is an Apellix robotics expert who builds the drones and was the company's third hire. 
Countryman said a few of the half-dozen drones are in service.
Apellix 3D prints the parts for the drones in-house using a carbon fiber material and a computerized numerical control router for precision cutting.
The shop's backyard "playground" has simulated water tank hulls and a building wall for drone testing. 
Originally from Miami, Dahlstrom has lived in Jacksonville for nearly 20 years. 
He graduated from California State University, East Bay and received a master's degree from Florida State University where he was a professor for three years teaching new media. 
Dahlstrom founded and operated the software security company BluePrint Data for nearly 15 years and is a minority investor. 
Dahlstrom brought in a CEO in 2015 so he could focus on Apellix.
He said his wife, Joy, was a big support but also chided him for pursuing another startup. 
"My wife was like, 'Are you crazy? It wasn't bad enough the first time, you're doing it again. Why do you want to punish yourself that way?'" 
Andrew Rush, Jacksonville-based Redwire COO and former CEO of Made In Space, wrote two of Apellix's first patents, according to Dahlstrom. 
The name Apellix is a blend of the Apis melliifera industrious honey bee and Apelles of Kos, a Greek painter considered the greatest painter of antiquity. 
Scaling up
As Apellix scales in domestic and international markets, the company is partnering with established companies for drone components. It also has a  contract with the third-largest global paint supplier, Amsterdam-based AkzoNobel, according to Dahlstrom. 
Imaging company Teledyne FLIR and electronic device-makers Olympus and Fisher Technology are doing joint public relations campaigns with Apellix as part of those partnerships, Dahlstrom said. 
Graco Inc., which makes paint application components, built a customer trigger for Apellix's paint-spraying drone. 
The hoses, compressors, paint and water sprays attached to the drone are off-the-shelf products commonly used in the industry.
Dahlstrom said the painting system is expected to be ready for market in the first quarter 2023.
Apellix is in early talks for its coating system to be used by government contractors in the United Kingdom to paint and protect a sound wall on a high-speed railway expected to be built across the island. 
Apellix just landed its first international contract in South Africa, he said.
Revenue more than quadrupled over the year to $391,000 in 2021.
To handle growth, Apellix has accelerated hiring. 
Dahlstrom plans to bring on a chief operating officer and is advertising for software engineers. 
Dahlstrom said he has applicants from Massachusetts Institute of Technology and Stanford University, as well as people at Lockheed Martin Corp. and Amazon Prime Air. 
Before becoming Apellix partners, McCutcheon and Dahlstrom were neighbors for years and their daughters were in competitive rowing together.
McCutcheon has experience in boardrooms as a former executive officer for CSX and co-founder of board and investor consultancy group Board Advisory LLC. 
Dahlstrom said that fills in the gaps in his expertise when negotiating contracts with large nuclear power, oil and gas companies. 
"I've got a scrappy entrepreneurial background. Jeff has been on the executive suite for Fortune 100 companies for his career," Dahlstrom said. 
"So he's got that big business experience that I lacked and had no insight into how that world operates."