VESTED METALS  |  2021 REVENUE: $8.85 MILLION
In the world of entrepreneurship, timing is everything. Hard work creates its own luck, but serendipity can't hurt.
Viv Helwig, 36, is founder, owner and president of Vested Metals in St. Augustine.
The company that he began in 2014 supplies hard-to-find metals to companies for specialty uses.
Helwig came to Florida as a boy with his family from Jamaica in 1992. He grew up in Palm Bay playing basketball and loving sports. 
He wanted to join the business of sports or broadcasting. That took him to Flagler College in St. Augustine where he graduated in 2008 with Bachelor of Arts in Business Administration.
While attending Flagler, he pursued his interest in history and took several classes taught by Steve Voguit, a longtime educator. 
Helwig had been trying to sell real estate and worked in the Flagler College admissions office when Voguit introduced him to another of his former students,  Eric Lamm.
Lamm was an executive with Carpenter Technology Corp., which manufactures and develops stainless steel and corrosion-resistant alloys. 
The country was in a recession. Lamm was preparing a sales force to propel his company when the economy recovered.
"He wanted people with no experience in steel. He wanted to rebuild his sales force," Helwig said.
He joined Lamm and learned steel manufacturing and purchasing. 
"What we sell is what we see in the world around us. Our infrastructure is steel," Helwig said.
Steel is about relationships. A sale can take three or four years.
During that time the companies learn about trust and values, important in the industry.
"We know the industry suppliers and players. We build relationships where there is 100% transparency. Our products have to be 100% right 100% of the time," Helwig said.
When Helwig left Carpenter, he was married to Brittany and had plans to buy a small steel supply company. He thought he had a deal in South Florida. That deal dissolved just before closing.
Forging a new company
The couple decided to return to St. Augustine and form Vested Metals. Not only was St. Augustine familiar territory, but the port, airport, rail and highway system is advantageous for moving products.
When it came to choosing a name, he wanted a strong one that inspired confidence. Webster's definition of "vested" is "fully and unconditionally guaranteed as a legal right, benefit, or privilege."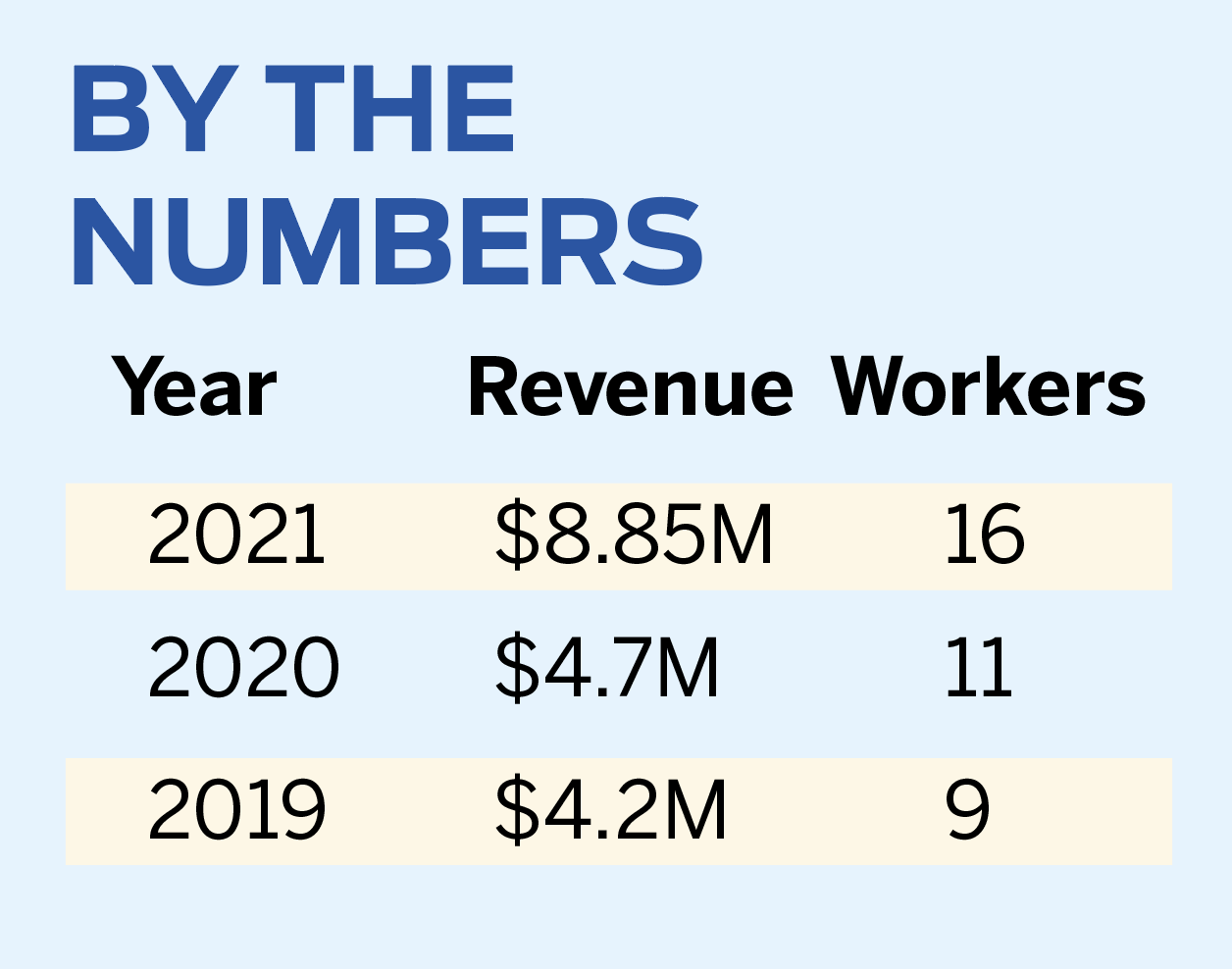 Helwig started Vested Metals with $200,000. About $70,000 came from borrowing against his retirement savings and other cash he had put away. 
He and his wife lived frugally, investing in their dream, he said.
"We were DINKs (dual income, no kids) then. We were disciplined. I put a lot of hope into having security. Unlike my grandfather, who told me he had never seen a hearse towing a U-Haul to the cemetery," he said.
The couple now have a daughter, 8, and two sons, 6 and 4.
While Helwig has connections and contacts from his days at Carpenter, Vested Metals did not immediately have a long list of customers. Like many startups, Helwig learned about working long hours and being the last one paid, if at all.
That was the case in 2015 before the company hit its stride in 2017. He was making payroll but he wasn't paying himself.
"I learned timing is everything. I thought we were done. Then a $7,691 check from Chase Bank arrives. When I sold my house in 2012, I had overpaid on the escrow for five years. That money was part of us being able to continue," he said. 
Vested Metals is growing. The company's 2021 revenue of $8.55 million is almost double that of 2020. 
He expects this year to show a 30% to 50% increase over 2021. 
He has added employees, growing to 18.
Vested cuts metal sheets to the customer's specifications to fit their machinery. The company sells to medical appliance manufacturers, transportation companies and recently has been approved to contract with the U.S. government.
He declined to name customers because of privacy.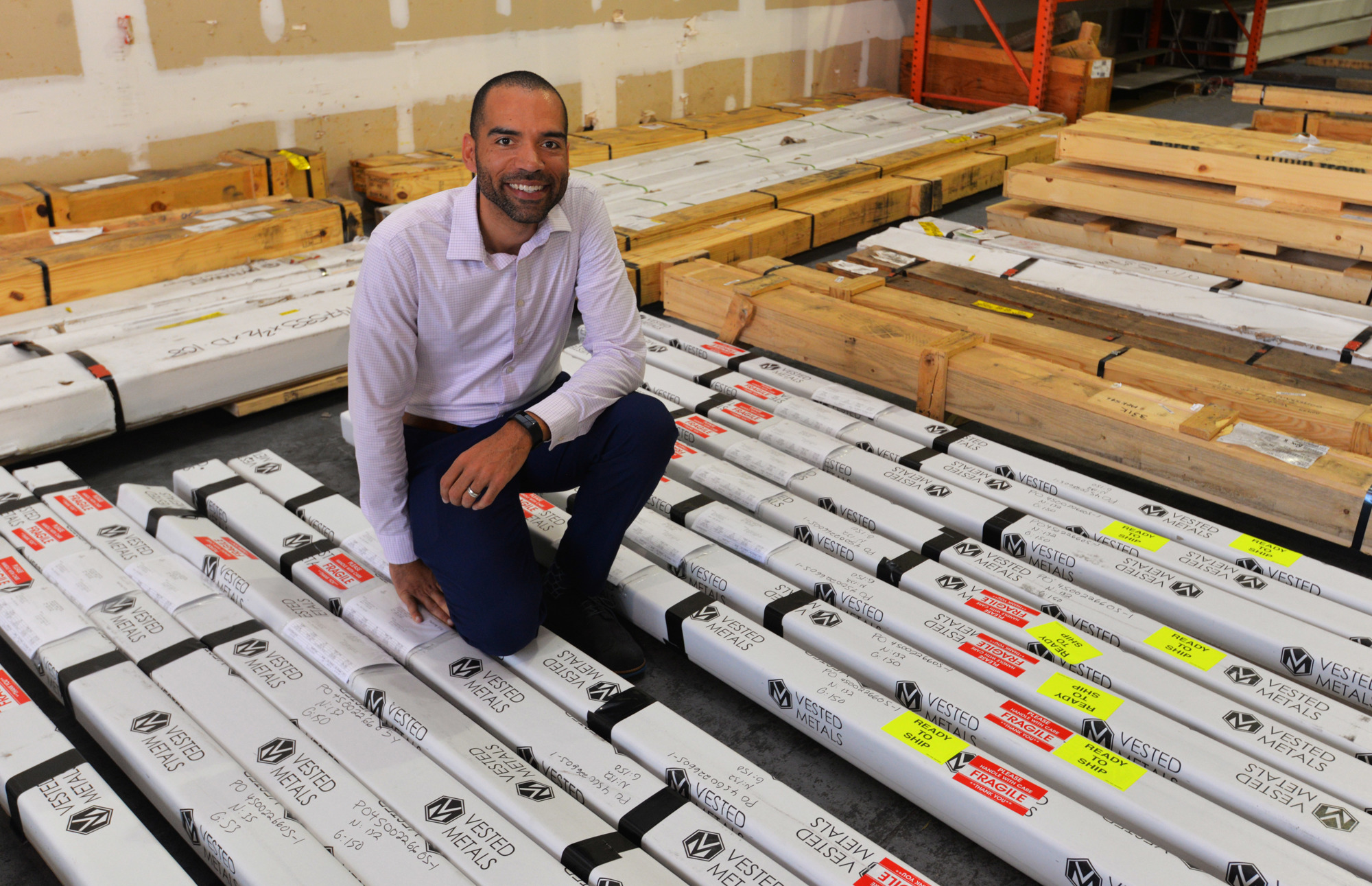 Facing challenges
Like many companies, finding and keeping employees remains a challenge.
World events also are having an effect on the company. Ukraine and the countries around it have provided the raw materials that comprise many high-tech alloys. 
War and resulting economic sanctions have an impact on his business.
"Companies value quality and there are a great many natural resources in Ukraine. Russia is a large supplier of titanium," he said.
That trickles down to U.S. suppliers. Helwig said a domestic mill recently announced it was going to stop quoting prices for 30 days, meaning no new orders for a time.
"It's just our turn. We saw this happen with plastics, industrial supplies and building supplies."
Helwig has been stocking up on inventory when possible.
"I've had to shore up supply. Our customers are confident we will be able to get it for them," he said.
"It's all about having a seat at the table. This is a business of long-term views. It's about how we treat our suppliers. It's about building something that is sustainable."