JEA held a groundbreaking ceremony March 31 for its approximately $150 million Greenland Water Reclamation Facility already under construction on 80 acres near the eTown master-planned community on Jacksonville's Southside. 
With backhoes and loaders moving earth about 100 yards away, executives and employees of the city-owned electric and water utility celebrated the multiyear effort with representatives from project contractor Haskell and engineer Jacobs Americas South. 
JEA CEO Jay Stowe said Greenland is the authority's first water reclamation facility built since 1977.
"We spend every day protecting the public health (and) public safety so that we can provide for the economic development of this community and that is what will allow the growth in our community to continue," Stowe said.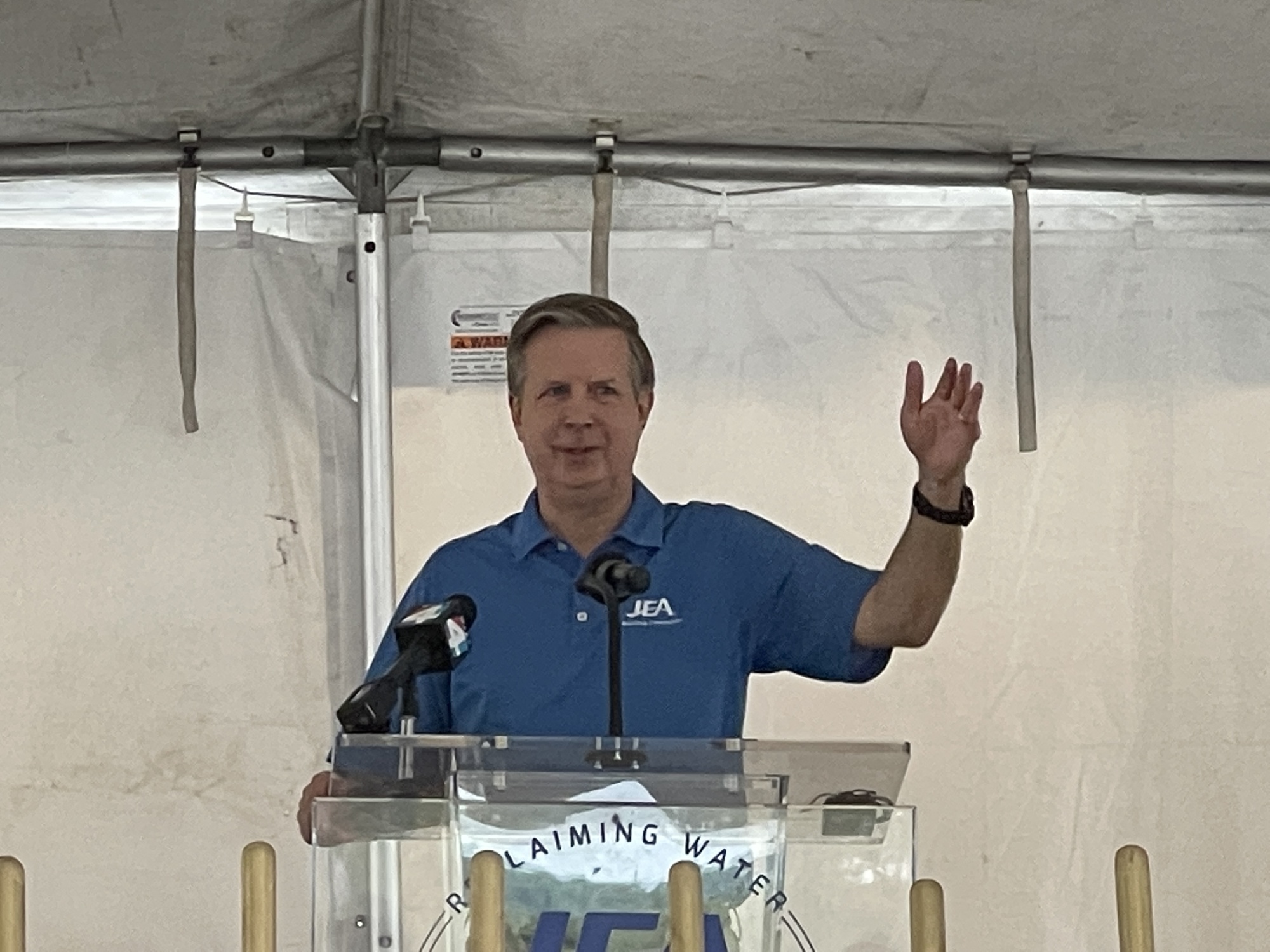 The Greenland facility treats wastewater making it safe to reuse for lawn and turf irrigation.
Unlike a traditional wastewater plant, JEA officials said it doesn't discharge treated water into the St. Johns River.
"We're celebrating Greenland not only for what it does but for what it doesn't do. It doesn't discharge into the river. Instead, our community will use the highly treated water, we call it reclaimed water, for irrigation," said JEA Vice President of Water and Wastewater Systems Hai Vu. 
JEA has 11 wastewater treatment plants. Of those, 10 are water reclamation facilities.
A JEA news release said the Greenland facility will initially process 4 million gallons of wastewater per day, serving 22,800 JEA sewer customers and providing 5,700 customers with water for irrigation. 
The facility is designed to increase water input and output to the adjacent eTown and the surrounding area grows.
JEA Director of Project Engineering and Construction Sean Conner told reporters after the ceremony that Greenland has more capacity than JEA needs to meet existing demand, but the design allows expansion to process up to 12 million gallons of wastewater per day.
"All common equipment that we're using, all the common piping is sized for the eventual build-out of the 12 MGD (million gallons per day)," Conner said. 
Work on the access road and underground pipe and electric infrastructure began last year and contractors started clearing the area in fall 2021, JEA said.  
Construction will take two years, The plant is scheduled to be operational in November 2024, JEA said.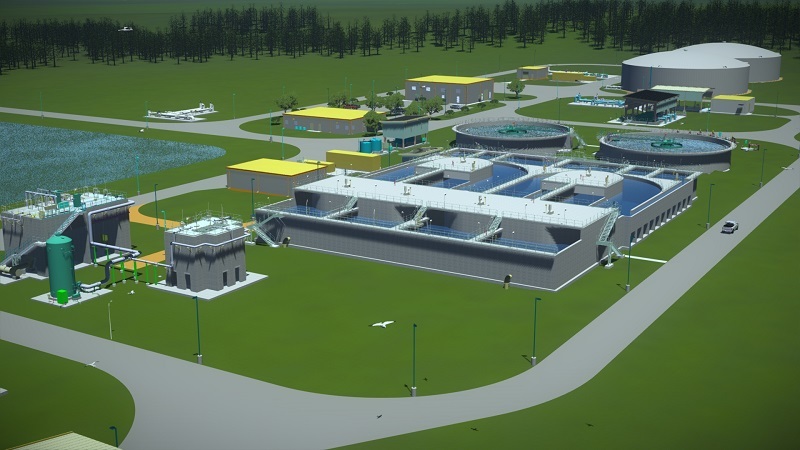 Master developer The PARC Group, in conjunction with the Davis family, designed eTown for up to 2,000 homes along E-Town Parkway, east of Florida 9B. 
The PARC Group partnered with Skinner Bros. Realty to build a Publix Supermarkets Inc.-anchored shopping center in Exchange East in the eTown Village Center expected to open in early 2023.
Baptist Health also plans to build a primary care clinic in Exchange West that PARC Group describes as a "mix of retail, office and residential uses."
Gate Petroleum Co. is building a gas station and convenience store near the Baptist Health site. 
Conner said the total project site is 120 acres of which 80 acres have been cleared of timber for the development. The facility will be built on 50 acres of the 80-acre footprint.  
JEA officials said the undeveloped site will remain conservation land and provide a sound and odor buffer for nearby residents and commercial customers. 
Property records show JEA purchased the site as part of a $16 million, 168.36-acre land acquisition in November 2018. 
Jacobs Senior Vice President and General Manager Americas South Katus Watson said the facility is designed to be the regional control and operations hub for JEA's water reclamation system.
The facility is being built with water sustainability and climate resilience in mind, Watson said.
"The discharge from this plant will be 100% reused as reclaimed water for irrigation purposes which will reduce the demand on the drinking water aquifer thereby making our water supply more sustainable." 
The facility will be rated to withstand a 500-year storm event with two generators to provide backup power, the Jacobs executive said.