As Patriot Transportation Holding Inc. and FRP Holdings Inc. reported quarterly earnings, they both announced the death of former Florida Rock Industries Inc. CEO Edward L. "Ted" Baker at age 87.
The two companies said in separate news releases their creation was the "brainchild" of Baker when he was running Florida Rock, a Jacksonville-based construction materials company.
Florida Rock was founded by Baker's father, Thompson, in 1929 and grew into a major Jacksonville company that was sold for $4.2 billion to Vulcan Materials Co. in 2007.
When Baker was CEO, Florida Rock spun off the company's transportation and real estate businesses in 1986 into a separate public company called Florida Rock & Tank Lines.
Those two businesses were separated in 2015.
FRP is a commercial real estate development company and Patriot is a trucking company that transports fuel products.
"He was so smart and generous and absolutely one of a kind and remained involved and interested in these businesses until the very end," FRP Chief Financial Officer John Baker III, Ted's nephew, said in FRP's May 12 conference call.
Ted Baker no longer had a formal role at FRP but he continued to serve on Patriot's board of directors.
He died April 28.
His brother, John Baker II, chief executive of FRP, was appointed May 10 to fill Ted's seat on Patriot's board.
Patriot reported a net loss of $490,000, or 14 cents a share, for its second quarter ended March 31 as higher fuel expenses and compensation costs for drivers affected results.
FRP reported earnings of $672,000, or 7 cents a share, for its first quarter ended March 31.
FTC forces Medtronic divestiture of part of its ENT business
Medtronic plc completed its acquisition of Intersect ENT on May 13, but only after the Federal Trade Commission forced it to divest part of the business.
The global medical products company has had an ear, nose and throat surgical product business based in Jacksonville since it acquired Xomed Surgical Products Inc. in 1999 for about $800 million in stock.
The Dublin, Ireland-based company announced a $1.1 billion deal to expand the ENT business in August 2021 by acquiring California-based Intersect.
"By combining Intersect ENT's groundbreaking localized drug delivery products with the leading navigation and powered instruments of Medtronic, we can now equip physicians with the right tools for many unique patient needs," Vince Racano, president of the ENT business in Jacksonville, said in a news release.
But the FTC said May 10 that Medtronic had too much of the ENT business and forced it to sell a subsidiary that makes ENT navigation systems and balloon sinus dilation products.
"Today's action by the FTC is part of our efforts to combat the problem of rising healthcare costs," said Holly Vedova, director of the agency's Bureau of Competition, in a news release.
"These are already concentrated markets for critical medical instruments. Medtronic is the top provider of ear, nose, and throat navigation systems," and the FTC was concerned the acquisition of all of Intersect would lead to higher prices and reduced innovation in the market, she said.
Rising rates lower Fidelity National Financial earnings
With mortgage rates rising, Jacksonville-based title insurance company Fidelity National Financial Inc. reported lower first-quarter earnings.
Fidelity's adjusted earnings of $1.37 a share were 19 cents lower than the first quarter of 2021, as a significant decrease in mortgage refinance volume lowered demand for title insurance.
"We have entered a period of rising interest rates coming off the historically low mortgage rates of the last two years," CEO Mike Nolan said in Fidelity's May 11 conference call with analysts.
"We have seen steady levels of residential purchase origination demand although, given the current environment, we are not seeing the typical increase heading into the spring selling season," he said.
However, Nolan said Fidelity still expects a relatively big earnings year.
"While current residential purchase demand is trailing last year, 2021 was a record year for the U.S. residential purchase market and current forecasts indicate 2022 will still be one of the strongest purchase origination markets in the last decade."
Dun & Bradstreet earnings up slightly
Dun & Bradstreet Holdings Inc. reported adjusted first-quarter earnings of 24 cents a share, a penny higher than last year.
The business data firm, which moved its headquarters to Jacksonville last year, said May 9 that adjusted revenue rose 5.3% to $536 million.
Dun & Bradstreet has no official connection to Fidelity but the two companies share some ties, including Fidelity Chairman Bill Foley, who also serves as executive chairman of Dun & Bradstreet.
Cadre expanding with acquisitions
Cadre Holdings Inc. reported lower first-quarter revenue. However, the Jacksonville-based maker of safety and survivability products for the law enforcement, first responder and military markets continues to expand with acquisitions.
Cadre acquired Cyalume Technologies, a Massachusetts-based manufacturer of chemical illumination solutions, for $35 million on May 5. 
This followed the January acquisition of Italy-based Radar Leather Division S.r.l.
"We have now completed two accretive acquisitions since our November 2021 IPO that further expand Cadre's international presence and add multiple growth avenues," CEO Warren Kanders said in Cadre's May 12 conference call.
"We are incredibly proud that in a short period of time as a public company, we have made considerable progress delivering on the M&A strategy we laid out to our investors," he said.
Cadre reported first-quarter sales of $104.4 million, down from $110.5 million the previous year. The company said last year's sales were helped by a large government duty gear shipment and high demand for crowd control products.
The company said Cyalume is expected to generate about $25 million in revenue this year.
Cadre reported a net loss of $10.2 million in the quarter, which included $23.6 million in stock-based compensation expense.
President Brad Williams said in the conference call Cadre is receiving inquiries about its products related to the war in Ukraine.
"What we've seen thus far is demand for more lower-end equipment, which doesn't fit our model," Williams said.
"We're watching the situation closely and remaining in regular contact with customers to be prepared to serve them when the time comes," he said.
Dream Finders results double after acquisition
Dream Finders Homes Inc. reported first-quarter results basically doubled after a major acquisition of a Texas homebuilder last year.
Revenue rose 93% to $664.1 million and earnings of 42 cents a share were 24 cents higher than the first quarter of 2021, when the Jacksonville-based company launched its initial public offering.
"Despite the increasing rate environment, we continue to experience strong demand for our product and have built this company on a strategy that allows us to be nimble and adjust quickly to market conditions," CEO Patrick Zalupski said in a May 10 news release.
Dream Finders said it closed sales of 269 homes in the Jacksonville market, down from 295 in the first quarter of 2021. However, the average sales price in the market jumped from $326,023 last year to $453,134.
Redwire results below expectations
Redwire Corp. reported first-quarter revenue rose by 3.7% to $32.9 million over the first quarter of 2021, but the Jacksonville-based space technology company was looking for more.
"The first-quarter performance was slightly below our expectations due to delays in contract awards and supply chain issues impacting subcontractor order fulfillment, and we have experienced some volatility associated with orders from emerging commercial space contracts," CEO Peter Cannito said in Redwire's May 12 conference call.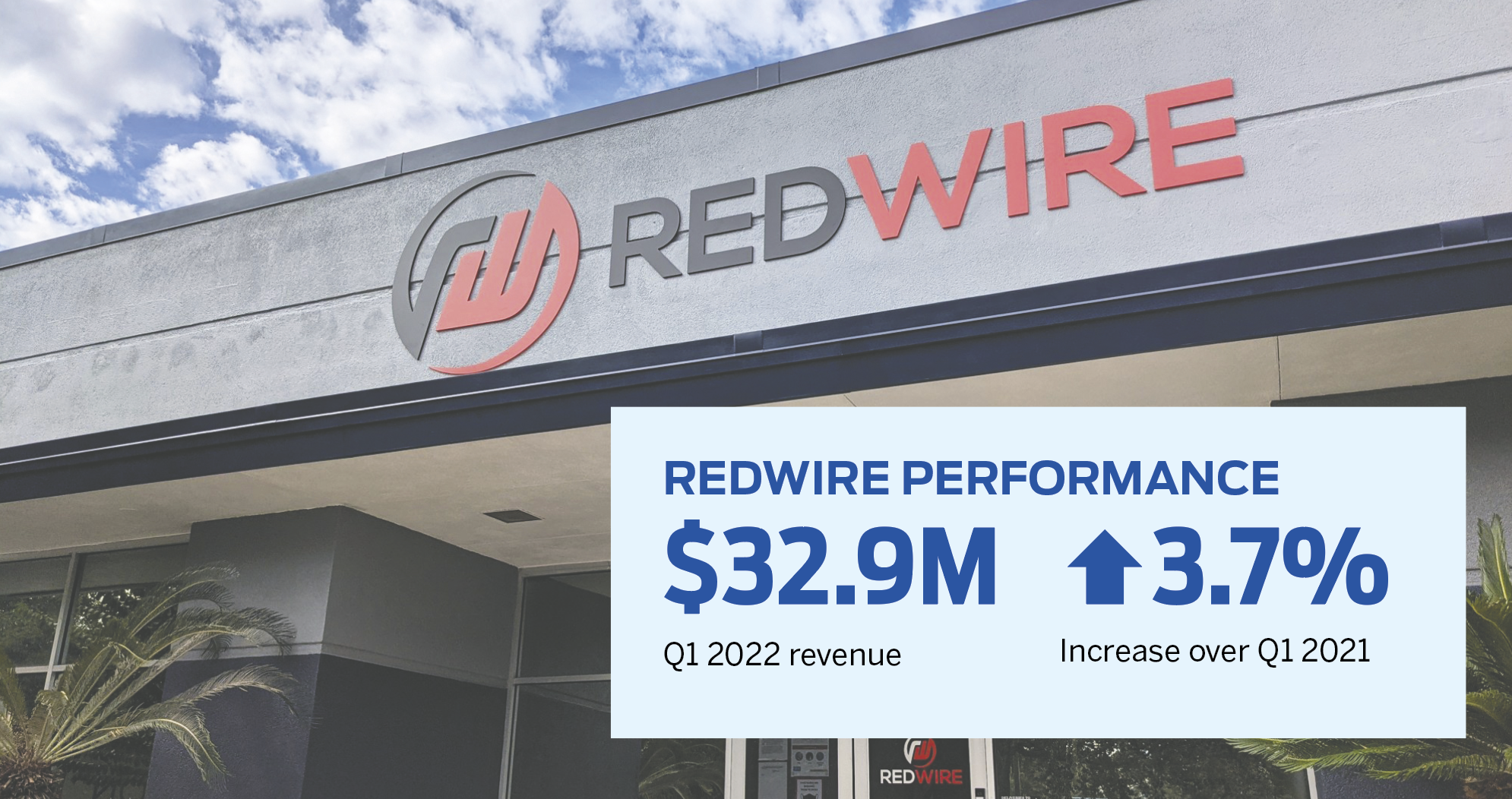 Redwire is maintaining its full-year revenue forecast of $165 million to $195 million, up from $149.3 million in 2021.
"Our revenue profile is such that a shift of a key milestone, large new order or sizable subcontract delivery can materially change the timing of our revenues throughout the year," Cannito said.
"Despite near-term shifts and delays that impacted the size of this year's first-quarter revenue, we have confidence in our 2022 forecast range and expect sales to be more heavily weighted towards the back half of the year," he said.
Redwire reported a net loss of $17.3 million in the quarter.
Parker Vision reports accounting gain
ParkerVision Inc. reported no revenue in the first quarter, but the Jacksonville-based developer of wireless technology did record a net profit because of an accounting gain.
The company had net income of $332,000 in the quarter after a $2.3 million gain from a decrease in the fair value of a contingent payment obligation owed to an investor.
ParkerVision has no products on the market but is focused on several patent infringement lawsuits against major telecommunications companies.
LFTD Partners results grow
LFTD Partners Inc. reported first-quarter revenue of $18.1 million, 41% higher than the fourth quarter of 2021 and more than five times its revenue in the first quarter of 2021.
Earnings of 18 cents a share were 10 cents higher than the fourth quarter and 14 cents higher than last year's first quarter.
The Jacksonville-based company produces cannabis and psychedelics-lifestyle and consumer packaged goods through a Wisconsin subsidiary called Lifted Made.
LFTD said in a May 12 news release it is targeting $75 million in sales this year.
Margo Caribe revenue rises 21%
Margo Caribe Inc. said May 9 that 2021 revenue rose 21% to $51.8 million, but earnings of $1.47 a share were 21 cents lower than 2020.
Jacksonville-based Margo Caribe produces home and garden products through subsidiary Margo Outdoor Living Inc.
The company said supply chain disruptions, inventory availability and an increase in freight costs pressured its operating margins in 2021.