Pattillo Industrial Real Estate, the largest industrial property developer in Northeast Florida based on market research, intends to expand into Wildlight in Nassau County.
Pattillo, based in Atlanta, applied to Nassau County to develop three buildings totaling 253,500 square feet on 36.9 acres at Florida 200 and Old Yulee Road in Wildlight.
Raydient Places + Properties LLC, part of Rayonier Inc., owns Wildlight, which is designed as a mixed-use community on 24,000 acres at northeast Interstate 95 and Florida 200.
The Nassau County Development Review Committee scheduled pre-application meetings Nov. 15 for Wildlight Commerce Park Parcel A and Parcel B.
Pattillo requested a pre-application conference to discuss proposed industrial development.
Wildlight Commerce Park consists of several large parcels with roadways and trails connecting it to adjacent roads, according the Nov. 15 meeting agenda.
Parcel A is shown as 31.82 acres of timberland at northwest Still Quarters Road and Commercial Rail Avenue. It features the 147,000-square-foot Building B with 130 parking spaces and the 38,500-square-foot Building C with 76 spaces.
Parcel B is 5.08 acres at northeast Still Quarters Road and Commercial Rail Avenue. Building A is 68,000 square feet with 65 parking spaces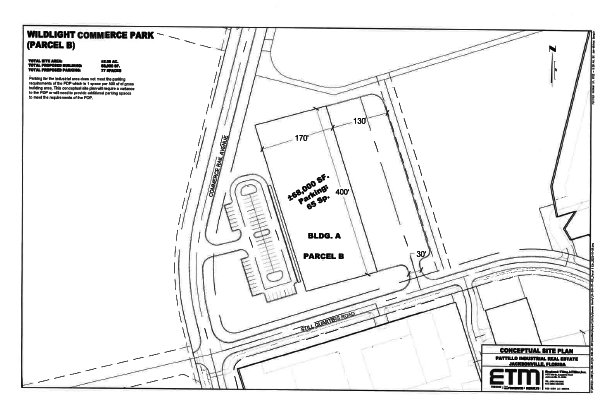 Jacksonville-based England-Thims & Miller Inc. is the civil engineer.
Wildlight.com says the Wildlight development, with 9 miles of frontage along I-95, is designed for 11 million square feet of commercial space, 24,000 residential units, 1,100 acres of parks and more than 50 miles of trails.
It now has 415,000 square feet of commercial space, 49 acres of parks, 11 miles of trails and 1,900 homes under development.
Rayonier Inc., a timberland real estate investment trust, established Wildlight in 2017 and is based there.
Pattillo Industrial Real Estate has an inventory of more than 7.06 million square feet of industrial buildings among 37 buildings in Northeast Florida, according to the Q3 Industrial Snapshot by Cushman & Wakefield Managing Directors Tyler Newman and Jacob Horsley.
That ranks Pattillo as the largest single industrial developer in the area, which Cushman & Wakefield found had 103.5 million square feet of warehouse distribution, manufacturing and flexible-use space in the market.