Bank of America Jacksonville President Mark Bennett will lead the JAX Chamber board of directors in 2024. 
The chamber board announced Oct. 24 it selected Bennett to serve the one-year term.
Bennett is the chamber board treasurer and serves on its executive committee.
"Mark is an incredible leader and has worked closely with the Chamber on how we can ensure everyone in our community has an opportunity to succeed," JAX Chamber President and CEO Daniel Davis said in a news release.
"Mark's decades of experience in banking and long history of community involvement will serve our members well under his leadership."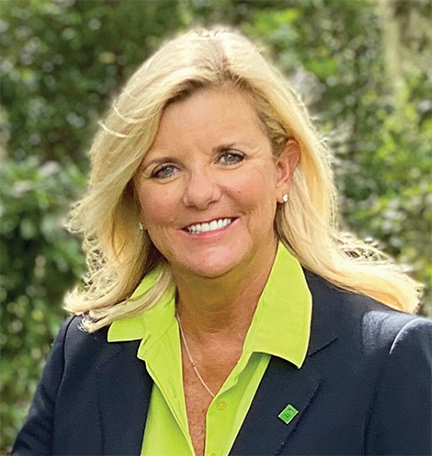 The chamber also announced that TD Bank North Florida Market President Cindy Stover will be the 2023 JAXUSA Partnership chair succeeding Tom VanOsdol, executive vice president and chief mission officer for Ascension.
JAXUSA is the chamber's economic development arm that covers the seven-county Northeast Florida region. 
Bennett will succeed HCA Florida Memorial Hospital CEO Bradley S. Talbert who is the current chamber board chair-elect and will move into the lead role for 2023. 
"Jacksonville is seeing tremendous growth right now and we as a business community need to make sure that companies and residents have everything they need to sustain that growth," Bennett said in the release. 
"From workforce development to entrepreneurial education to public policy, the Chamber plays an important role. I look forward to working with Brad to accomplish his goals for the next year and to leading the Chamber in 2024."
The chamber historically chooses its chair more than a year in advance. 
Bennett joined Bank of America in 2003 and has been in several business banking and market executive leadership roles in Florida and the Southeastern U.S., according to the chamber release.
He also leads Bank of America's Black and African American business owner initiative. 
Bennett serves on the Communities In Schools Advisory Council; the Black Executive Leadership Council; the First Coast YMCA board of directors; the Jacksonville Civic Council board of directors; and is the director for the board of the North Florida Association of Financial Professionals. 
He attended Florida State University and earned bachelor's degrees in management information systems and finance. 
Stover has been a Jacksonville banker since 1983 and is a member of the Jacksonville Civic Council and the board of Goodwill Industries of North Florida.
Stover's North Florida role covers Jacksonville, St. Augustine, Starke, Ocala, Gainesville, Daytona Beach and Putnam and Baker counties.