Graze Craze, a franchise concept specializing in charcuterie boards and boxes, is preparing to open at 650 Market St. in St. Augustine.
St. Johns County issued a permit Aug. 18 for Atlas Built Construction of Neptune Beach to build-out the 1,152-square-foot shop at a cost of $45,000.
The location is at Market and Central streets in Palencia, east of U.S. 1.
The permit shows it is in the Crosswinds at Palencia live/work town houses. A 2006 news release said The Village Lofts at Palencia, a project by Crosswinds Communities, offers residents the opportunity to work where they live and play. 
United Franchise Group Public Relations and Marketing Manager Sharon Cahill said Aug. 30 the shop likely will open in eight to 12 weeks, which takes it to November, depending on logistics and other factors.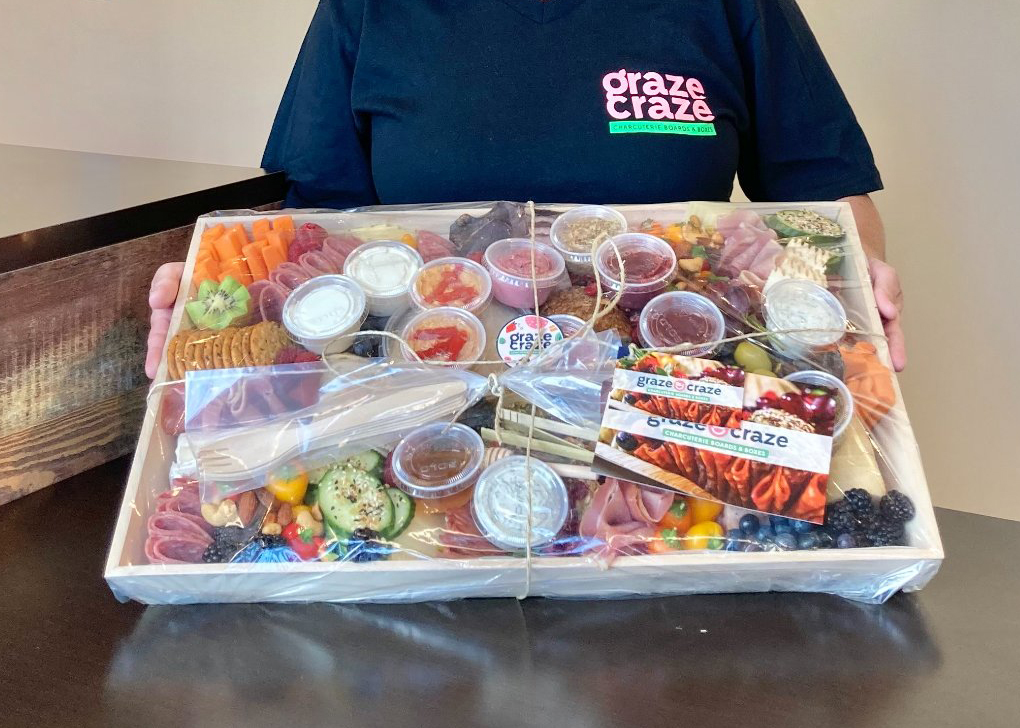 Cahill did not disclose the identity of the franchise owner, who was traveling and unavailable for an interview.
Cahill said the franchise owner owns a single location and she will attend the training school at the end of September.
The St. Augustine location is one of four Graze Craze shops in Florida. One opened this week in North Palm Beach, one is expected to open in Tampa in six to 10 weeks, and a location selection is pending in the St. Petersburg area, Cahill said.
There are about 40 locations open or coming soon in 16 states, according to grazecraze.com.
Charcuterie appears to be part of a market trend.
Brady Lee, president of Graze Craze and COO of United Franchise Group, said the charcuterie business is a $378 million industry "that is ripe for growth."
The International Franchise Association describes charcuterie boards as "artfully designed platters that display an array of foods, perfect for grazing — and can include fruits, vegetables, cheese, gourmet sweets and more."
Graze Craze sells grazing boards for a group, boxes for one or four people, and grab-and-go items, such as a snack or meal-for-one.
There also are add-ons like a gourmet pickle box, bread box and cracker box.
The signature "The Gone Grazey" includes cured meats, cheeses, fruits and vegetables, "with a touch of something sweet," in this case dark chocolate bark. 
The Gone Grazey also has hummus; baguette, dessert and seeded breads; and mixed nuts, dips and jams.
The board sizes serve six, eight or 10 people.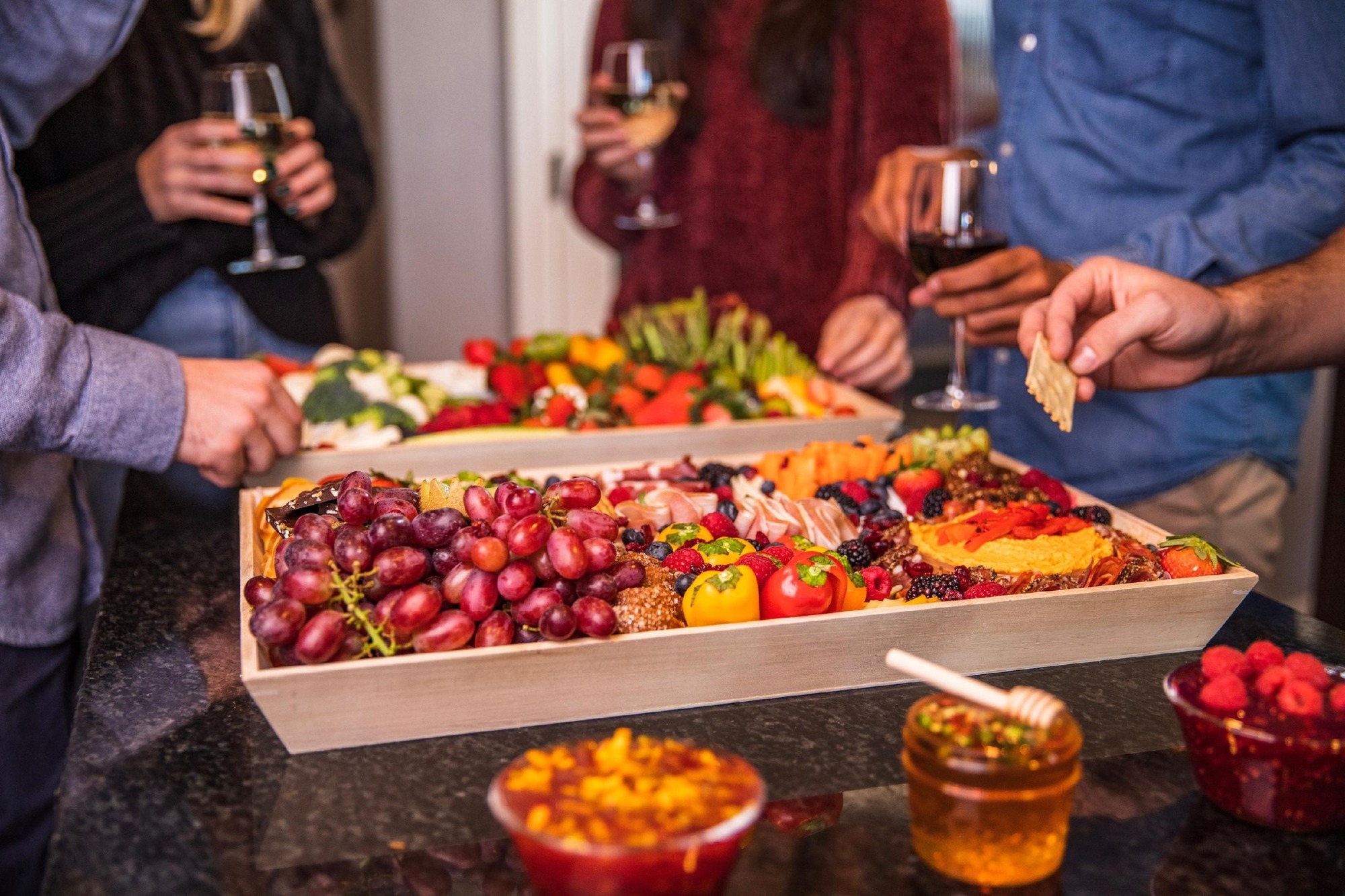 At the North Palm Beach location, The Gone Grazey is $165 for large; $135 for medium; $105 for small; $75 for a picnic box; and $27 for a Lone Grazer Box.
The Grab and Graze is $12 and the Char "Cutie" Cup is $8.
Other boards include the Vegegrazian. The Grazey for Keto and The Sweet & Grazey.
Grazecraze.com and a Graze Craze news release say U.S. Air Force veteran Kerry Sylvester founded Graze Craze Inc. in 2018 in Oklahoma with more than "a decade of legal experience in the private, corporate, and government sectors."
"As a single mother with a career in a busy corporate environment, she understood the need for efficiency in both business and home life," it said.
It says she was recruited as the director of operations for a multimillion-dollar food distribution company where she gained "an intimate knowledge of large-scale food industry."
"As a self-proclaimed traveling foodie, our founder noticed a growing trend toward the graze style of eating."
It said that after a successful two-year test market across the country, she decided to launch Graze Craze Inc. 
"With tremendous growth potential now and in the near future across the United States, Graze Craze is the projected leader in the graze style food category," it says.
Graze Craze began selling franchises in June 2021 through its affiliation with United Franchise Group, reported the International Franchise Association on March 16 .
United Franchise Group is based in West Palm Beach, which is where the training school is set up.
The charcuterie business franchise and affiliate stores are open in Florida, Oklahoma, Texas and Utah with additional locations opening soon in Massachusetts and Tennessee, a March news release said.
"Since we began franchising Graze Craze in the U.S., more than 100 new franchises have signed, which speaks both to the draw of this brand-new charcuterie franchise category and to the power of consumers' demand for healthy and convenient alternatives," said Ray Titus, CEO of United Franchise Group and Graze Craze.
The grazecraze.com site says the total franchise investment is estimated at up to $200,000, including an initial investment of $50,000 and a franchise fee of $49,500.
QSRMagazine.com reported Aug. 2 that Graze Craze, "a booming new concept in charcuterie boards and boxes for healthy lunches, office catering and special events," opened its first Michigan location.
It said "each charcuterie board is beautifully curated by a Grazologist."
The company says its goal is to have nearly 50 stores open nationwide by the end of 2022.