Mike Mendenhall & Dan Macdonald | Staff Writers
Plans to restore a historic LaVilla area funeral home, believed to be Florida's first, and convert it to long-term and Airbnb-style apartments and retail is a step closer to reality. 
The Downtown Development Review Board voted 8-0 on Sept. 8 to grant conceptual design approval for Silver Street Management owner Eric Adler's proposal to transform the former Pratt Funeral Home at 525 W. Beaver St. into 13 apartments with a restaurant.
Adler, the building owner, said Sept. 7 before the meeting that he is reconsidering his plan to brand the project The Raven —  an homage to 19th-century poet and writer Edgar Allan Poe — after feedback from neighbors.
For now, Adler is calling the project LaVilla Place and intends to "hearken to the spooky nature" of the former funeral home while recognizing its history.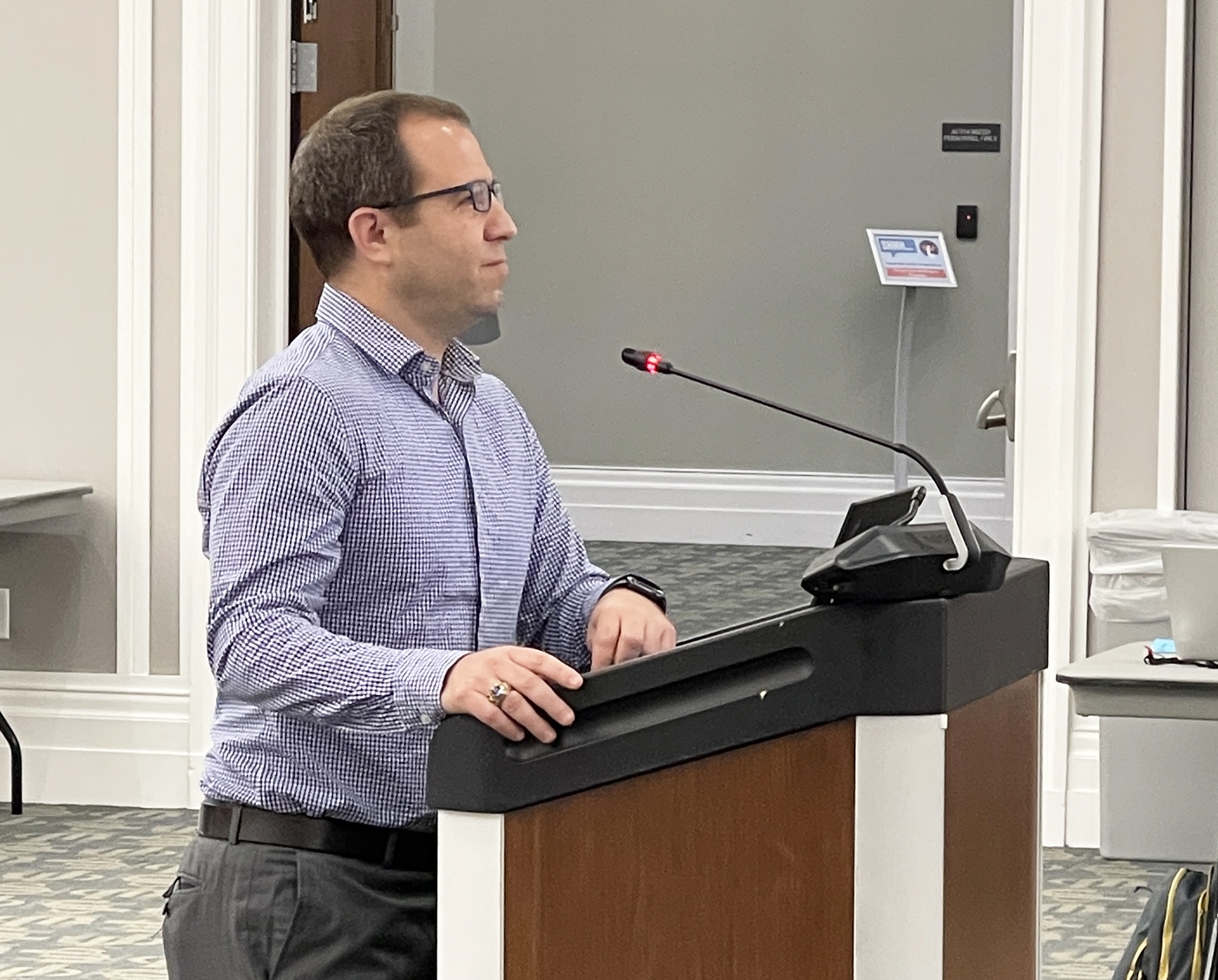 He said he hopes the project joins with other development proposals in LaVilla to revitalize the neighborhood. 
"Living in Springfield, I'm a big fan of historic preservation and maintaining the facade as it was," Adler said. 
The project would convert nearly 7,000 square feet of the 106-year-old funeral home into apartments and add restaurant space.  
Duval County property records show the two-story building is 10,603 square feet.
Adler said Sept. 7 and also told the board he has a verbal commitment from a retail tenant at another property managed by Silver Street to open a small-plate restaurant and wine bar in about 1,000 to 2,000 square feet of the vehicle bay attached to the funeral home.
He declined Sept. 7 to announce the operator but said she owns a "very popular dessert offering" in the area.
The building is west of the United House of Prayer for All People church and across West Beaver Street from Old Stanton High School.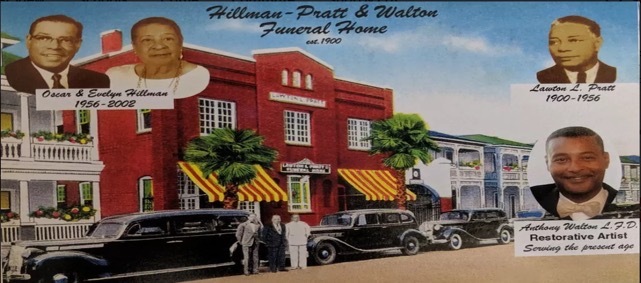 Building history
The Pratt Funeral Home was established in 1900. The business moved to 525 W. Beaver St. when the building was constructed in 1915-16. 
In 1943, it became Hillman-Pratt Funeral Home and then Hillman-Pratt & Walton from 2002 until it closed in 2019. 
Business pioneer Lawton Pratt also was a founder of the Florida Negro Embalmers and Morticians Association. 
The address was changed from 527 W. Beaver St. to 525 W. Beaver St. in the 1970s. 
It was in continual use as a funeral home until it closed three years ago.
Pratt is listed as the second licensed black funeral director in Florida. He studied at the Cincinnati School of Embalming.
Besides funeral services, bodies were embalmed and caskets were built in the structure.
The Florida Morticians Association website lists Pratt as one of the founders of the Florida Negro Embalmers and Morticians Association. Its first meeting was held at Pratt Funeral Home.
The building was designed and built by Joseph Haygood Blodgett (1858-1934), an African American self-taught architect and builder. It is one of the last standing commercial properties Blodgett designed in the city.
Adler paid $645,000 for the property July 26, 2021, under the name 525 Beaver LLC. 
He bought it from Ryan Viti and Danielle Dallas, who sold it through Lavilla Mansion LLC and The Copper Closet LLC. 
Dallas is CEO of The Copper Closet retail clothing chain.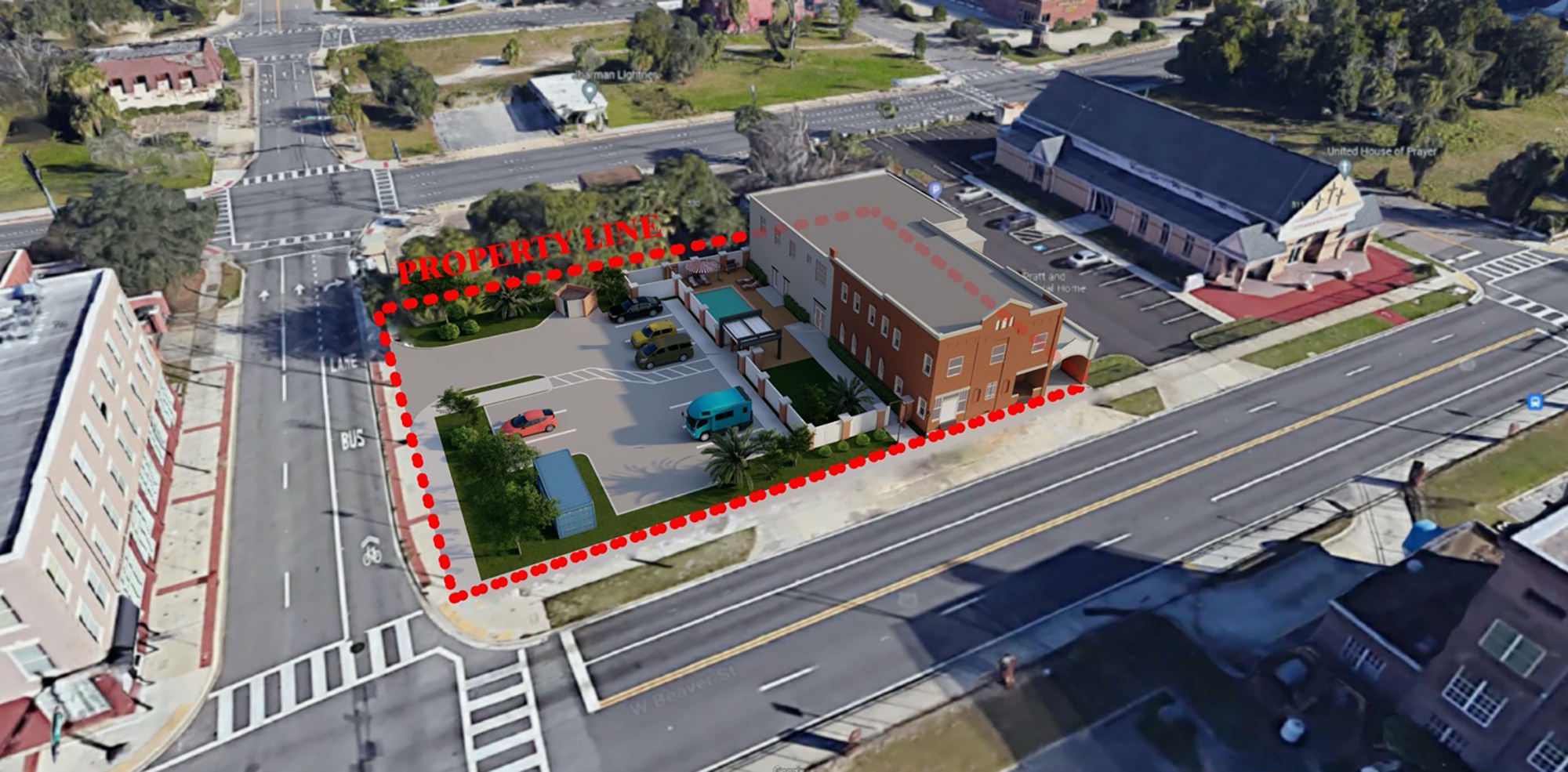 Conceptual review
Overall, the review board complimented the project and said it could create a connection between two Downtown neighborhoods as it sits on the borders of the North Core and LaVilla districts.
Adler told board members there would not be many changes to the exterior of the property and his plans called for a full restoration. 
According to Adler, he and his Chicago-based business partner, Realtor Andrew Dorazio, plan to invest $3 million to $4 million in private capital to complete the project. 
Jacksonville-based Opus Group is the contractor and Jason Canning is the project architect.
On Aug. 9, City Council voted 16-0 to grant Adler's request to designate the building a local landmark, which would make the building eligible for historic preservation forgivable loans from the Downtown Investment Authority. 
Adler said Sept. 7 he hopes a term sheet with the DIA for a public grant will be voted on as early as mid-September. 
He also plans to apply for a historic landmark designation with the National Park Service to be eligible for federal funding. 
That funding will come with a requirement for additional approvals. Adler's team will need a certificate of appropriateness from the Jacksonville Historic Preservation Commission as well as the National Park Service to make any modifications to the structure.
The plan would convert the first and second floors into eight studio, one two-bedroom and four one-bedroom apartments for both long and short-term rentals. 
Outside, the design shows a walled-off courtyard that includes a pool and patio.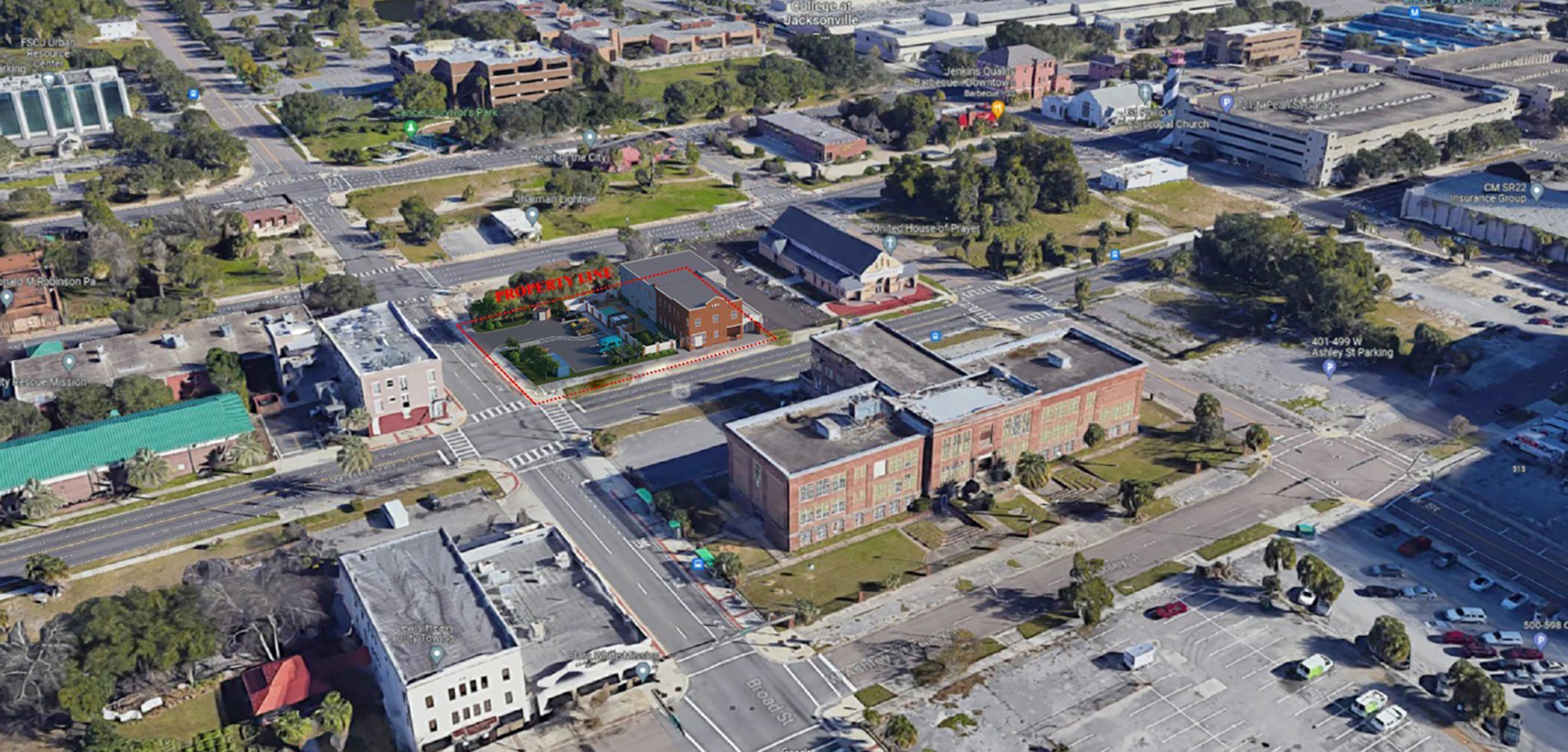 Future plans
A vacant parcel at Broad and Beaver streets would be used for parking for three to five years. 
Alder told the board he would be able to redevelop the parcel into retail and multifamily residential after LaVilla redevelopment progresses and the neighborhood becomes more pedestrian-friendly. 
The board made a redevelopment timeline for that parcel a stipulation of its approval.
A retrofitted shipping container shown in the renderings on the northeast corner of the parking area would be a stand-in for additional retail to "activate" that street corner, Adler said.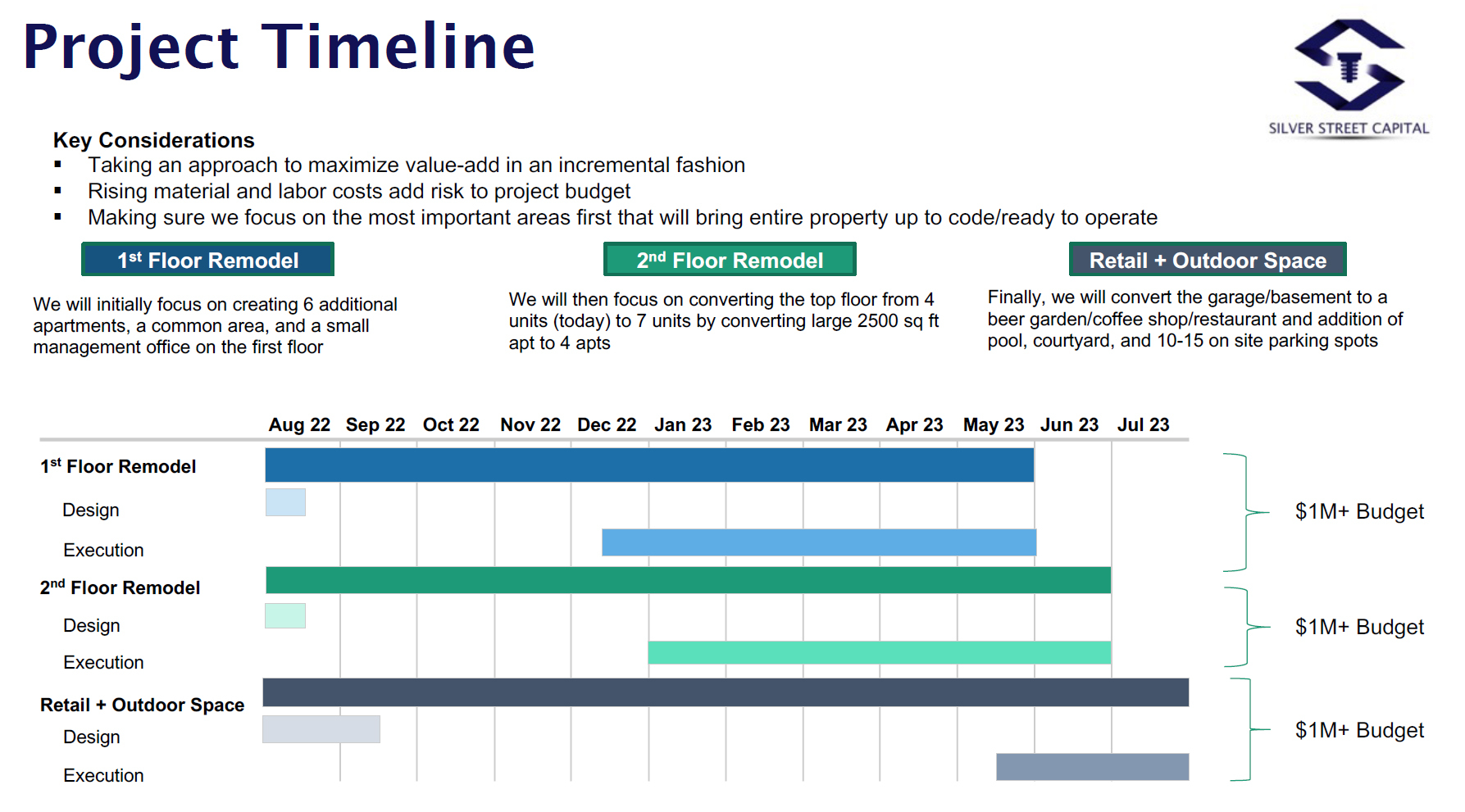 Board members Trevor Lee and Craig Davisson said Sept. 8 that Adler's team would need to provide more detailed visuals of the project to receive final approval.
Member Joe Loretta recommended Adler hire an engineer or a landscape architect for the project to advise on what he thought would be code violations with the pool.
Member Christian Harden was absent for the vote Sept. 8.
Adler also will need to rebuild sidewalks to Downtown design standards with special pavers, lighting, benches and landscaping. 
He told the Daily Record in April that he would like to eventually convert the building's cellar into a speak-easy.
The project will need final approval from the design review board, as well as receive city permits and approvals before he can break ground. 
Adler hopes to start construction by the end of 2022 and open in mid-to-late 2023. 
He acknowledged that, for now, the apartment/retail project could be on an "island" as city and private developers plan to revitalize the area.
"That's why we've done the outdoor space to make it an oasis," Adler said. 
"We want to be part of the LaVilla renaissance."