From One Riverside to JAX River View Plaza and Jacksonville Jaguars owner Shad Khan's Four Seasons hotel, more than $3 billion of investment is in the pipeline for the urban core.
Downtown Investment Authority Director of Downtown Real Estate and Development Steve Kelley offers an update on where those projects stand: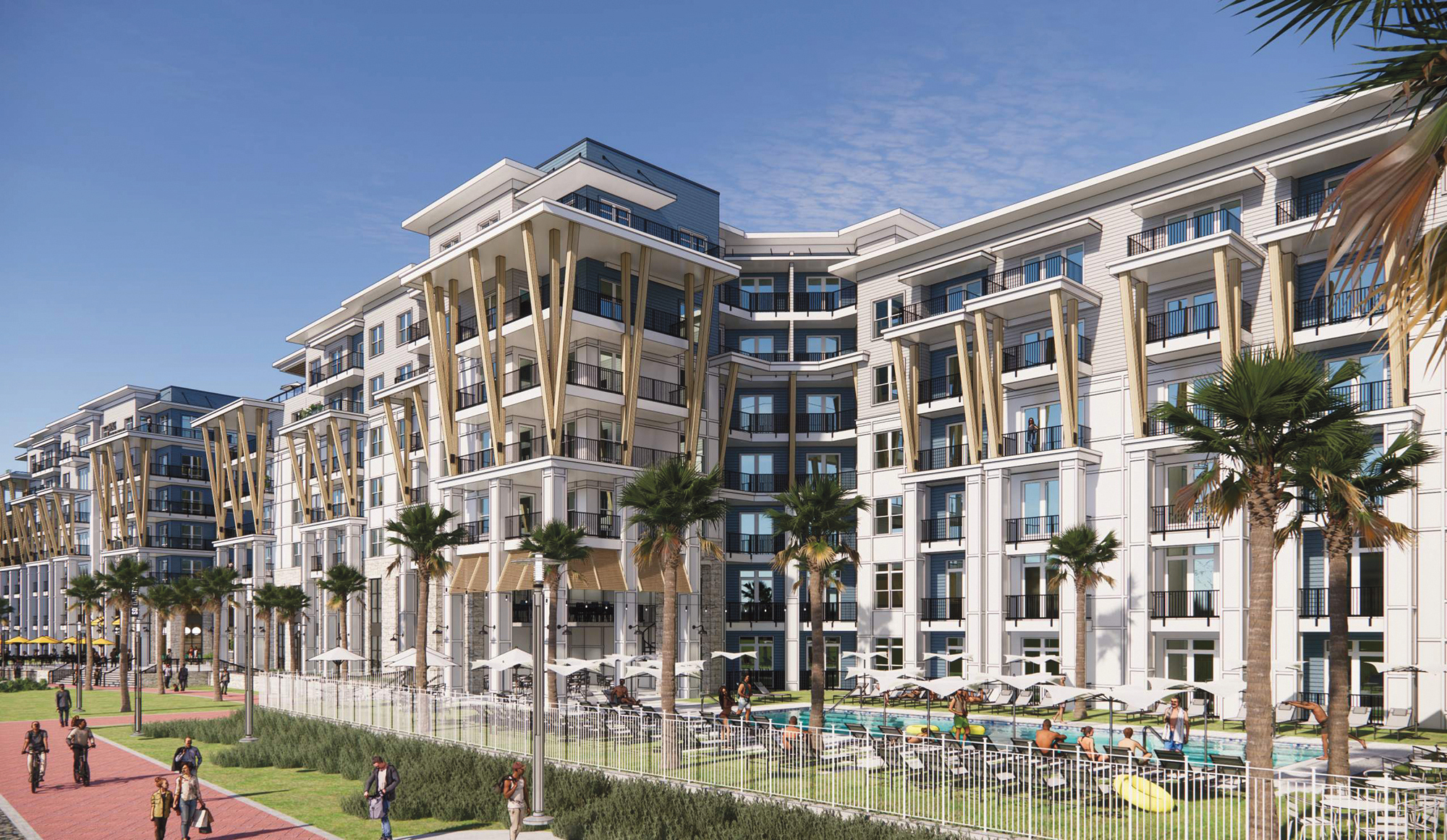 One Riverside
Demolition of the former Florida Times-Union headquarters on the Brooklyn riverfront is nearly complete, prepping the site for One Riverside, a residential and retail mixed-use project to begin construction by fall 2022.  
Fuqua Development of Atlanta and project partner TriBridge Residential LLC are planning 271 apartment units. Fuqua will lead 39,256 square feet of retail, including a Whole Foods Market and a riverfront restaurant at the 18.84-acre site.
The DIA and city will restore McCoys Creek and add a 2½-acre park that will be part of the Emerald Trail. 
A planned second phase includes 125 apartments and 15,000 square feet of retail. In total, the development will have three restaurants — one on the river. 
Kelley said waterfront restaurants are "a common theme" in the riverfront developments proposed and breaking ground Downtown — a DIA board priority.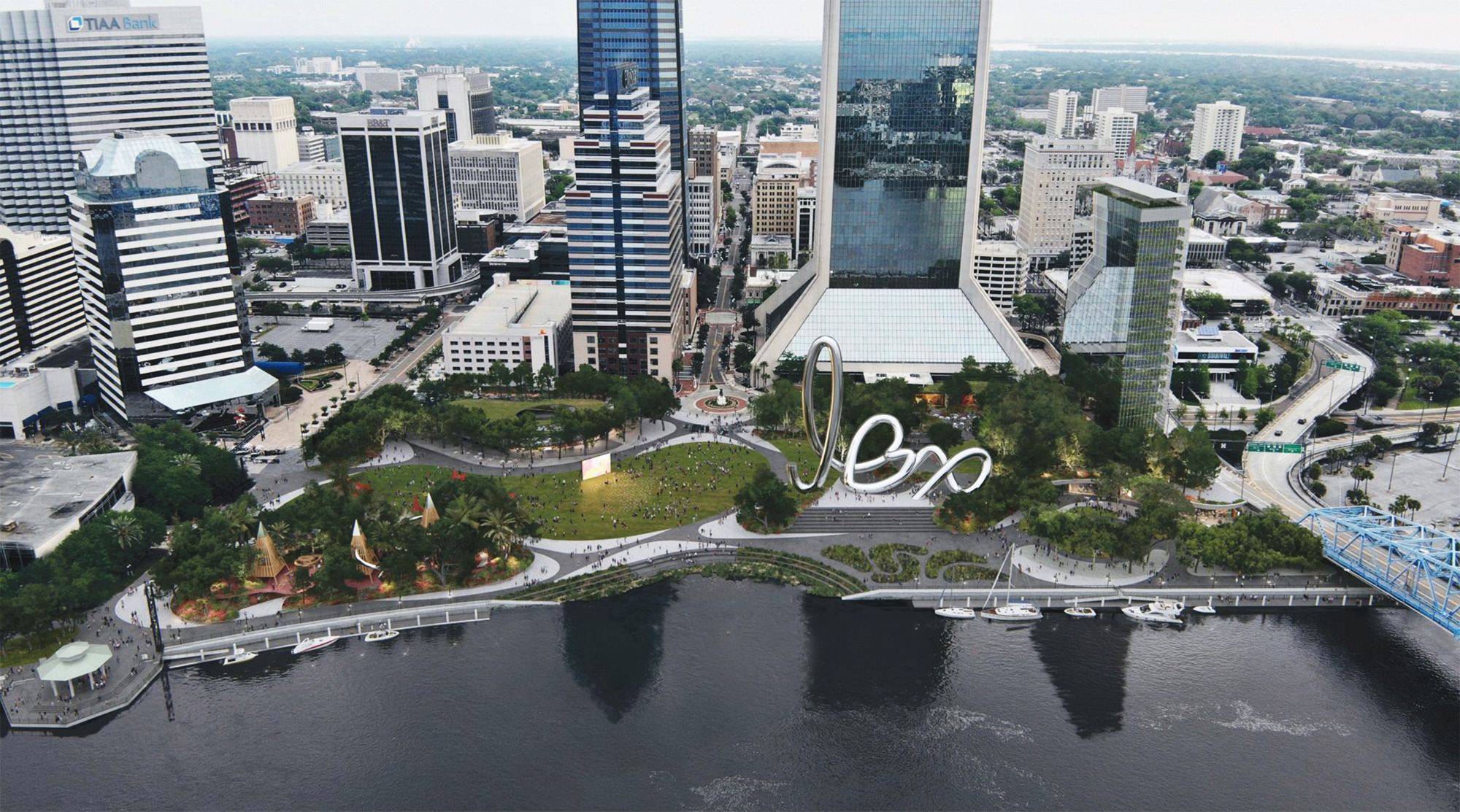 Riverfront Plaza
Architecture firm Perkins & Will is scheduled to finalize designs by early 2023 for a nearly 7-acre park at the former Jacksonville Landing and construction will begin sometime in the next six to nine months.
Park features will include a flexible multipurpose lawn; destination playground; pedestrian ramp from the Main Street Bridge; beer garden; water feature; and a monumental sculpture.
The centerpiece sculpture proposed for the park may or may not be the conceptual "Jax" statue designed by Orlando-based artist Jefrë.
"There will be a major sculpture there and whether or not it's that one exactly, is yet to be determined," Kelley said.
The 2023 Capital Improvement Plan that City Council is considering as part of the 2022-23 fiscal year budget includes $25 million for the Riverfront Plaza project.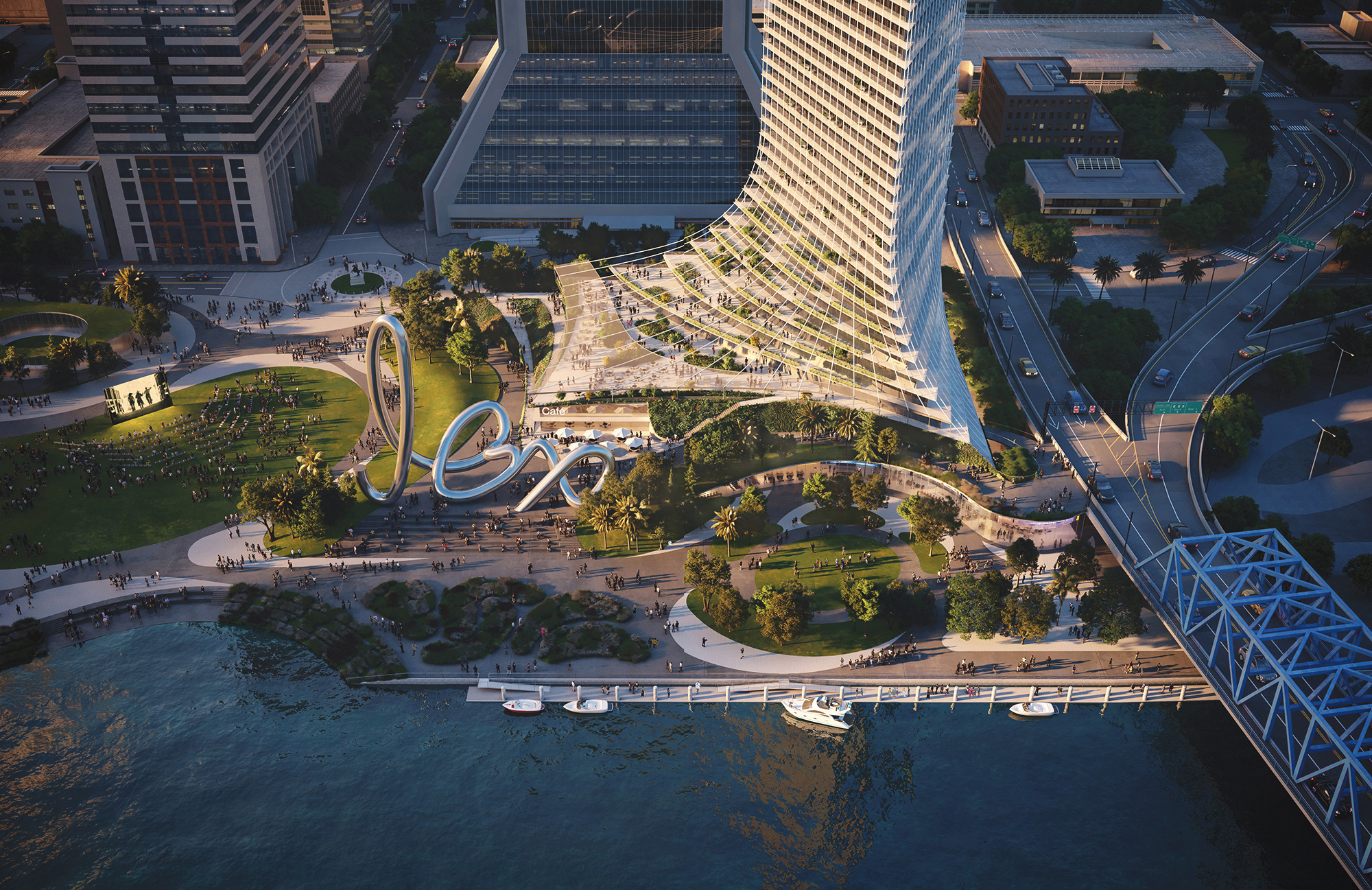 Jax River View Plaza 
The DIA is "negotiating in great good faith" with American Lions LLC, Kelley said, on a city incentives package for the New York City developer to build its proposed 44-floor, 332-unit multifamily tower adjacent to the Riverfront Plaza park. He said the deal could come to the DIA board in September.
The company, a joint venture between Fetner Properties and Lions Group, has tapped international architecture firm Bjarke Ingels Group (BIG) to design what could be the tallest tower in Northeast Florida.
The plan would integrate the building into the park through a sky garden terrace with retail and park access. The design shows a 7,500-square-foot restaurant and includes amenities such as a day care.
There would be a food and beverage venue on the 44th floor with park and river views open to the public; a 1,500-square-foot cafe with indoor and outdoor seating; and a parking garage.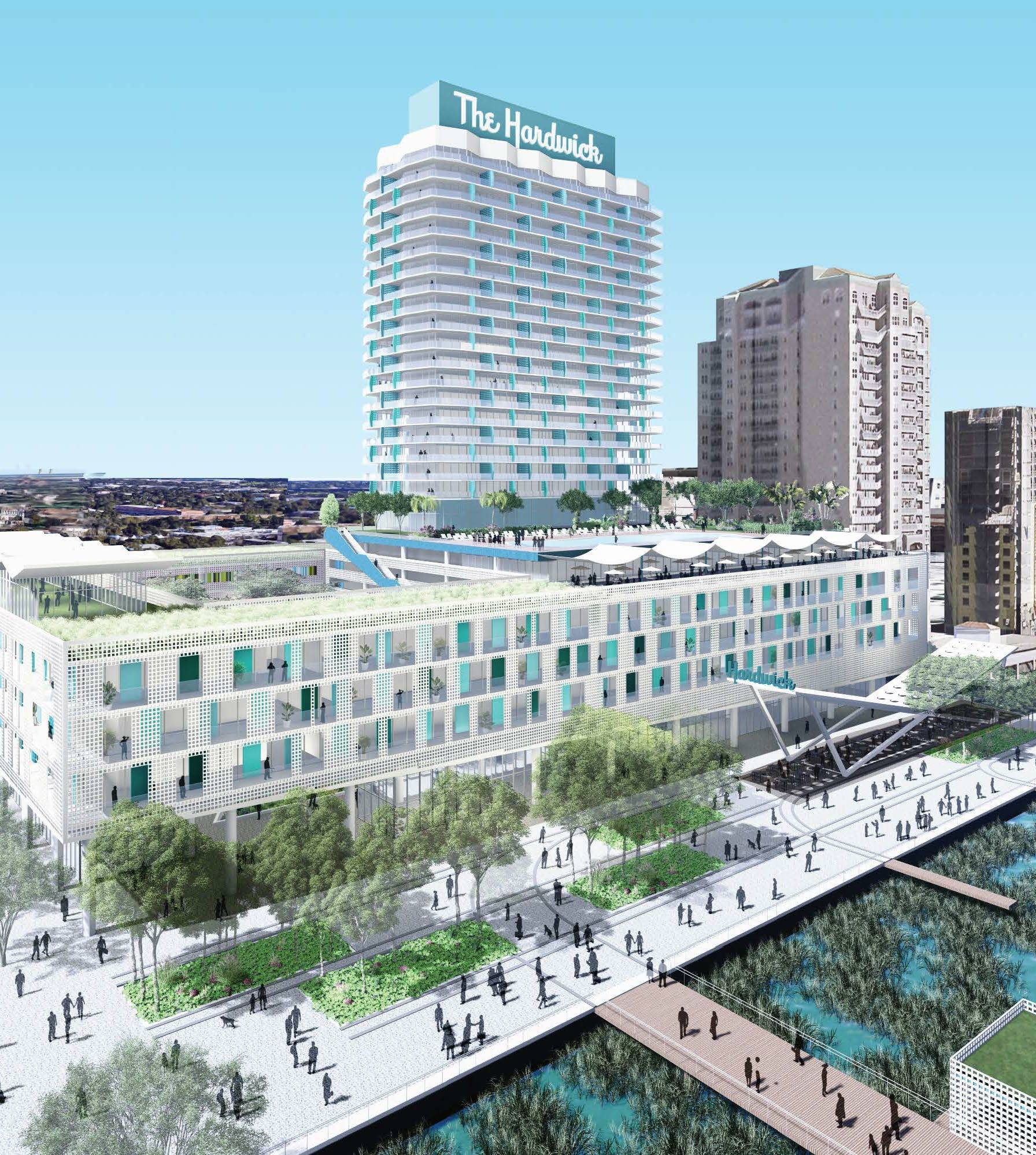 The Hardwick at The Ford on Bay
Atlanta-based developer Carter could be returning to the city with an updated design that allows more density for its estimated $150 million mixed-use residential high-rise The Hardwick. The 22-story tower is proposed at the former Duval County Courthouse site.
The changes would increase the units from 332 to 360. The plan would bring a 120-space parking garage and 25,000 square feet of retail space with two restaurants to the riverfront site facing the future Liberty Marina.
The DIA board approved $41 million in tax, cash and land value incentives for the project in May that still need City Council approval.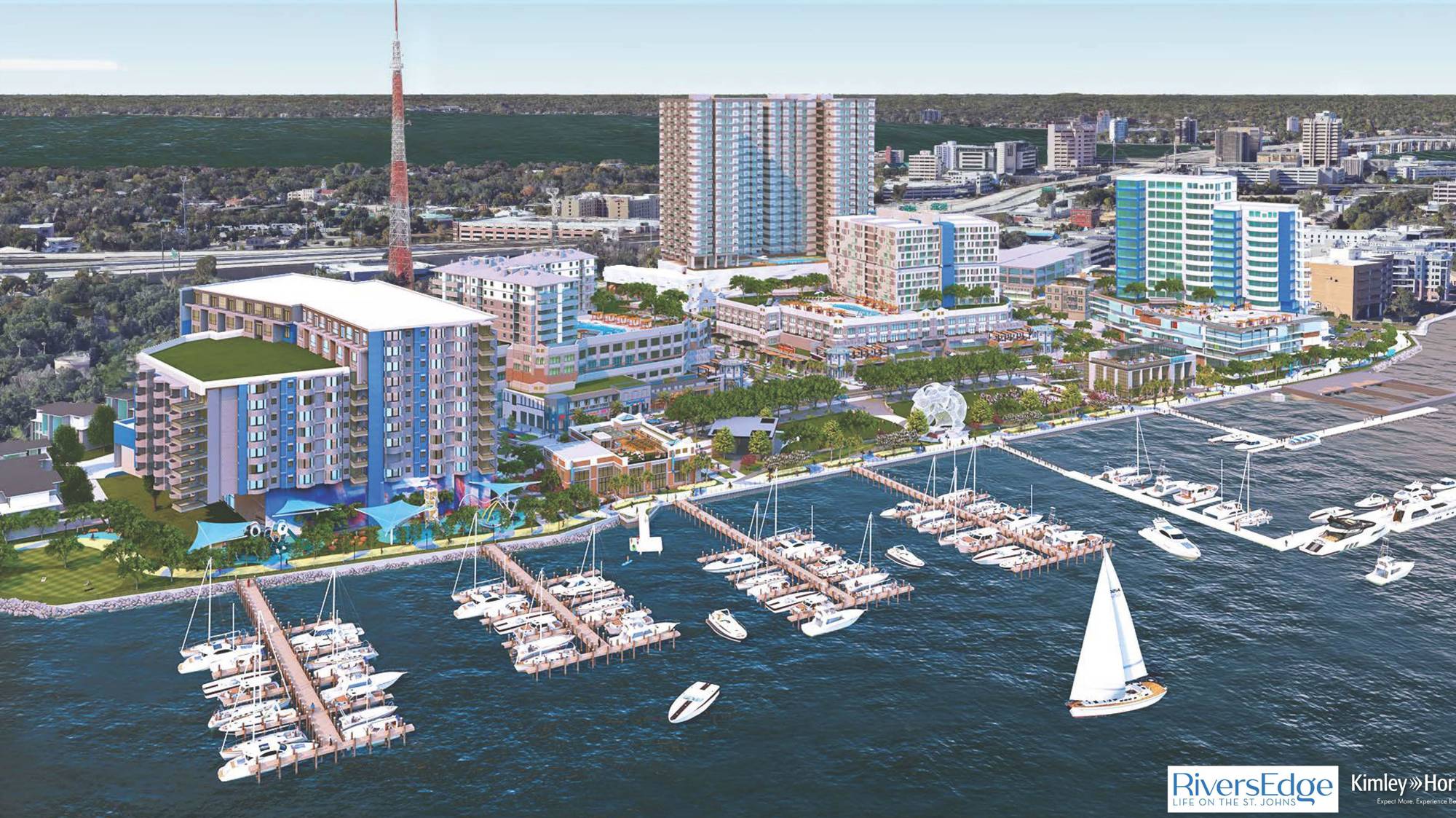 RiversEdge: Life on the St. Johns
St. Johns River bulkhead construction that will protect Dallas-based Preston Hollow Capital LLC's long-delayed master-planned Downtown Southbank development is 75% complete, Kelley said.
The DIA expects work to start on roads and city parks in late 2022. The company announced in May 2021 that residential developer Toll Brothers will build 39 town houses at RiversEdge.
Preston Hollow has not announced who will build the majority of the remaining vertical construction.
The project scope calls for 950 residential units; 147 hotel rooms; 200,000 square feet of office space; 134,000 square feet of retail uses; and a 125-slip marina.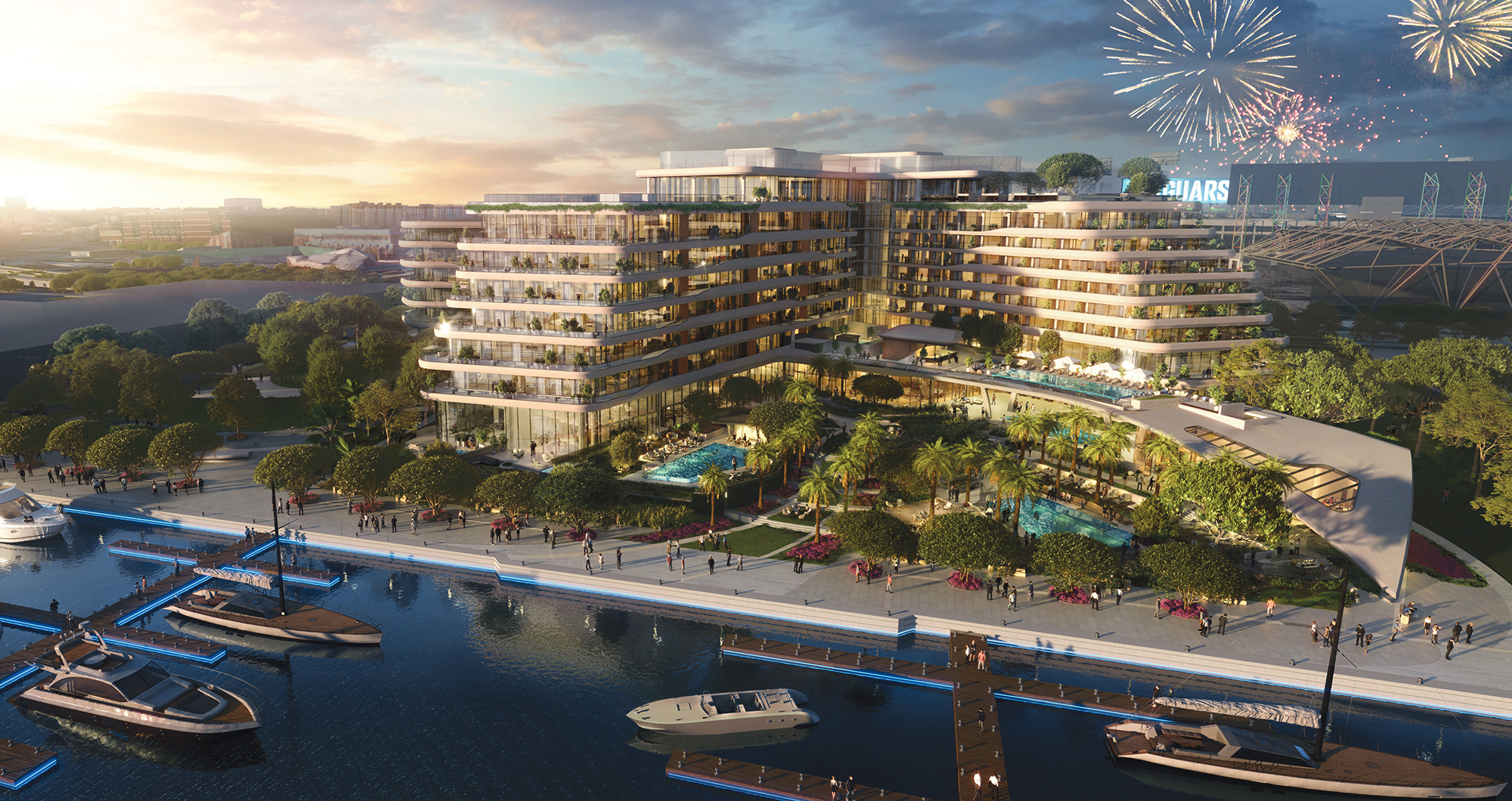 Four Seasons hotel and residences/office building
Iguana Investments Florida LLC, the development arm of Jacksonville Jaguars owner Shad Khan, is expected to start construction later this year on the $370 million Four Seasons hotel and residences at the Downtown Shipyards.
Kelley noted the project would be Downtown's first five-star hotel and include 176 rooms, resort amenities like a spa, pool and meeting spaces, and 25 Class A residential condominium units.
Khan's company is negotiating with the city to buy land adjacent to the hotel for a six-story office building with ground-floor retail.
Iguana seeks to lease the land as part of a $114 million incentives package approved in 2021 by City Council.
The project is scheduled for completion in 2025.