Shipyards Office LLC, led by Jacksonville Jaguars owner Shad Khan's investment company, paid $3.2 million to the city March 31 for office development property near the proposed Four Seasons Hotel & Residences site at the Shipyards along the Downtown Northbank.
Downtown Investment Authority CEO Lori Boyer said March 20 that Khan's company was expected to close that week on buying the 1.05-acre parcel for the office building at a negotiated price of $3.2 million. 
Khan's Iguana Investments Florida LLC is the manager of Shipyards Office LLC.
According to the deed, recorded April 3 with the Duval County Clerk of Courts, Khan's group must start construction on the vertical components of the office building by June 1, 2024.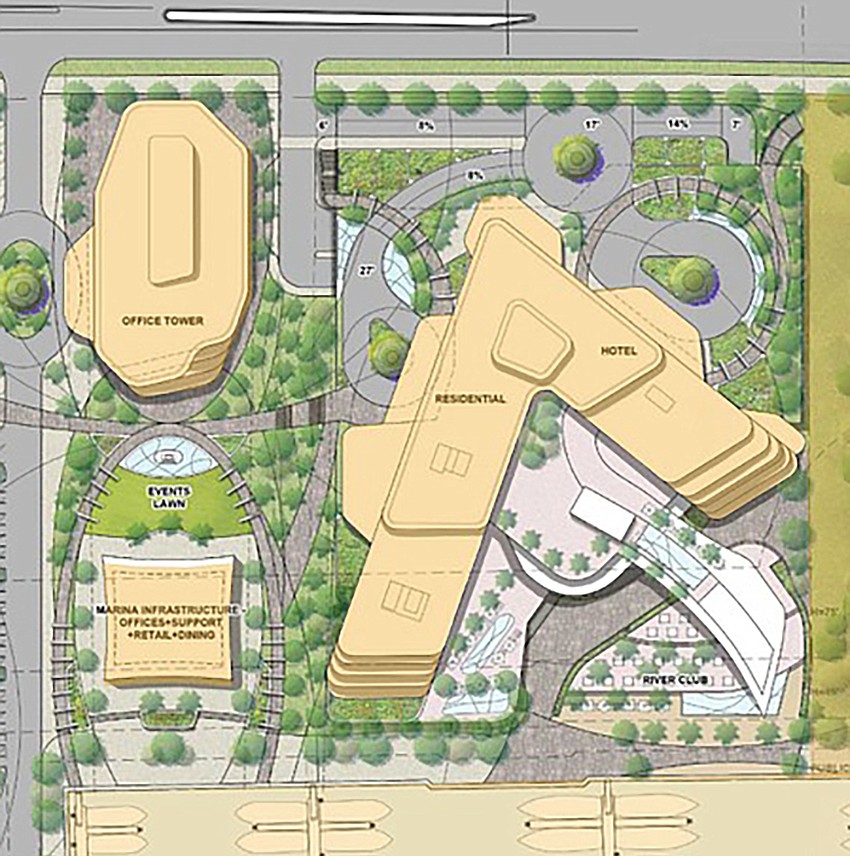 Starting construction is defined as completing pre-construction engineering and design and obtaining necessary licenses, permits and government approvals; having engaged general contractors; demonstrating the financial commitments to complete construction; and starting physical, material construction or other evidence of breaking ground.
In the event construction does not start by June 1, 2024, the city can repurchase the site and all of its improvements for the purchase price.
Such work seems to be in progress.
The city is reviewing a permit application for PCL Construction LLC of Orlando to put in the foundation of the proposed office building at an estimated project cost of $200,000.
Iguana Investments Florida LLC wants to build a 157,027-square-foot, six-story, Class A office building on the property at 1406 E. Bay St.
Iguana Investments and PCL Construction previously applied to the city for a permit to build the foundation for the proposed Four Seasons Hotel & Residences at a construction cost of $1.2 million.
The site is along the St. Johns River near TIAA Bank Field.
The city issued permits in November and December to clear the site and demolish a former marine fire station there, remove gantry rails and other work.
Construction manager PCL Construction started site work in November 2022.
On Jan. 10, Jacksonville City Council approved a redrafted $129.75 million incentives deal for Khan's $387 million project comprising a 176-room Four Seasons with 25 for-sale luxury condominiums, a full-service spa and restaurant; the 157,027-square-foot, six-story, Class A office building; a city-owned marina support building; and a public marina.