New CSX Corp. Chief Executive Joe Hinrichs is working to involve the company more in the local community and he's hoping Jacksonville residents will see it.
"You're going to see a lot more people in Jacksonville, with pride, wearing CSX gear," Hinrichs said in an April 5 talk to the World Affairs Council of Jacksonville.
He likens it to Jacksonville Jaguars fans wearing team gear to games to show their enthusiasm for the team.
"You should feel the same way about your company," Hinrichs said during the luncheon event at the Downtown River Club.
Hinrichs realized he had to build better relationships with employees to build that pride when he joined the company in September. He began his first day on the job by visiting a CSX rail yard on the Westside.
"We showed up at 7 a.m. and started talking to employees," he said.
"We've been on a listening tour ever since," Hinrichs said, visiting as many CSX facilities as possible in his first six months on the job.
The Jacksonville-based company's rail network runs throughout the eastern half of the U.S.
Hinrich's predecessors as CEO, Hunter Harrison and Jim Foote, had implemented a new operating system for the network called precision scheduled railroading, which successfully improved the financial efficiency of the railroad. 
But in the aftermath of the coronavirus pandemic, CSX struggled to maintain sufficient employment levels on the network and provide dependable service for customers.
"The relationships were strained with all stakeholders except our investors," Hinrichs said.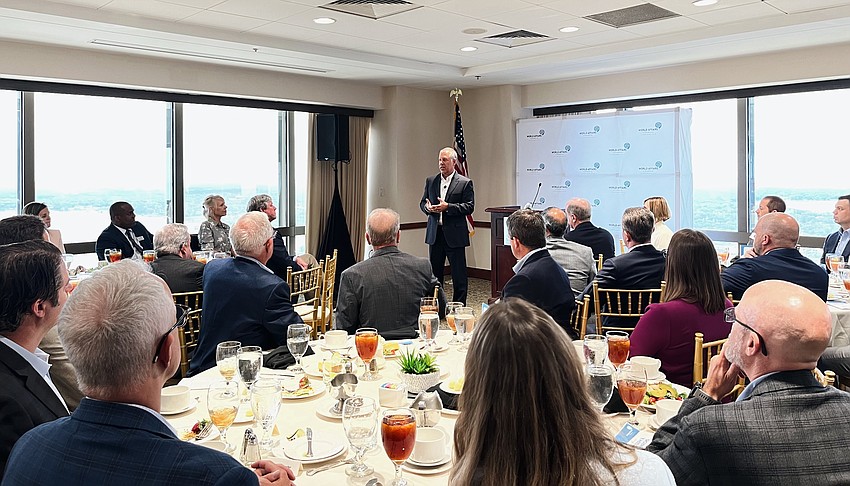 He joined CSX as the company was trying to reach agreements for new labor contracts with a number of rail unions. In addition to agreements for paid sick leave for those union workers, CSX also revised attendance policies to meet concerns of workers.
"We didn't negotiate it. We just fixed it," Hinrichs said.
CSX also is working to convince freight customers that it is addressing their concerns.
"We're a service business. We move things for people from point A to point B," Hinrichs said.
The company has seen tangible results of its efforts to improve customer service.
"I would say we've had a number of big wins lately reinforcing that," Hinrichs said, but he said he couldn't discuss details of those customer wins.
"We have to demonstrate that's something that's sustainable and not just something that's going to be a blip," he said.
Board member Steven Halverson, former CEO of The Haskell Co. in Jacksonville, said CSX is going through a major transformation from being just a railroad to a broader transportation company.
"The board recognized this transformation required a different mindset and a different leader," Halverson said as he introduced Hinrichs at the luncheon.
He said the board charged him to "find our Superman," and "this started our journey that brought us Joe Hinrichs."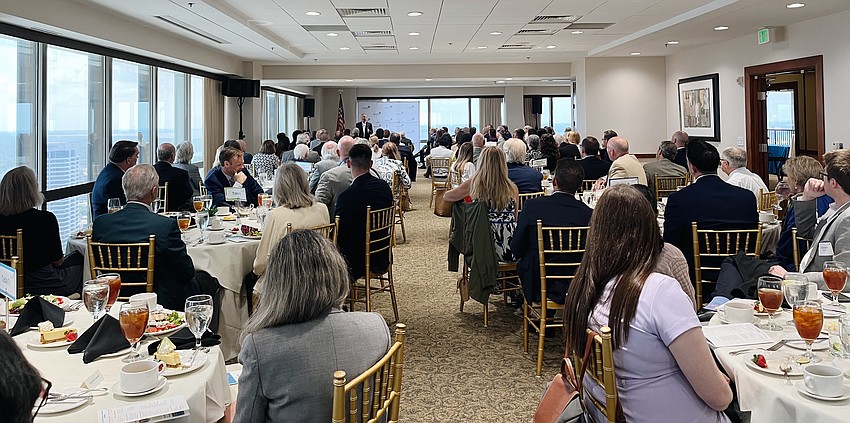 Hinrichs had been an automobile company executive, including nearly 20 years at Ford Motor Co. before retiring in 2020 as president of automotive operations.
"He has been relentless in carrying the culture forward" at CSX, Halverson said.
"He has gained the confidence of members of Congress, regulators and our employees."
Hinrichs said he hadn't been to Jacksonville before being recruited by CSX but he and his wife are happy with their decision to relocate.
"We've loved our experience here so far," he said. 
"Not just the weather but the people have been great."
Hinrichs said it's important for CSX to be a major presence in the community.
"We're proud to be part of Jacksonville. We're proud to be headquartered here," he said.