Shad Khan's wealth grew substantially in the last year, while three other people with ties to Jacksonville joined him on Forbes magazine's list of the world's billionaires.
Wayne Weaver, who sold the Jacksonville Jaguars to Khan, along with Fidelity National Financial Inc. Chairman Bill Foley and Fanatics Inc. CEO Michael Rubin are included on Forbes' ranking of 2,640 billionaires published April 4.
Khan ranked highest on the Forbes list as the world's 144th wealthiest person with $12.1 billion.
Rubin wasn't far behind at 151st, with $11.4 billion.
Foley and Weaver have more modest wealth, according to Forbes.
Foley ranked 1,804th with $1.6 billion and Weaver was number 2,259 with $1.2 billion.
Besides their connection to Jacksonville, the four men have something else in common: They all have been involved in sports enterprises.
Khan is best known as the owner of the Jaguars, and he has benefited from huge growth since he bought the team for a reported $770 million in early 2012. Forbes estimated the Jaguars' value at $3.48 billion during the 2022 NFL season.
Khan also owns English soccer team Fulham FC and his sports empire, which includes professional wrestling organization All Elite Wrestling, was valued by Forbes at $5.95 billion.
However, the business that made Khan rich is Illinois-based auto parts company Flex-N-Gate Corp.
As a privately owned company, Flex-N-Gate does not disclose financial data but Forbes ranked it as the 69th largest privately owned company in the U.S. last year with estimated revenue of $7.9 billion.
Weaver made his fortune mainly from publicly traded shoe retailers before he was awarded the Jaguars' expansion franchise in 1993. 
He never disclosed the size of his stake as majority partner in the team.
Weaver continues to be chairman of Indiana-based Shoe Carnival Inc. and is the company's largest shareholder.
Rubin's Philadelphia-based company bought then Jacksonville-based Fanatics for $277 million in 2011 from founders Alan and Mitchell Trager.
Under Rubin's direction, Fanatics has grown into a sports merchandising behemoth with a valuation of more than $30 billion, according to several business news outlets.
The size of Rubin's stake in the company is not known. Rubin has acknowledged the company has plans for an initial public offering, but the timing is uncertain.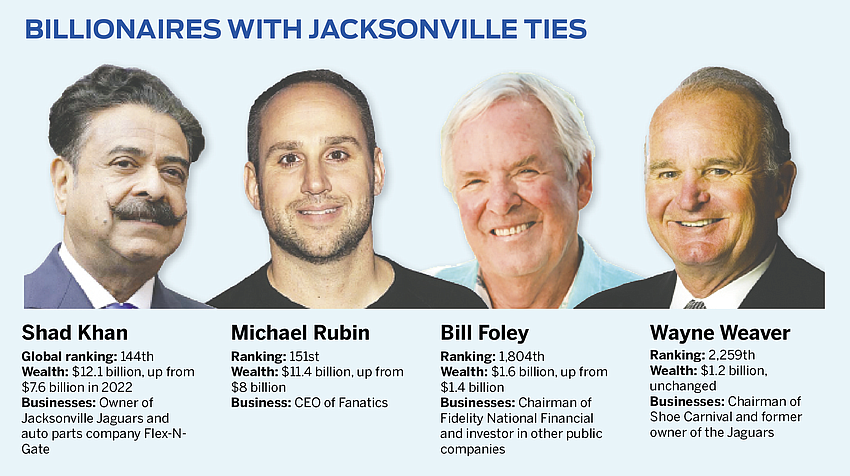 Foley's wealth comes from stakes in a number of publicly traded companies, including title insurer Fidelity and two other Jacksonville-based companies spun off from Fidelity: financial technology company Fidelity National Information Services Inc. and mortgage technology firm Black Knight Inc.
Foley turned his attention to sports when he was awarded the Vegas Golden Knights expansion franchise in the NHL in 2016.
Last year, he formed a company to invest in pro soccer teams and bought British team A.F.C. Bournemouth.
According to Forbes, Khan's wealth jumped from $7.6 billion last year to $12.1 billion. It did not say how his portfolio of investments grew so much in one year.
His wealth grew as most billionaires found their fortunes falling in a year of volatile financial markets and interest rates. 
Forbes said the collective wealth of the 2,640 people fell by $500 billion to $12.2 trillion since March 2022.
Elon Musk lost his spot as the world's richest man to Bernard Arnault, head of luxury goods giant LVMH, the magazine said.
Arnault and his family are worth an estimated $211 billion, while Musk is worth $180 billion, it said.
EPI rebranded as Fanatics Italy
Fanatics continued its global expansion by acquiring EPI, an Italian sports merchandising business.
The company said in an April 4 news release that Milan-based EPI, which will be rebranded as Fanatics Italy, will become part of the Fanatics Commerce division, which is headquartered in Jacksonville.
Fanatics said the acquisition strengthens its growing presence in European soccer.
Terms of the deal were not announced.
Morgan Stanley analyst boosts CSX
Morgan Stanley analyst Ravi Shanker upgraded his ratings on Jacksonville-based CSX Corp. and competitor Norfolk Southern Corp. from "underweight" to "equal weight" in a report ahead of first-quarter earnings reports.
"We remain cautious on fundamentals for U.S. Rails but falling numbers and stock prices have reset positioning enough to put the stocks closer to fair value, in our view," Shanker said in his April 4 report.
He said conversations with investors about railroad stocks show "sentiment is probably the lowest in 20 years, in our view. This lowers the bar for U.S. Rails for the rest of the year."
CSX's stock price fell 3% in the first quarter and its freight volume was down slightly but Shanker sees little downside risk for the stock when it reports financial results on April 20.
CSX Chief Executive Officer Joe Hinrichs said in an April 5 talk to the World Affairs Council of Jacksonville that the outlook for freight traffic is uncertain for the rest of the year.
"The economy right now is hard to read," he said.
One indicator CSX is looking at is its international intermodal business, where the volume of imported goods is down significantly, Hinrichs said.
"That's still a concern," he said.
However, he is hoping for a rebound in the second half of the year.
Norfolk Southern, CSX's major competitor in the eastern half of the U.S., has bigger issues to deal with than the state of the economy.
Its stock has dropped 14% this year after the derailment of a Norfolk Southern train in Ohio that caused major environmental issues, Shanker said.
"We believe the risk of significant financial penalty to NSC is high and largely unquantifiable at this time," Shanker said.
"However, it will likely take several years before the full impact is known and the market is likely to look past this in the near term as a 'one-time event.' Any regulatory risk from the event is likely to impact all U.S. rails, not just NSC," he said.
CSX reaches more paid sick leave deals
CSX announced two more agreements with railroad unions to provide paid sick leave to union members, bringing the total to nine agreements over the last two months.
The company announced an agreement with the Sheet Metal, Air, Rail and Transportation Workers-Transportation Division B&O on April 3 and with the Sheet Metal, Air, Rail and Transportation Workers-Mechanical Department on April 7.
CSX said the B&O agreement brought the total number of operating employees with paid sick leave benefits to more than 10,000, or 60% of its union-represented workforce.
It did not update those numbers in its April 7 announcement.
Analyst sees Wells Fargo benefit from bank failures
With major U.S. banks preparing to report first-quarter earnings in the coming days, Raymond James analyst David Long upgraded Wells Fargo & Co. from "outperform" to "strong buy" in the wake of two large bank failures.
"As a systemically important financial institution, we believe Wells Fargo will be a major beneficiary of the Silicon Valley Bank/Signature Bank fallout," Long said in an April 6 research report.
"With uninsured depositors across the country fleeing to larger and safer institutions, we expect incremental growth in Wells' deposit base," he said.
Long sees other positive catalysts for the stock.
"We believe Wells offers greater EPS growth potential over the intermediate term given the possibility of the removal of consent orders and the associated regulatory expenses, which amount to billions of dollars every year," he said.
"With WFC shares trading slightly above tangible book value, we believe the current valuation represents an attractive entry point for investors," he said.
San Francisco-based Wells Fargo has the largest bank branch network in the Jacksonville market with 40 offices in the metropolitan area, according to Federal Deposit Insurance Corp. data.
Availity expands with acquisition
Jacksonville-based Availity, which provides information networks for health care providers, said April 10 it agreed to buy the utilization management solution and business unit from health care automation company Olive AI Inc.
Availity said the acquisition will help it streamline the authorization process for its clients.
Terms of the deal were not disclosed.