Three years after COVID-19 led to economic shutdowns, the owner of Black Sheep Restaurant at 1534 Oak St. in Five Points says the restaurant's upcoming closing is directly related to the economic changes caused by the coronavirus pandemic.
"The restaurant business ecosystem was extremely tough before COVID. And now it is unbelievably hard," owner Jonathan Insetta said April 27.
"It never got back to the sales that we needed to be sustainable."
He estimated that for most of the last two years, profit margins have been 20% to 25% below what were needed to remain sustainable.
The closing will not affect his other restaurants: Bellwether at 117 W. Forsyth St. Downtown and Restaurant Orsay at 3630 Park St. in Avondale.
Insetta announced via social media April 26 that the last day of service will be May 27. 
He made the announcement a month ahead of time to allow regulars a last chance to dine at Black Sheep and to give his staff of 45 time to find other jobs. 
"We have already talked to all of the local restaurateurs. The good thing is that people are hiring," he said.
Some told him they were happy "to have staff of our caliber to hire."
He cannot absorb the entire crew at his other restaurants.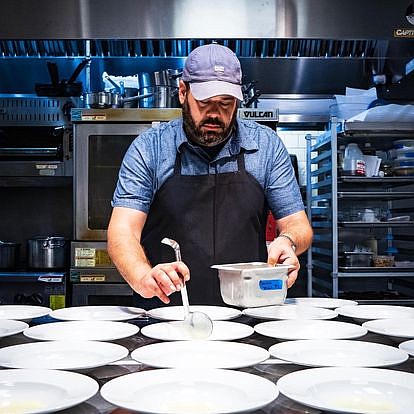 Black Sheep Restaurant opened in the fall of 2012. The triangular, three-story building was one of the first in Jacksonville to offer rooftop bar service and dining. While almost an afterthought when building a new restaurant today, 10 years ago it posed some construction obstacles.
"From a drainage perspective that was an engineering challenge. It's more common today. People are used to doing it. We looked at the library Downtown and their drainage system as an example," he said.
Insetta, 44, delivered farm-to-table cuisine, which meant buying locally farmed and produced ingredients. Over the last five years that has proved to be costly.
Since 2020, he has adjusted hours and made menu changes in hopes of bringing the price point to a profitable number. The restaurant size and cuisine made shortcuts difficult, he said.
Insetta also foresees other restaurants having to make similar changes until a new business model is developed.
"You're going to see a lot of restaurants pivoting for sure. Good quality products are more expensive than I have ever seen," he said.
"We could just never get our sales where they needed to be to be profitable in the past."
He predicted customers will have to understand the pressures of running a restaurant. Pay for hourly waged cooks often lags far behind that of waitstaff working for tips. He expects standard service charges to be added to checks and a fee for using credit cards to become the norm.
"The pay for the back of the house (kitchen) has been broken for a long time. It hasn't been right. The back of the house has been getting underpaid," he said.
"It's a tough, passion-driven career and vocation. You know you are not getting paid as well as you should be for the amount of work you do."
Insetta's ownership group owns the building, which consists of fully leased offices on the second and third floors. At the time of construction the building was valued at more than $2.7 million. Plans for the building are currently undetermined, he said.
It is too soon to say whether Insetta would open another restaurant concept in that same space.
Once Black Sheep is closed and inventoried, immediate attention will be paid to the renovation of Restaurant Orsay and the addition of a bakery at Bellwether. Both projects should be completed by September, he said.