The Downtown Development Review Board voted 7-0 to approve a permit application to change the branding sign at the city-owned TIAA Bank Field to EverBank Stadium. 
The stadium, home of the Jacksonville Jaguars, is being renamed after TIAA Bank announced in November it was selling the bank to a group of investment funds. On June 23, TIAA Bank said it would be doing business as EverBank. 
Board members Trevor Lee and Christan Harden were absent for the vote Aug. 24.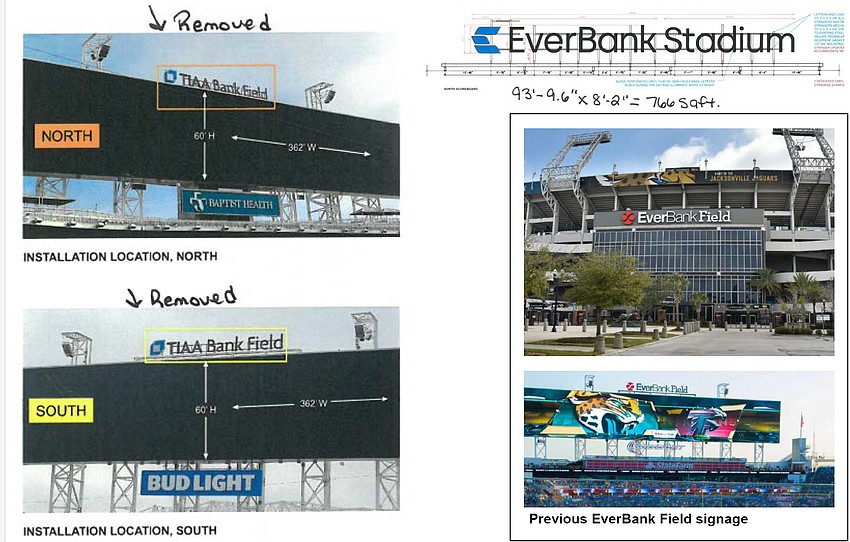 Contractor David Clark, project manager for Southeastern Lighting Solutions in Daytona Beach, is proposing four sign changes at the stadium: two stadium marquee signs, one on the north elevation and one on the south, and exterior club signage for both the east and west elevations, according to the DDRB staff report. 
Each of the north and south marquee signs are 766 square feet.
The existing exterior signage appears to be about 1,028 square feet, the report said. 
The proposed exterior signage is 1,055 square feet, an increase of 27 square feet.
The new signs mimic the existing designs in scale and placement. The signs feature a blue logo with white or black lettering, depending on the time of day.
TIAA Bank, which holds the stadium naming rights contract for the city-owned stadium, wrote a letter June 21 to Mayor Lenny Curry, whose term ended June 30, and Jaguars President Mark Lamping requesting it be called EverBank Stadium.
The Jaguars' home became EverBank Field in 2010 when the bank acquired the naming rights. It agreed to a 10-year extension of the naming rights deal in 2014 that remains in effect.
The stadium was called EverBank Field when TIAA acquired EverBank in 2017. The stadium was renamed TIAA Bank Field in 2018.
Because this would be the second name change for the stadium, the naming rights agreement with the city requires the consent of the city and the Jaguars.
"The Office of General Counsel is currently negotiating the sponsorship agreement," Philip Perry, chief communications officer for Mayor Donna Deegan, said in an email Aug. 17.
"Once that process has completed, City Council will need to approve the name change."
The Jaguars' first regular-season home game is Sept. 17 against the defending Super Bowl champion Kansas City Chiefs.