Tenants continue to build-out at the fully leased East San Marco shopping center, with the city issuing a permit Feb. 6 for Gemma Fish + Oyster at the corner.
The Angelo Group Inc. is the contractor for the $1.4 million project to build-out the 4,547-square-foot space at 2039 Hendricks Ave. The architect is Jacksonville-based Design Cooperative. 
It is the corner two-story restaurant and bar at southeast Hendricks Avenue and Atlantic Boulevard.
The owners are the founders of Ember & Iron.
Mike and Brittany Cooney said in March 2022 that they intended to open the two-story restaurant and bar in February or March 2023, which would be two years after they opened Ember & Iron in St. Johns County.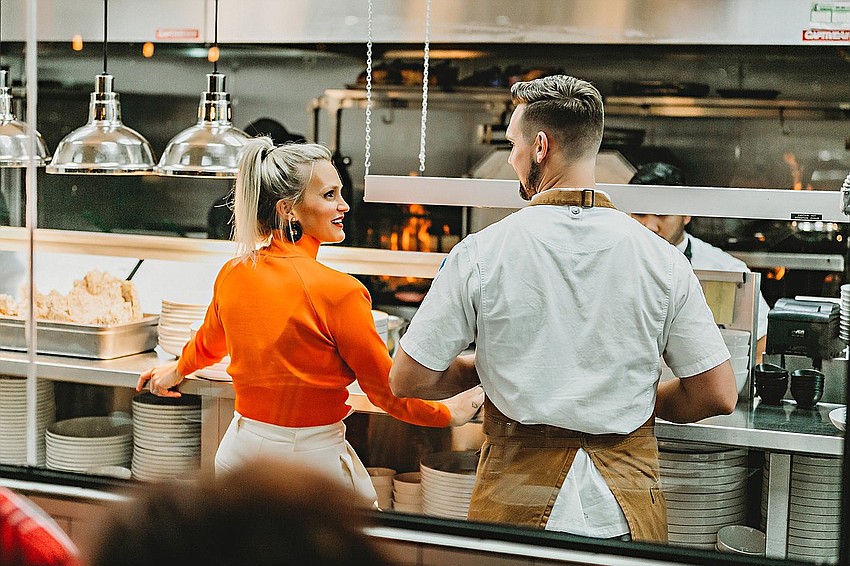 Brittany Cooney said Feb. 7 the contractor now says it will be October or later for opening Gemma.
The Regency Centers Corp. project is anchored by Publix Super Markets Inc., which opened in August.
The Gemma Fish + Oyster location is a two-story, 6,500-square-foot building. 
In addition to indoor and rooftop dining, there also will be outdoor seating on the street level.
Cooney said she expected Gemma Fish + Oyster will seat 200-250 customers.
"A big, big, big part of this is the oyster bar. That's why we started this," Cooney said in March.
The Gemma Fish + Oyster menu would be led by fresh seafood, such as seafood towers, tartares and pokes.
"Mike has so many creative ideas and we didn't want to limit ourselves," Cooney said.
Before starting Ember & Iron, Mike Cooney was the chef de cuisine at Restaurant Medure.
Brittany Cooney said the focus will be less on Southern-style fried seafood and more on fresh fare. "There will be a Southern influence but he wants to keep things more seasonal and worldly," she said.
The menu is not limited to seafood.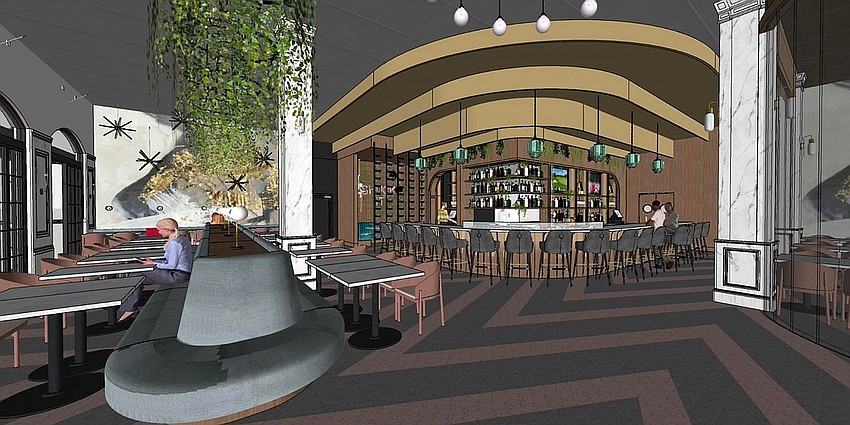 "We will have a 6-foot hearth, so there will be meats, definitely the steaks and the pork chops, but we want to focus on using seafood with a different approach."
The second floor, which also can be accessed from outside the building, will offer the full menu as well as appetizers, oysters and "more approachable things that keep the rooftop atmosphere," she said.
The Cooneys discovered the space at East San Marco after landlord Regency Centers Corp. Vice President Patrick McKinley visited Ember & Iron and reached the couple through a mutual friend.
"She dropped by the brochure and holy cow, is this center stunningly beautiful," Brittany Cooney said.
Cooney registered the Gemma Grey LLC name with the state Nov. 28 2021.
The Florida Department of State Business Registration shows Gemma Grey LLC as the owner of Gemma Fish + Oyster. 
The Cooneys have five children – four sons and a daughter.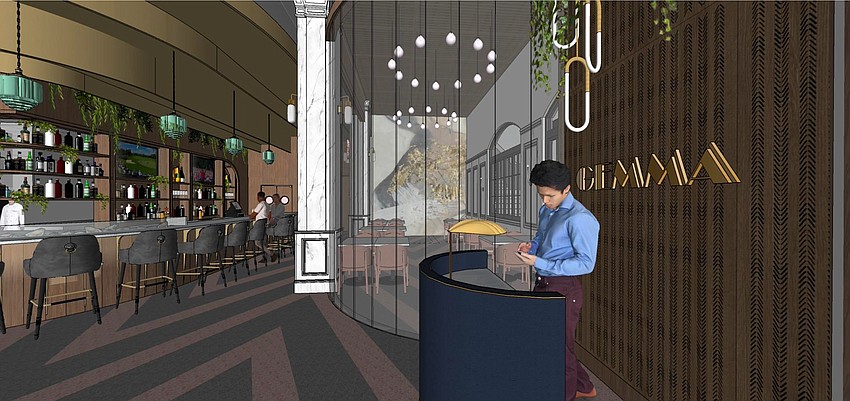 Brittany Cooney said in March the name Gemma is for a future daughter. 
McKinley said Regency's goal for the two-story restaurant on the "pin corner" was "to find a combination of a great operator serving a cuisine that wasn't currently represented in San Marco with a distinctively welcoming buildout."
The Cooneys "have a passion for their craft that is unmistakable every time you meet with them," he said previously by email.
McKinley said Gemma Fish and Oyster "will be a great addition to the dining scene in San Marco that will draw from a larger trade area for customers looking for a quality food/experience."
The Regency Centers website included renderings of the restaurant.
"Gemma will be elegantly decorated with a jewel-toned color palette, and feature a 30-seat, private glass-encased dining and event space for community gatherings," it said.