The inventory of single-family homes for sale continues to build as prices fall in the Northeast Florida real estate market, according to the Northeast Florida Association of Realtors January market review.
The median price of a single-family home was $360,000 in January, a decline of 2.9% from December.
Since peaking at $399,900 in July, home prices have fallen 9.9% and have dropped in five of the past six months. 
Still, the median price is 5.3% higher than a year ago.
Seasonality is the reason for the slightly sluggish January, NEFAR President Diana Galavis said in a news release.
"The January market reflects a significant increase in months of supply, moving Northeast Florida closer to a stable market," she said.
Closed sales fell to 1,074 in January, off 39.3% from the 1,649 in December. A year ago, there were 1,768 closed sales.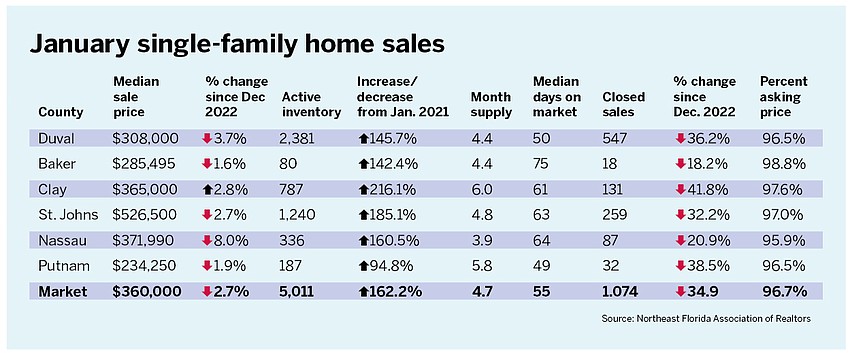 "Closed sales were down for January, but this is a typical slow up for this time of year. Factors such as interest rates, loan processing times, and inventory play a role in the lower closed sales in January." 
Pending sales increased to 1,698, up 29% from December. A year ago, there were 2,083 pending sales in January.
Single-family home inventory grew 2.6% to 5,011 in January. Inventory is up 162.2% from a year ago, when 1,911 homes were on the market.
And those homes are staying on the market longer. A home was on the market for 55 days in January, 14.6% longer than in December. 
A year ago, homes averaged 21 days on the market.
"More days on the market is a breath of fresh air for some buyers," Galavis said.
"This allows buyers to feel less pressured and enjoy more breathing room as they shop for property."
Also, buyers will have more to choose from. There were 2,650 new listings in January, up 34% over December's 1,977.
"Sellers are confident and ready to move, which is reflective of the number of new listings on the market," Galavis said.
During the housing boom of 2020 and 2021 houses stayed on the market for barely a week. Coupled with a shortage of inventory, buyers found themselves in competitive situations having to bid on a couple dozen homes before being chosen by sellers.
Declining prices are boosting the region's Home Affordability Index.
After reaching a low of 67 in October 2022, it was 76 in January, a 4.1% increase over 73 in December.
An index of 100 or above reflects a more favorable buyer's market.
The definition of the affordability index as explained by NEFAR is "measuring whether a typical family earns enough to qualify for a mortgage on a typical home, based on current interest rates, median income and median home prices. A higher number means greater affordability."
Putnam County's index was 116; Baker, 95; Duval, 88; Clay, 75; Nassau, 73; and St. Johns, 53.
"Northeast Florida's Home Affordability Index rose to 76 in January, giving buyers who are entering the market a better opportunity to afford a home," Galavis said.