Signs confirm that Sugar Factory American Brasserie is almost open in Jacksonville.
Jacksonville-based Taylor Sign & Design Inc. has been putting the name on the restaurant this week at 4920 Big Island Drive in The Markets at Town Center. 
The letters were attached on the front of the building facing the parking lot Feb. 16.
After several delays, the Las Vegas-based restaurant says it tentatively expects to open March 1.
Sugar Factory is renovating the former Brio Tuscan Grille.
The restaurant was built in 2012 for lease to Brio, which closed in January 2020.
The city issued a permit March 9, 2022, for Blue Dolphin Construction LLC, based near Fort Lauderdale, to renovate the structure at a cost of $2.5 million.
It issued three sign permits at $10,500 in October and November 2022.
The city also has issued permits since last year for other work, which continues at the 8,535-foot-square building.
Sugar Factory said previously it will have 179 seats in the main dining area, 20 bar stool seats and 107 outdoor patio seats. That totals 306 seats.
Renderings show an open, light-filled restaurant with a video wall in the main dining area; a retail candy store to the left of the entrance and a Candy Heart Wall to the right; the bar; outdoor patio dining; and two Instagram flower walls.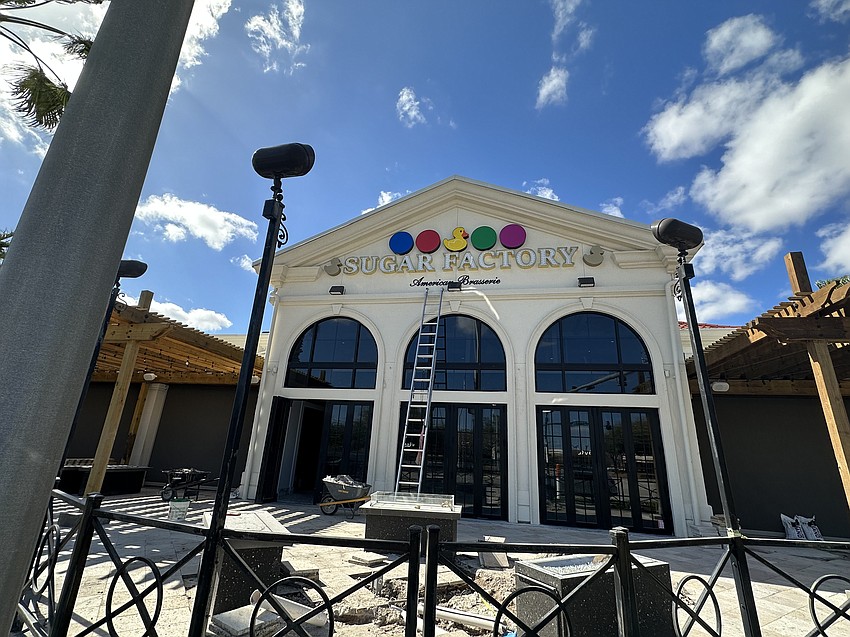 The restaurant will sell brunch, lunch and dinner featuring burgers, pastas and salads as well as stir fry and other entrees. 
Cocktails include $39 specialty goblet drinks that can be served without alcohol for $29.
The World Famous Sugar Factory King Kong Sundae is $99 and serves 12. 
Sugar Factory hours will be 11 a.m.-11 p.m. Monday-Friday and 10 a.m.-11 p.m. Saturday and Sunday.