Baptist Health announced Feb. 27 it will break ground in spring 2023 on the $38 million Baptist Nassau Crossing Medical Campus, a free-standing Baptist & Wolfson Nassau Crossing Emergency Room & Imaging Center and medical office building.
The release said it will provide additional health care services to the fast-growing areas of central and western Nassau County.
The site is along Florida 200 east of Interstate 95.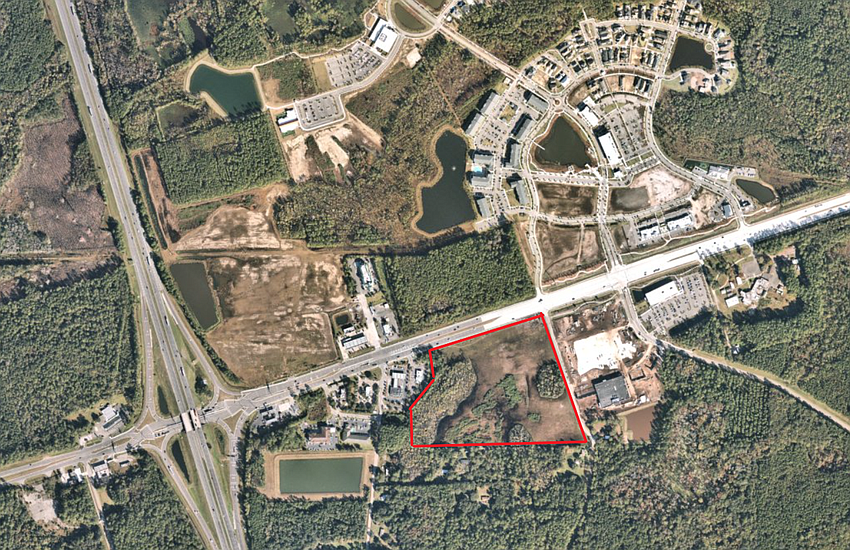 "Baptist Nassau Crossing Medical Campus will be a convenient hub with a wide range of medical services for all ages," said Catherine Graham, Baptist Health senior vice president of clinical service lines and ambulatory business development, in the release.
The Emergency & Imaging Center and medical office building is scheduled to open in early 2024.
"For nearly 30 years, Baptist Health has been serving the Nassau community," said Ed Hubel, hospital president of Baptist Medical Center Nassau. 
Baptist Medical Center Nassau is at 1250 S. 18th St. in Fernandina Beach.
 Emergency and imaging services
The 23,879-square-foot emergency center will feature two emergency centers under one roof – Baptist Emergency Center for adults and Wolfson Children's Emergency Center designed for patients up to age 17.
The release said more than 5,500 children in Nassau County sought emergency care between October 2021 and September 2022, according to the Florida Agency for Health Care Administration's Office of Data Collection and Quality Assurance. 
The announcement said families in Nassau County will have easier access to the specialized pediatric care of Wolfson Children's, the only full-service children's hospital in the region and the only state-designated Pediatric Trauma Center in Northeast Florida.
It said the emergency facility will have an adjoining imaging center for outpatient imaging, equipped with technology to provide X-rays, ultrasounds, CT scans, mammography and bone density screenings.
The building is designed for expansion.
Primary care and specialty physician services
A 32,094-square-foot medical office building behind the emergency center will house Baptist Primary Care and Baptist Behavioral Health, with the potential to add other specialty services.
Baptist Health comprises Baptist Medical Center Jacksonville; Baptist Medical Center Beaches; Baptist Medical Center Clay; Baptist Medical Center Nassau; Baptist Medical Center South; and Wolfson Children's Hospital.
The Baptist MD Anderson Cancer Center is clinically integrated with the MD Anderson Cancer Center in Houston.