St. Johns County and the St. Johns River Water Management District are reviewing plans for Lowe's Home Centers to build near Beachwalk.
Lowe's Home Centers proposes the store at County Road 210 West and Beachwalk Boulevard in northern St. Johns County.
St. Johns County received a pre-application Aug. 4 and an application Feb. 7 for construction of a 109,981-square-foot building with a 26,602-square-foot garden center along with parking, utilities and storm drainage for the home improvement store.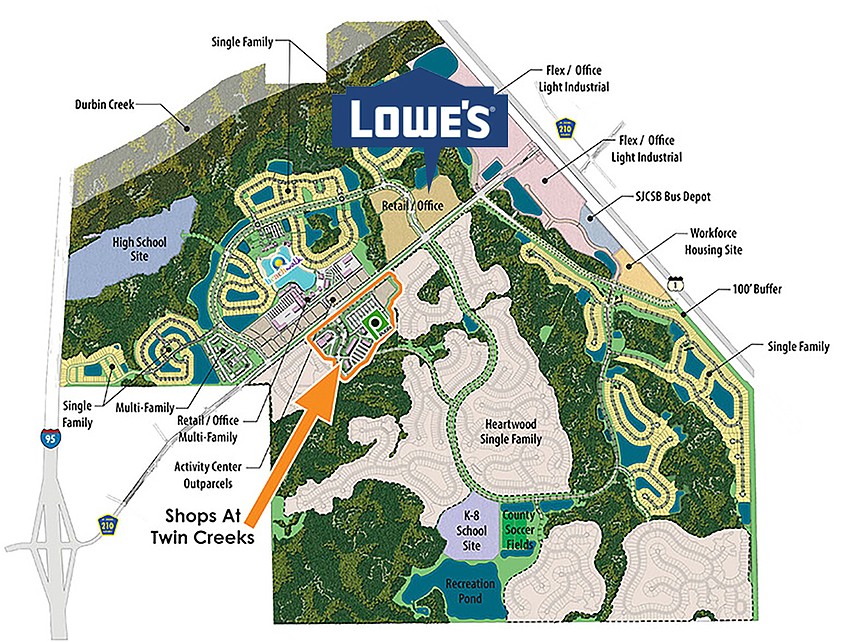 The 12.66-acre site is within the Twin Creeks development.
The civil engineer and consultant is Freeland & Kauffman Inc. of Greenville, South Carolina.
The property owner is listed as Twin Creeks SPE LLC, which is led by John Kinsey.
Kinsey is the principal of Twin Lakes Development Associates, the developer of Beachwalk in northern St. Johns County.
It would be the second Lowe's store in St. Johns County. The first is at 1955 U.S. 1 S.
Lowe's Companies Inc. is based in Mooresville, North Carolina.
Lowe's lists 10 Lowe's Home Improvement stores in Northeast Florida, comprising six in Jacksonville and one each in St. Augustine, Orange Park, Middleburg and Fernandina Beach.