The number of new single-family building permits closed strongly in December, helping to make 2022 the third-best year since 2000, according to the Northeast Florida Builders Association.
A total of 1,052 permits were issued in Clay, Duval, Nassau and St. Johns counties in December, bringing the year's total to 13,802.
That number is surpassed by 17,753 in 2005 and 16,138 in 2021.
However, it shows a year-to-year drop of 2,336 permits, down 14.47%.
All four counties showed drops from 2021. 
Duval County permits were down 11.3%; Clay fell 19%; Nassau was down by 24.4%; and St. Johns County dropped by 13.4%.
NEFBA Executive Officer Jessie Spradley said 2022's rate of permitting is 25% higher than 2019 before the onset of the coronavirus pandemic.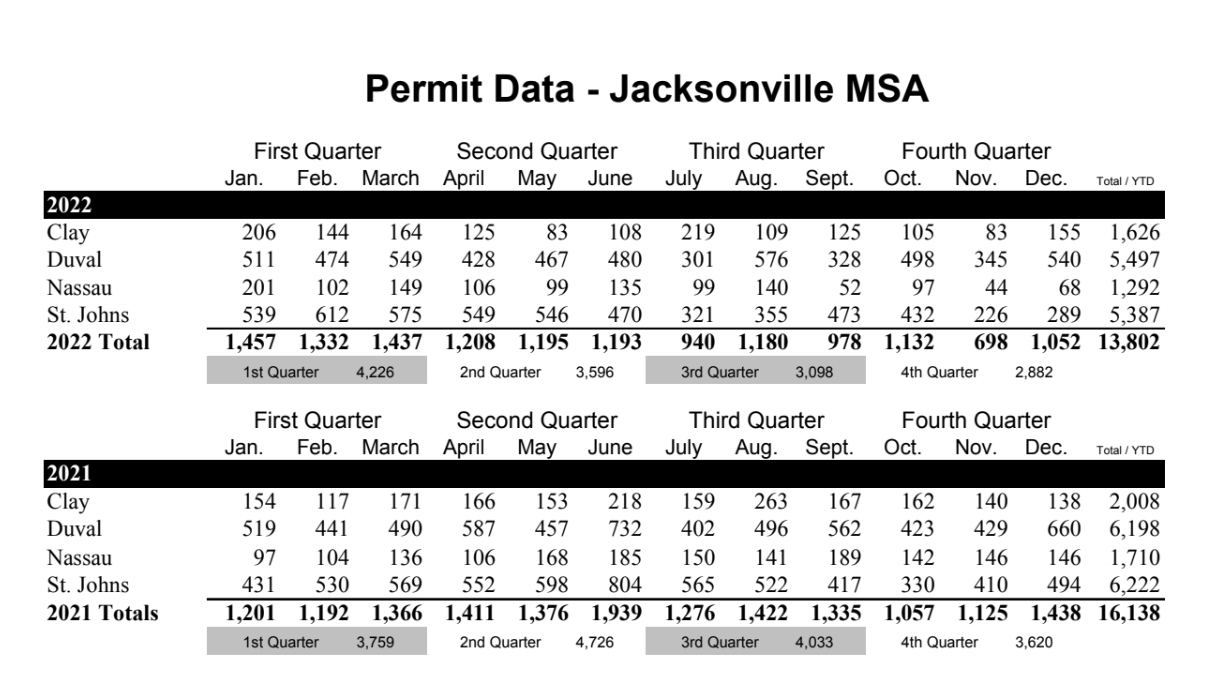 He predicts lower area permitting activity in 2023. 
Nationally, permitting is expected to be down by 25%, he said.
"I'd say that of all the builders I have talked to almost all of them are expecting to build less," Spradley said.
Economy and labor issues will be driving forces.
The combination of inflation and higher interest rates are deterring buyers and sellers, Spradley said.
Every $1,000 price increase disqualifies 800 potential buyers in the market, he said.
"While interest rates obviously affected people's ability to buy, it also affected people's willingness to sell. If I am in a home right now and I'm paying a 3% interest rate, I might consider remodeling rather than going out and buying new and saddling myself with a 6% or 7% interest rate."
The supply chain has settled but the cost of materials and labor are up. Spradley said it is difficult to find skilled labor to fill construction jobs.
January was the area's best month in 2022, with 1,457 permits issued. Permits topped the 1,000 mark nine times during the year.
December's total of 1,052 was an increase of 354 over the 698 permits issued in November.
Permits were up last month in all four counties. Clay rose from 83 in November to 155 in December; Duval increased from 345 to 540; Nassau was up from 44 to 68; and St. Johns rose from 226 to 289.