The St. Johns County Planning and Zoning Board deadlocked 2-2 on Jan. 5 in a decision whether to recommend advancing the proposed Colonial Hinman Intermodal Exchange Facility for state review.
The vote becomes a recommendation of denial to the St. Johns County Board of County Commissioners, scheduled to hear the project's two items Jan. 17.
"This is an advisory board," Planning and Zoning Board Chairman Greg Matovina said at the end of the almost four-hour meeting that included public comment about the project.
"No motion passed, which means by virtue of no motion ... our recommendation to the Board of County Commissioners becomes a recommendation of denial," he said.
"But that's only a recommendation. They still get to vote and whoever gets three votes, that's what's going to happen at the board level." 
The Planning and Zoning Board comprises seven members. Those not in attendance for the vote were Elvis Pierre, Jack Peter and Eugene Wilson.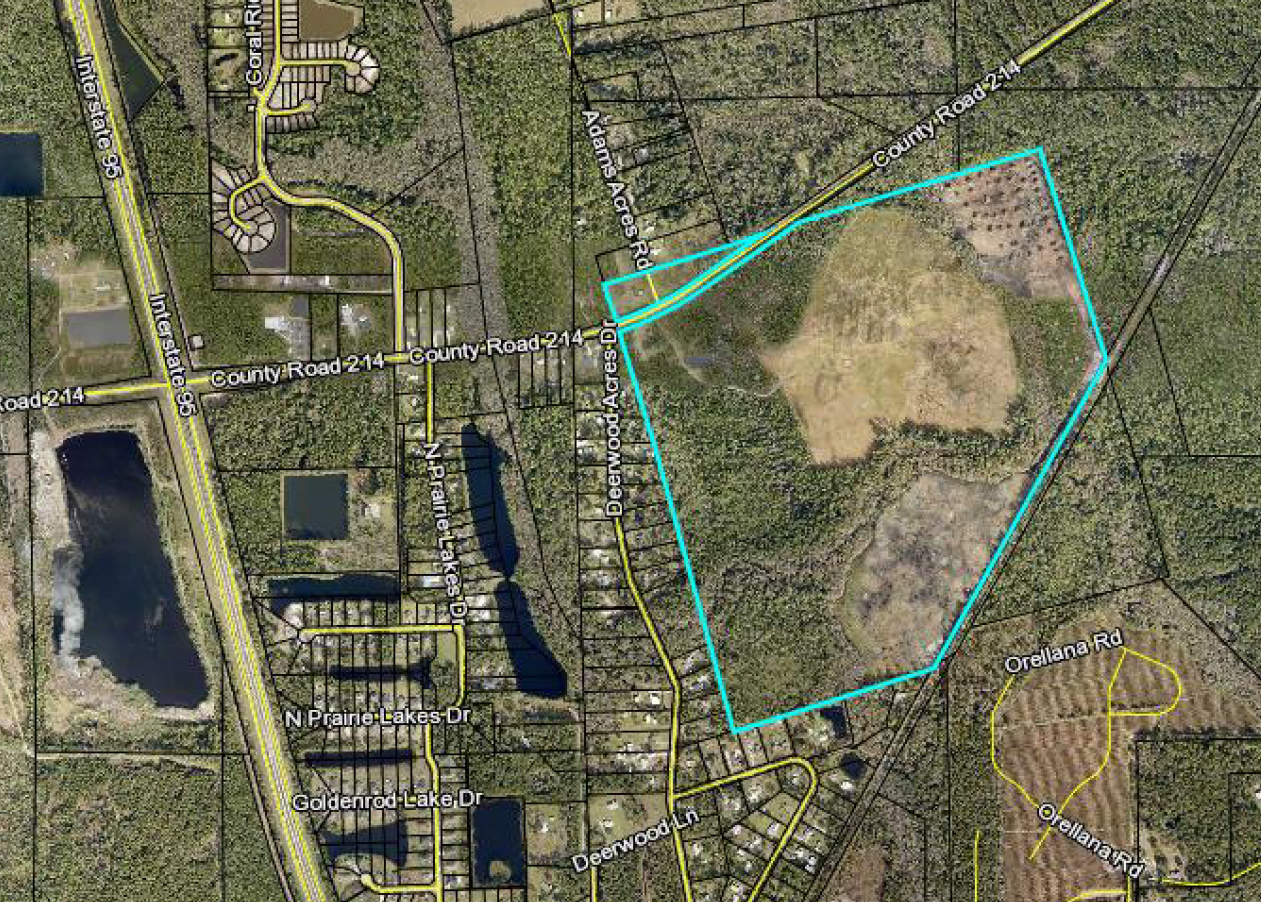 The Board of County Commissioners comprises five members.
St. Johns County has been reviewing a large-scale comprehensive plan amendment (2022-05) and rezoning (2022-18) for the project, shortened to CHIEF. It is a 214.13-acre development that would comprise at least 850,000 square feet of warehouse space and a 50,000-square-foot intermodal terminal.
The project site is on the south side of County Road 214 between Interstate 95 and Holmes Boulevard. A plan shows the building as 892,296 square feet on 215.79 acres. No tenant is identified.
The agency board vote concerned transmitting a requested comprehensive plan amendment to the state, regional local agencies.
The agenda included the comprehensive plan amendment to change the future land use map designation from Residential-B to Industrial with a text amendment prohibiting heavy industrial uses.
With that vote deadlocked, the board did not take up the request to rezone the property from open rural to industrial warehousing.
Procedurally, after a comprehensive plan amendment is sent to the state, reviewed and returned, a local government will then take final action by adopting it and voting on the rezoning.
The board voted Dec. 1 to continue the review to Jan. 5 at the request of the applicant, represented by James Whitehouse of St. Johns Law Group in St. Augustine.
He represents property owner Quarter Cav LLC, led by Dr. Roy Hinman II of St. Augustine.
Public speakers identified as residents of neighboring residential communities echoed Jan. 5 what others said Dec. 1. 
They said the project as designed was not compatible because of the potential for increased traffic, noise, environmental and water quality concerns and the impact of trains rolling through the area.
Matovina and Planning and Zoning board member Richard Hilsenbeck voted against recommending approval of the comprehensive plan amendment.
They voiced concerns brought up by the residents among other issues.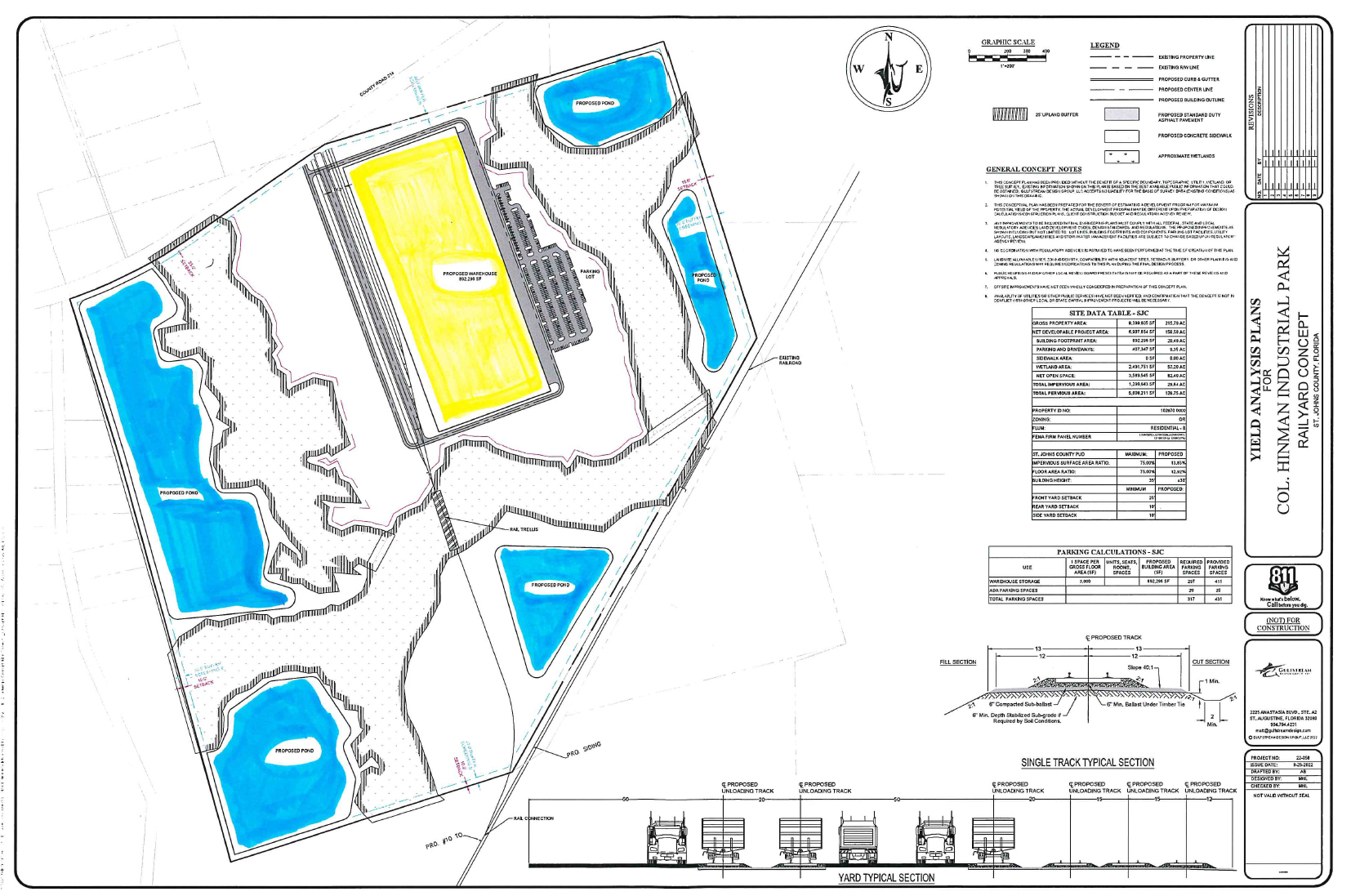 Members Henry Green and Meagan Perkins voted for recommending approval. Green said he was willing to send it on to the commission for its vote.
Three members were not in attendance for the vote.
A Sept. 12, 2022, Economic Impact Analysis was prepared for Dr. Roy H. Hinman II and Bryan Greiner of Augustine Development Group.
It refers to the intermodal exchange facility as a master-planned industrial project of about 238 acres to be developed as a combination of flex, industrial and logistical space of about 900,000 square feet and a 10-year horizon for development.
The analysis, by Fishkind Litigation Services Inc. of Orlando, says the project will employ 1,817 people when fully built-out.
The owner initially requested rezoning the property from Open Rural to Heavy Industrial to allow for a proposed intermodal distribution facility, but a Nov. 18, 2022, application attachment amends that to add a condition that no heavy industrial is allowed. 
It says the request is for light industrial and that all proposed light industrial uses are more than three football fields' distance from any border of the property. 
The attachment also says the proposed facility and uses will be located on the property on County Road 214 with direct access to the Florida East Coast Railway system, which will "create and promote multi-modal transportation opportunities while buffering itself from surrounding uses."