UF Health-Jacksonville and Texas-based Intuitive Health cut the ribbon Jan. 27 to open UF Health Emergency & Urgent Care Center-Baymeadows.
It is the first of three hybrid medical facilities the health care partnership plans to open in Jacksonville. 
The Baymeadows center at 11251 Lamb Trail Lane off Interstate 295 and Baymeadows Road is expected to open in early February.
The others at 888 Lane Ave. S. in West Jacksonville and 11277 New Kings Road in Northwest Jacksonville are expected to open in March.
The concept is created to provide a patient with the necessary level of medical treatment in one building. 
Instead of seeking care at a hospital emergency department for a seemingly minor ailment, a patient can visit the emergency/urgent care facility.
Doctors triage the patient, decide the level of care needed and patients are billed accordingly.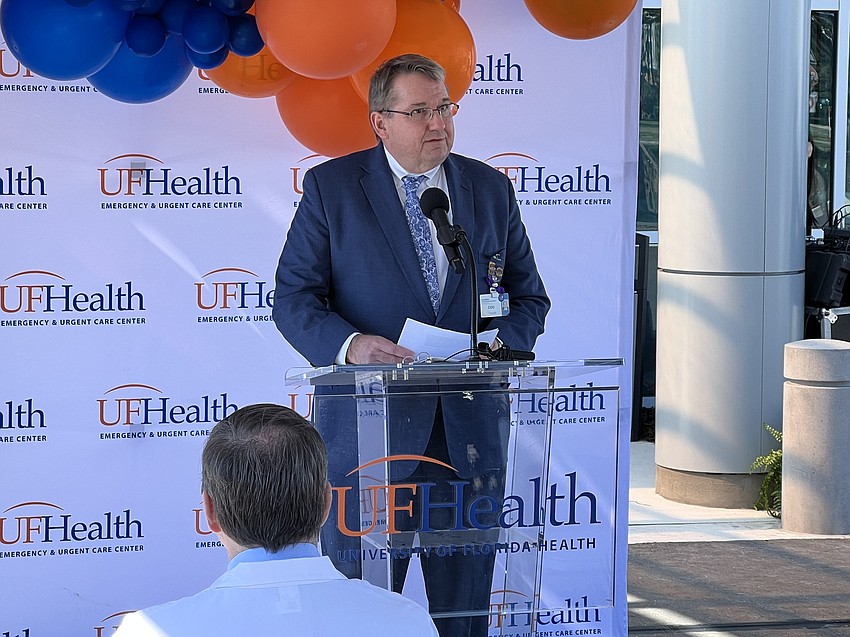 If the case calls for more advanced treatment, such as a surgical procedure, the patient would be transferred to UF Health's Downtown or North hospitals.
The medical concept is the first of its kind in Northeast Florida, said Greg Miller, executive vice president and COO of UF Health Jacksonville.
"This streamlines patient care. The patients don't have to make the decision about where to go anymore," he said.
"Experts will be there the moment they arrive to determine the best options so patients can get the care that they need," said Andy Godwin, chair of the department of Emergency Medicine for the University of Florida College of Medicine - Jacksonville.
The full-service emergency room and urgent care center is open 24 hours daily. 
The sites have lab facilities, a radiology suite with X-ray and CT scanners. 
The Baymeadows center will be staffed by 60, including 17 emergency medicine physicians.
The centers accept most insurance plans, Medicare and Medicaid.
"We are bringing a totally new health care experience to Jacksonville residents – changing how patients access, receive and pay for health care," said Thom Hermann, CEO of Intuitive Health in a release.
When the project was announced in December 2021, Hermann estimated that up to 70% of patients could be treated in the less expensive urgent care facilities instead of an emergency unit.
The city issued a permit Jan. 5, 2022, for UF Health to build the hybrid free-standing emergency room and urgent care center at 11251 Lamb Tail Lane in Campfield Commons, off Baymeadows Road east of Interstate 295.
Batson-Cook Co. is the contractor for the $6 million construction job for the 12,490-square-foot project on 1.96 acres.
Plans show seven treatment rooms, trauma areas, office and lab space, five fast-track rooms, CT scan and radiology rooms and other areas. 
E4H Architecture of Dallas is the architect. 
Intuitive Health was founded in 2008 and developed the combined emergency room and urgent care model. 
It partners with established health systems around the country to set up the concept. 
It began with six Legacy ER & Urgent Care Centers in the Dallas-Fort Worth area and has coupled with hospitals in Pensacola and Arkansas, Kentucky, New Mexico and Ohio.
UF Health-Jacksonville approached Intuitive Health five years ago about bringing the concept here.