In a ceremony highlighting her family's Jacksonville roots and an emphasis on local artistic and cultural diversity, Donna Deegan was sworn in July 1 as the city's first female mayor. 
In front of a nearly full house in Jacoby Symphony Hall at the Jacksonville Center for the Performing Arts Downtown, Deegan noted the milestone by borrowing what she said was a phrase often used by Black suffragettes during the push for women's voting rights:
"We will lift as we climb."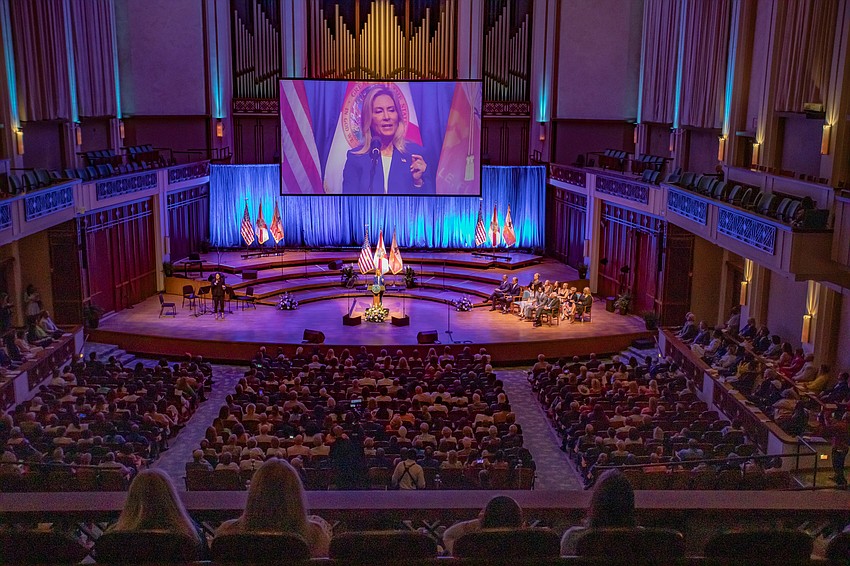 "It is my honor to have your back as we enter an exciting time in our history," Deegan said.
"A time, when like the days after the Great Fire, we are poised to rise." 
Deegan, 62, a former First Coast News anchor and three-time breast cancer survivor, is the founder of the nonprofit The Donna Foundation, which aids women and families struggling financially as a result of the disease. 
Event master of ceremonies and former fellow First Coast News anchor Shannon Ogden began the ceremony saying:
"History is being written right now in this room with all of us."
 Deegan's priorities 
Deegan, a Democrat, takes office with a city budget and capital improvement plan that must be presented to a Republican supermajority City Council within two weeks. 
Her address focused on unity, bipartisanship and making a government "for everyone" and held to policy priorities from her campaign.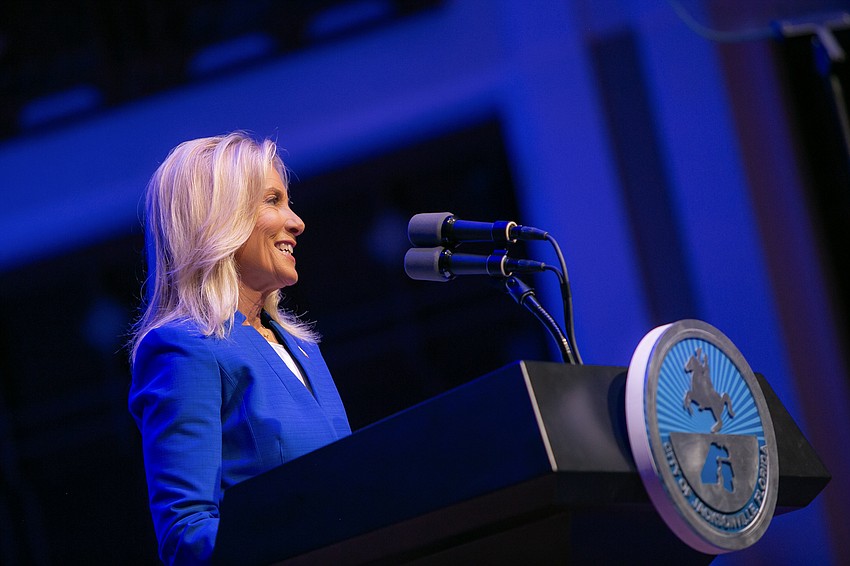 Deegan promised to invest in "our neglected neighborhoods," fixing infrastructure like roads, bridges and drainage and moving forward on the city's promise to remove aging and leaking septic tank systems. 
Deegan said she would fully fund the planned interconnected riverfront park system and finish the 30-mile multiuse Emerald Trail, expected to connect urban neighborhoods around Downtown.
In the past 12 years, reviving Downtown has been a priority for former Mayors Alvin Brown and Lenny Curry.
Deegan said Jacksonville would lead on environmental resiliency which will"inform our development" to "pave the way for smart growth." 
She said a focus on art, culture and small business development would "help us ignite Downtown and people will want to invest, live and play there."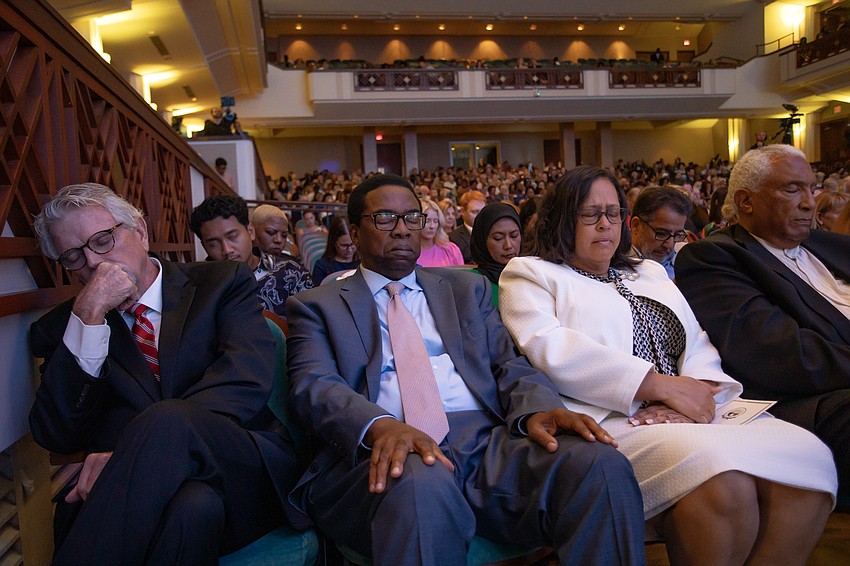 The mayor said her administration will streamline the city's permitting and procurement processes to speed up development and help small business owners obtain permits more quickly. 
She wants the city to do a better job of informing business owners of available resources, like facade grants and incubator programs.
"You must care enough to educate people about what's out there and help them lift themselves up," Deegan said. 
"It's not about giving anybody anything. It's about making them aware."
Deegan reiterated her campaign promise to be "strategic and aggressive" about bringing in federal grant funding from Washington, D.C.; improving Jacksonville's maternal and infant mortality rates; and focusing on youth literacy. 
She said "creativity and collaboration" will drive city government. 
Deegan said voters are demanding transparency and she promised to "open wide the doors of City Hall," and "inspire optimism and embrace opportunities for everyone." 
Deegan beat JAX Chamber President and CEO Daniel Davis, a Republican, in a May 16 runoff election by about 4 percentage points to become the city's ninth mayor since consolidation.
She replaces the term-limited Curry, a Republican, who defeated Brown, the last Democrat to hold the office, in 2015 after one term.
"Conventional wisdom missed all the signs," Deegan said of her election win. "The people were wide awake and ready for a new day."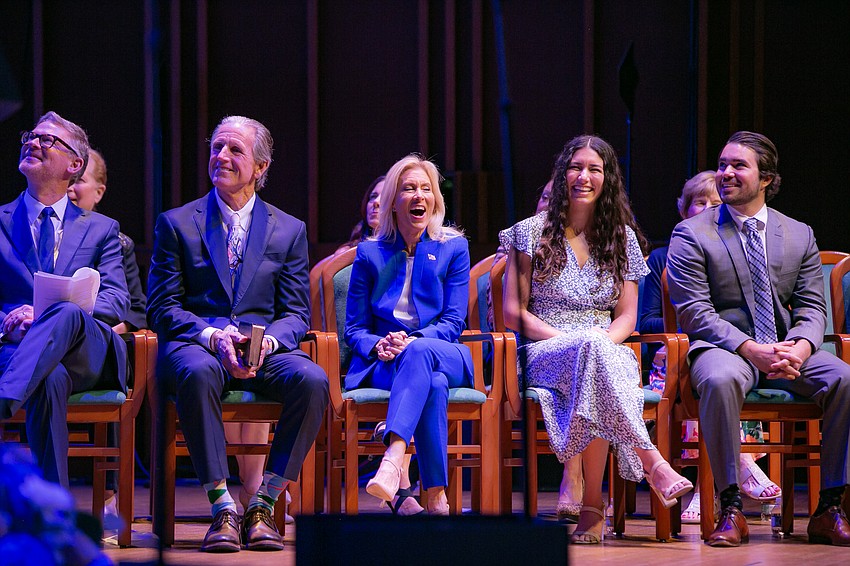 Cultural diversity and inclusion were woven throughout Deegan's inaugural presentation. 
A vocal quartet from the nonprofit Don't Miss A Beat Inc., which uses music and the arts to help suspended youth stay in school, performed.
She ended her speech with a line from the late Tommy Hazouri, her cousin and former Jacksonville mayor and Council member.
"So let it be written. Let it be known."
'In my DNA'
Deegan made her family and its five generations in Jacksonville central to her address and her reason for seeking the office.
She was sworn in by 30-year friend and Duval County Judge Kimberly Sadler on the Bible used by Hazouri when he took office in 1987.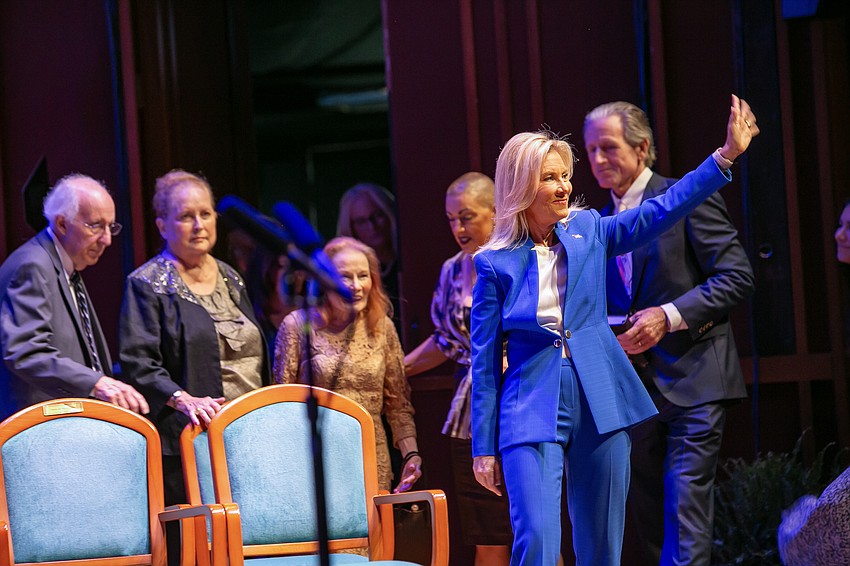 Deegan's great-great-grandfather, Jacob Hazouri, immigrated to Jacksonville from Lebanon in the early 1900s soon after the Great Fire of 1901, which destroyed much of the city's downtown.
Her uncle, Larry Hazouri, introduced her at the inauguration.
Deegan said he was "like a father to me" after her father, Don Hazouri, died when she was 28 years old. 
Larry Hazouri has owned the Desert Rider Sandwich Shop in Downtown Jacksonville for nearly 50 years and before that the Roosevelt Grill, which  Deegan said Major League Baseball player Hank Aaron and R&B legend Ray Charles patronized.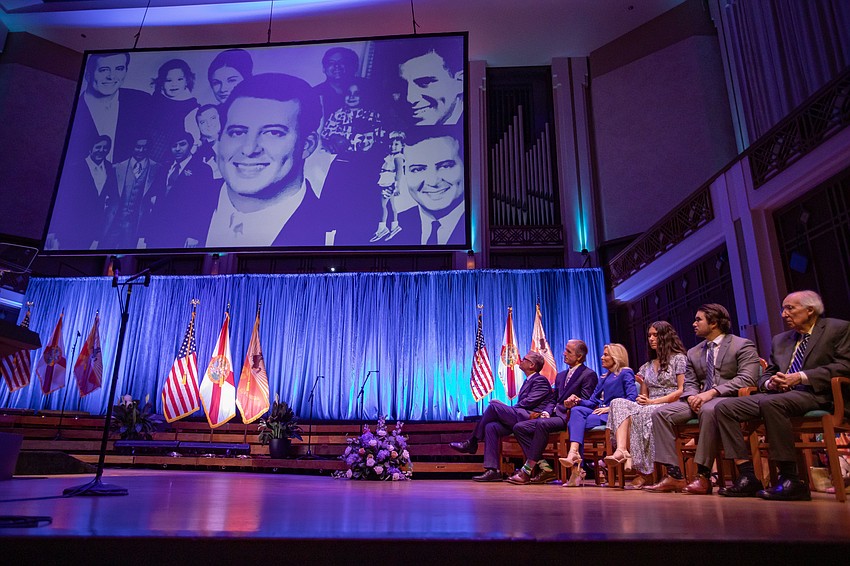 The ceremony ended with a photo montage of Deegan's father and a recording of the 1950 song written by Sammy Cahn and popularized by Mario Lanza, "Be My Love." 
Deegan said she grew up hearing her father, a tenor, singing operatic arias from "La Boheme" and "Pagliacci," but she said it was the "Be My Love" "signature high C that pierced my soul every time he sang it."
Don Hazouri, Deegan said, was an attorney in the city Office of General Counsel. 
"Jacksonville, this wonderful city, is in my DNA. My family, my ancestors are my guides," Deegan said. 
"They've filled me with deep reverence for our history, a strong work ethic and love for every corner of this beautiful, diverse mosaic we call Jacksonville."