Truist Bank is relocating its Jacksonville offices from the Northbank to the Southbank, remaining Downtown but on the other side of the St. Johns River.
Truist is moving from the 18-story Truist Tower at 200 W. Forsyth St. to the fifth floor of the 10-story Hanania Building at 1200 Riverplace Blvd.
The move includes a lease for Truist to take the first-floor branch space and drive-thru that was used by TD Bank, which moved into a stand-alone bank building nearby at 1326 Prudential Drive.
"Jacksonville is an important market to Truist, and as we continue to assess our real estate and workspace needs for our local teammates, we have decided to relocate our regional office and branch to 1200 Riverplace Blvd.," Truist said July 24 in an emailed statement.
"This new facility will enable greater collaboration for our teammates, and provide clients with more convenient access to our new branch with the addition of drive-thru service. We plan to transition our teammates to this new location by February 2024, and it's important to note there are no job losses associated with this real estate move."
Truist said it has 26 branches in the Jacksonville metro area, but did not disclose the number of employees.
The city is reviewing a permit application for Truist to renovate about 9,500 square feet on the fifth floor of the Hanania Building at an estimated cost of $950,000. 
No contractor is identified. Perkins & Will is the architect.
CBRE Senior Vice President Oliver Barakat represented Truist in the lease transaction.
Jim Sebesta, CEO of Newmark Phoenix Realty Group, is the Hanania Building's leasing agent.
He said Truist will have exterior signage between the ninth and 10th floors as well as on the drive-thru and on the adjacent parking garage facing Riverplace Boulevard.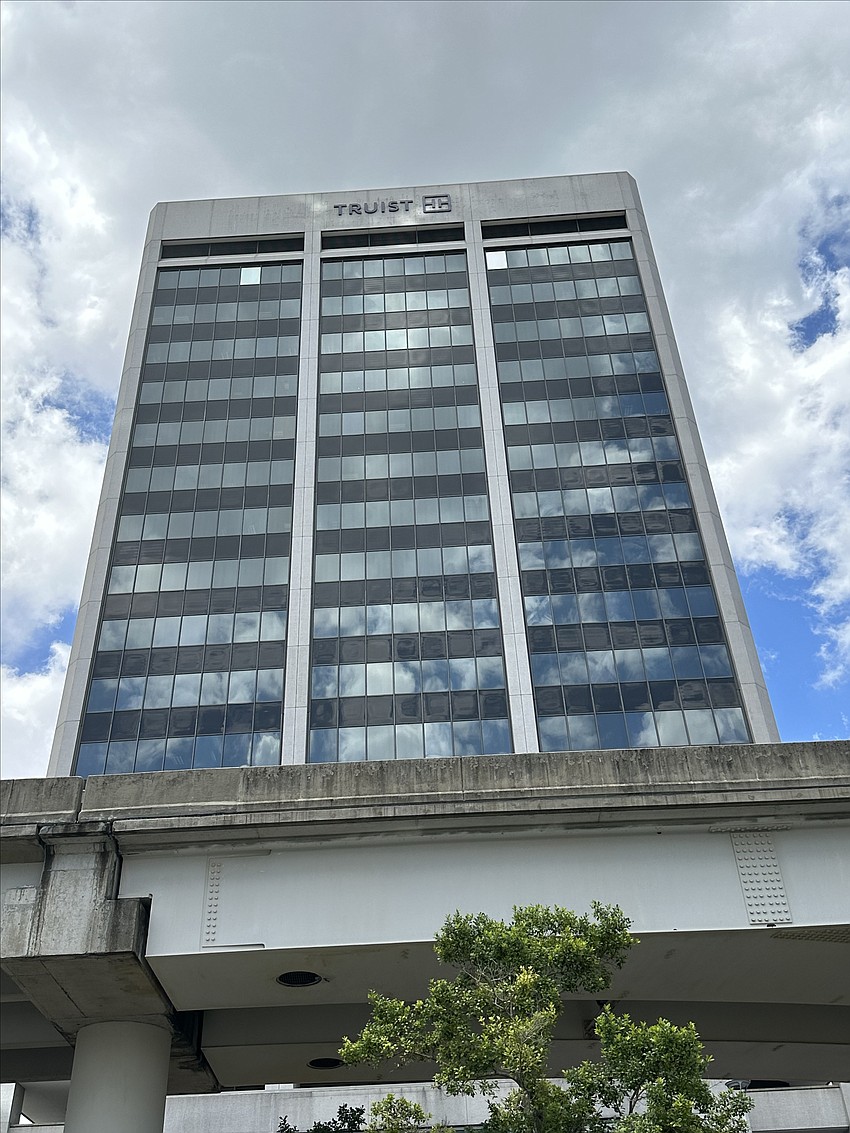 Sebesta said that the total lease is about 15,000 square feet between the fifth-floor administrative office and the ground-floor retail bank.
Sebesta declined to provide the terms but said Truist has a long-term lease.
He said that lease, along with Hanania Automotive Group's impending headquarters move and other leases will boost occupancy of the 200,627-square-foot building to 60%.
Sebesta called that "a long way" from 35% when Stein Mart Inc. left the building, which had been named for the retailer.
The Truist lease "gives it great credibility."
"And it's nice they could take advantage of the infrastructure already there," such as the vaults and drive-thru lanes.
"We've got really good momentum going and this accelerates that momentum," he said.
Hanania Riverplace LLC paid $20.67 million for the former Stein Mart headquarters building and six-level garage in August 2021.
Fashion retailer Stein Mart Inc. vacated it in 2020 after filing bankruptcy. 
The Stein Mart name came down in November 2020.
The Hanania name went up in May 2022.
On the Northbank, Truist has a branch on the first floor and leases space on the fifth floor.
It had been BB&T Tower until SunTrust Banks Inc. and BB&T Corp. completed their merger in December 2019 into Truist Financial Corp., based in Charlotte, North Carolina.
Truist renamed the BB&T Tower as Truist Tower.
While the name is on the top, the structure is being marketed as 200 W Forsyth by the Colliers Urban Division.
The building, developed in 1975, is at Forsyth, Hogan, Bay and Julia streets. 
Jacksonville-based Ash Properties bought it and a parking garage for $24.47 million in July 2018.
Representatives of Ash Properties did not immediately respond to a request for comment.
The Colliers Urban Division of Senior Director Matthew Clark and associates Sam Middlekauff and Olivia Steinemann represent the retail leasing at Truist Tower.