Ashco Shopping Centers expanded its Town Center area holdings with the purchase of the former Wendy's fast-food restaurant at 4907 Big Island Drive that it calls Town Center Two.
"This site is ideal for a national brand looking to establish a flagship location in North Florida," Ashco said in announcing the purchase.
A deed recorded Feb. 8 with the Duval County Clerk of Courts shows that Ashco, through Mant Capital Group LLC, bought the site from A&C Ventures of Sonoma, California. The deed shows a price of almost $1.42 million.
Ashco owns the nearby 4853 Big Island Drive building, which is fully leased to tenants including Modani, Amara Medical Spa, Mayday Ice Cream, DOS Coffee and Talkin' Tacos.
Jacksonville-based Ashco called St. Johns Town Center "the epitome of high end retail in North Florida for medical-retail space."
"We feel the St. Johns Town Center is a perfect fit to our award-winning portfolio of Class A centers," it said.
Ashco said that as part of its Next Generation of Shopping Centers initiative, the addition will mirror the 4853 Big Island Drive property, which it calls the Town Center Outparcel, with Class A design and fixtures. 
Duval County property records show the 3,502-square-foot Wendy's was built in 2005 on just over an acre. 
The restaurant building outparcel will feature amenities, such as 24/7 accessible closed-circuit cameras on the premises, Ashco said.
The Shopping Center Group has been  marketing the "rare drive-through opportunity" of a free-standing restaurant for lease in the St. Johns Town Center area, which is at northwest Butler Boulevard and Interstate 295.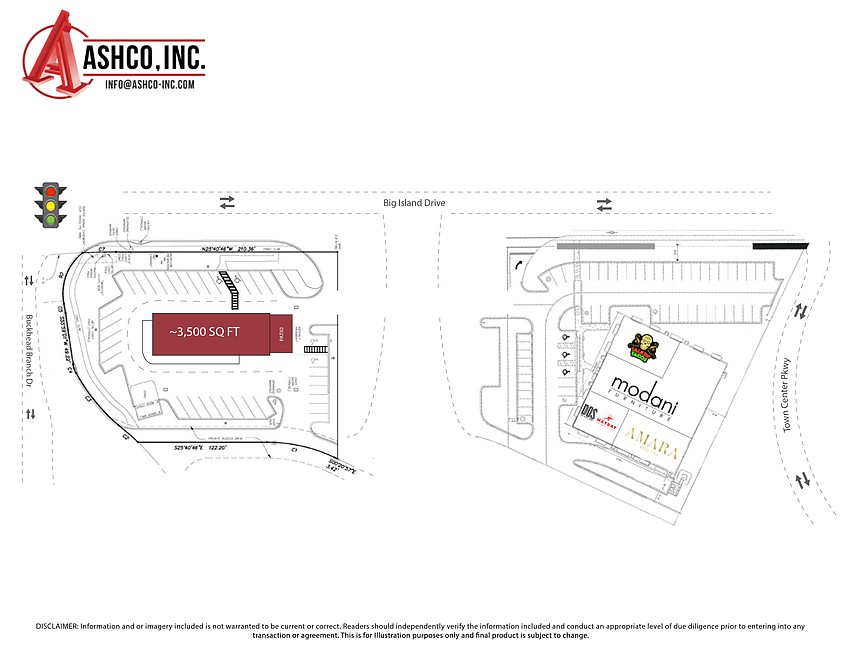 The former Wendy's site was owned by ACV Big Island LLC of Sonoma. It paid almost $1.5 million for the property in December 2020.
A&C Ventures is a private real estate investment firm.
The Town Center Outparcel is a former Thomasville furniture store. 
Ashcenter at St. Johns LLC paid almost $2.3 million for the 13,200-square-foot store on 1.27 acres. It was built in 2007.
Ashco bought it in August 2020 for conversion into the multitenant plaza.
The company is led by President Edward Ashurian, who manages the LLC that bought the property. 
Ashco bought that property from DH Jax L.L.C., an investor group run by The Chambers Group of Charlotte, North Carolina.