Baptist Health intends to join the Dolphin Pointe Landing medical care complex north of the Jacksonville University main campus in Arlington, according to a pending building permit application.
Jacksonville-based Baptist Health wants to relocate its Baptist Primary Care Arlington center to the JU Health Sciences Complex at 5491 Dolphin Point Blvd., which is off of University Boulevard North.
The city is reviewing a permit application for the estimated $1.8 million build-out of about 5,000 square feet of space on the third floor of the three-story building.
Commercial Construction Services of Jacksonville is the contractor. Kasper architects + associates is the architect.
Baptist Health said by email it would share details when an announcement is ready.
Plans call the project the "Baptist Primary Care Arlington Relocation."
Baptist Health's website shows that "Baptist Primary Care – Arlington" at 7001 Merrill Road, Suite 10, in Dames Pointe Plaza, which is anchored by Publix Super Markets Inc. 
A site brochure shows Baptist Health leases 5,600 square feet of space there.
The new site would be about 2 miles east and north of that office.
The Dolphin Pointe Landing Baptist Primary Care office plan indicates 10 exam rooms and other services.
The 55-acre Dolphin Pointe Landing development is north of the JU campus, which is along the riverfront at 2800 University Blvd. N.
Dolphin Pointe Landing comprises the more than 105,000-square-foot JU Health Sciences Complex on 6.6 acres and the 120-unit, two-story, 100,000-square-foot Dolphin Pointe Health Care skilled nursing and rehabilitation center on 9.3 acres at 5355 Dolphin Point Blvd. 
Both were built in 2020.
The skilled nursing center provides experience for students enrolled in JU's Keigwin School of Nursing while providing services to Arlington and Jacksonville residents.
The 55-acre tract is owned by Dayton, Ohio-based OLT II Inc., which was led by JU graduate Gregory Nelson, who died in February 2021 at the age of 71.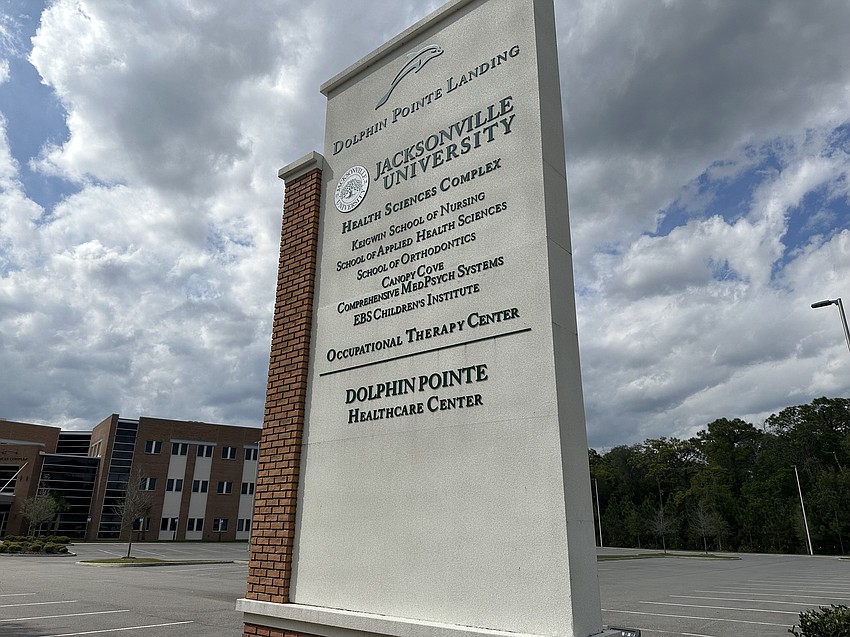 A monument sign at the Health Sciences Complex lists tenants that include the Keigwin School of Nursing, the School of Applied Health Sciences, the School of Orthodontics, Canopy Cove, Comprehensive Med Psych Systems and EBS Children's Institute along with the Occupational Therapy Center.
The first floor includes the JU Student Health Center.