Anejo Cocina Mexicana is in permitting at East San Marco, the Regency Centers Corp. shopping center that now is fully leased after opening seven months ago.
The restaurant will occupy 3,599 square feet next to St. Johns Eye Associates facing Atlantic Boulevard.
RPC General Contractors Inc. is the contractor for the estimated $450,000 build-out. The architect is Doherty Sommers Architects Engineers Inc. of Jacksonville Beach.
The 210-seat restaurant is separated by outdoor dining space from Gemma Fish + Oyster at the corner of Hendricks Avenue and Atlantic Boulevard.
It will have 129 inside seats and 81 on the patio.
Foxtail Coffee Co. is adjacent to Gemma along Hendricks Avenue.
East San Marco at 2039 Hendricks Ave. opened in August starting with the 39,209-square-foot Publix Super Markets Inc. store and the 1,400-square-foot Publix Liquors.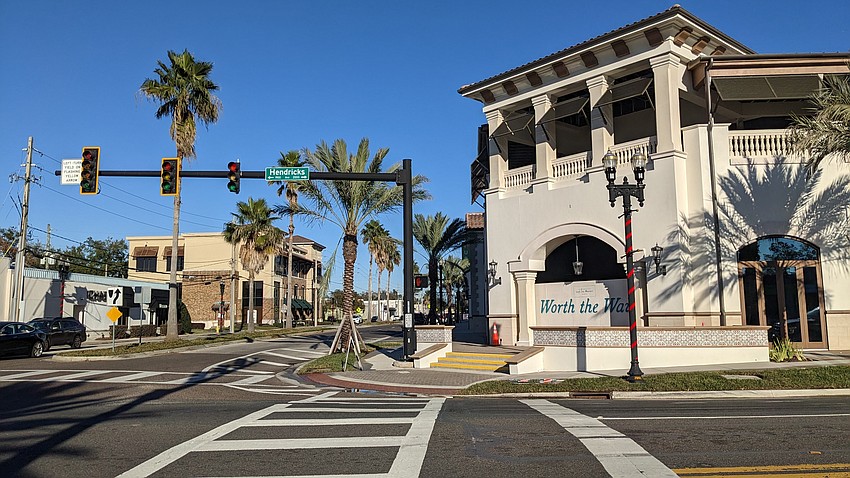 The remaining tenants comprise Orangetheory Fitness and Crumbl Cookies along with St. Johns Eye Associates, Anejo, Gemma and Foxtail Coffee.
Anejo Cocina Mexicana's website lists five locations, with three open in Northeast Florida and two in Daytona and Winter Park.
Anejo's menu includes tacos, burritos, chimichangas, enchiladas and fajitas as well as desserts such as churros, tres leches and fried ice cream. 
It has a full bar.
Noctee residents Jesus and Blanca Valencia own Anejo Cocina.
Publix and Publix Liquors opened Aug. 11 in East San Marco.
Eric Davidson, Regency Centers senior manager of communications, said in January the rest of the tenants likely will start opening within eight months, given the scale of build-outs.
He said the dates are up to the tenants' schedules, but that Regency Centers looks forward to seeing "the public walk through the doors."
Jacksonville-based Regency Centers ceremonially broke ground on the site Feb. 16, 2021.
Initial discussions surfaced in 2002 about a Publix and mixed-use development on the property.
In 2006, Regency Centers and The St. Joe Co. announced the project, including Publix and condominiums.
The project was delayed by several factors, including the recession and a residential development partner that pulled out of the deal in 2017.
 In 2018, Regency Centers Chairman and CEO Martin E. "Hap" Stein Jr. said the project would continue but with just the shopping center.
In October 2019, Regency Centers unveiled plans for East San Marco that included the area's first and, so far, only two-level Publix building.
The city issued the horizontal work permit in December 2020 for the 3.25-acre site and construction permits starting in February 2021.
The residential land was sold for town homes. Toll Brothers is developing those, called the Terraces at San Marco.
Stein was succeeded as CEO in 2020 by Regency Centers President Lisa Palmer.