BJ's Wholesale Club Inc. announced March 9 that the new membership warehouse clubs it will open this year, including in North Jacksonville, are expected to create about 150 jobs each and hiring is expected to start soon. 
For information, visit BJs.com/careers.
All five will include a BJ's gas station.
The city is reviewing a permit for T.D. Farrell Construction Inc. of Alpharetta, Georgia, to build a 104,148-square-foot BJ's Wholesale Club at 12884 City Center Blvd. in River City Marketplace at an estimated $8 million. 
The city issued a permit in October to demolish the former 14-screen Regal River City Marketplace, which was built in 2006 on 9 acres.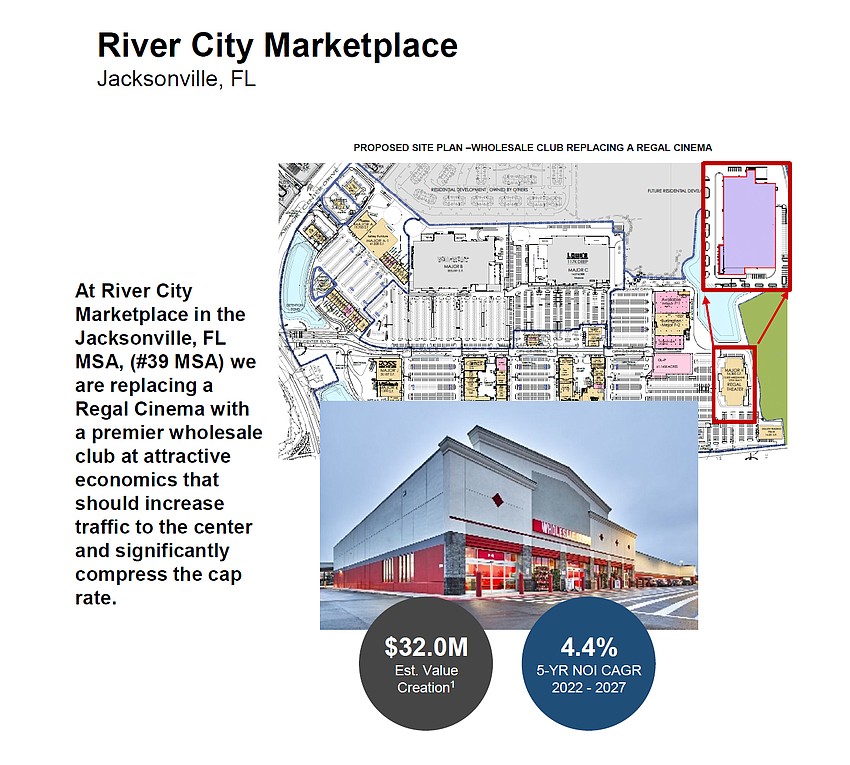 Property owner Ramco Jacksonville LLC filed civil engineering plans with the city July 27 to replace the Regal with the proposed wholesale club. Plans also show a fueling facility on the 10.66-acre site.
CASCO of St. Louis, Missouri, is the architect. Edwards Engineering is the consulting civil engineering firm. Codes-ABC Inc. is handling code compliance.
BJ's, based in Marlborough, Massachusetts, announced it also will open clubs in Alabama, Tennessee, New York and Ohio as part of its 2023 openings, after its recent openings in Davenport in Central Florida and in McDonough, Georgia, as well as its first club in Tennessee slated to open this summer in LaVergne. 
The openings increase its presence to 20 states
Since opening in New England in 1984, the company operates 237 clubs and 165 BJ's Gas locations in 18 states. 
BJ's operates three Northeast Florida stores, with one in Orange Park and two in Jacksonville at southeast Kernan and Atlantic boulevards and at northwest Philips Highway and Baymeadows Road. 
It also operates a regional distribution center in West Jacksonville.