Democrat Donna Deegan and Republican Daniel Davis will face off in a May runoff election in their bid to become Jacksonville's next mayor. 
The Donna Foundation nonprofit founder and former First Coast News anchor topped the field of seven candidates in the March 21 unitary election with 39.43% of the vote to 24.73% for Davis, president and CEO of JAX Chamber, according to unofficial results from the Duval County Supervisor of Elections Office as of 10:14 a.m. March 22.
Because no candidate gained 50% of the vote plus one, Deegan and Davis will mount a two-month campaign before the May 16 runoff to replace incumbent Republican Mayor Lenny Curry, who is term-limited.
Deegan spent 24 years as an anchor for First Coast News at WTLV/WJXX-TV and founded The Donna Foundation in 2003. The nonprofit offers financial assistance to breast cancer patient.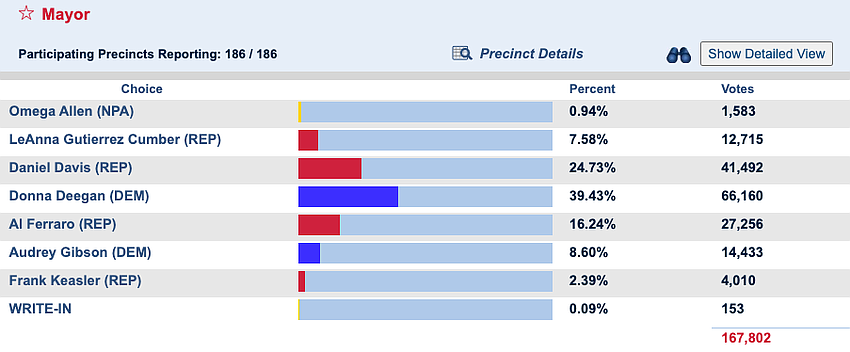 It hosts the annual The DONNA Marathon and The DONNA 5K fundraisers.
Davis is a former two-term City Council member and former Florida House representative. He was named JAX Chamber president and CEO in 2013. He also is past executive director of the Northeast Florida Builders Association.
Jacksonville city elections are nonpartisan.
The three other Republicans on the March 21 ballot had a combined 26.21% of the vote.
Term-limited District 2 Council member and small business owner Al Ferraro had the third-largest vote total with 16.24%. 
Outgoing District 5 Council member LeAnna Cumber received 7.58% while Republican Frank Keasler Jr. received 2.39%
Former Florida House member and Democrat Senate Minority Leader Audrey Gibson took 8.6%.
No-party affiliate candidate Omega Allen received 0.94%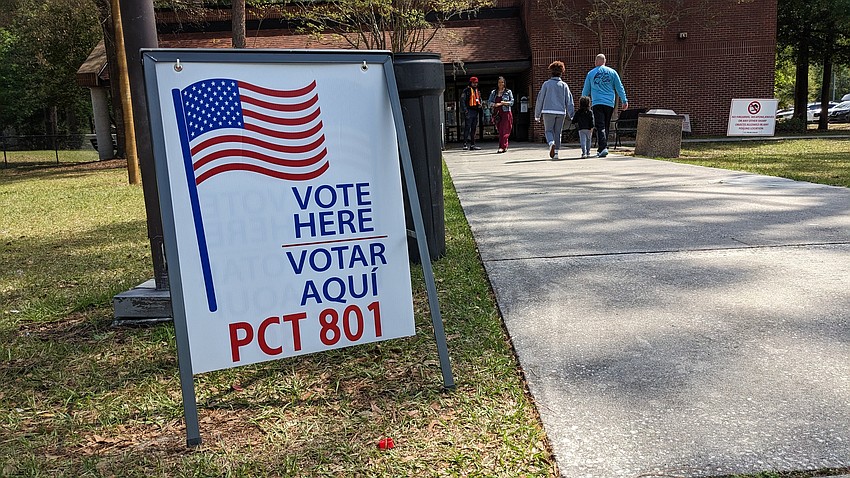 More races
Packed fields in several Council races and a three-way race for Duval County Property Appraiser left eight contests undecided that will join the mayoral runoff on the May 16 ballot.  
Gov. Ron DeSantis-endorsed former Florida House member Jason Fischer and two-term Democrat Council member and former news broadcaster Joyce Morgan will compete for the property appraiser seat.  
Morgan's 47.64% total was not enough to avoid  the runoff against Fischer, who received 30.65%.
Republican Danny Becton, a Council member representing District 11, took 21.7%.
Current Property Appraiser Jerry Holland is term-limited. 
Seven Council seats are up for grabs in May, including the countywide race between Democrat Charles Garrison and Republican Chris Miller for the vacant Group 5 At-Large seat.
Republicans flipped at least one Council seat with former First Coast News reporter Ken Amaro beating Democratic challenger Alton McGriff Jr. for District 1, comprised mostly the Arlington neighborhood. That seat was left vacant by Joyce Morgan, who was term-limited.
Election results as of 10:14 a.m. March 22 
 Property Appraiser:
• Danny Becton (R): 21.7%
• (Runoff) Jason Fischer (R): 30.65%
• (Runoff) Joyce Morgan (D): 47.64% 
City Council At-Large- Group 1
• (W) Terrance Freeman (incumbent) (R): 65.13% 
• Eric Parker (LPF): 34.87%
City Council At-Large - Group 2
• Joshua Hicks (D): 46.78%
• (W) Ron Salem (incumbent) (R): 53.22%
City Council At-Large - Group 5
• Reginald K. Blount (R): 13.16%
• (Runoff) Charles Garrison (D): 25.82% 
• Jack Meeks (NPA): 5.28%
• (Runoff) Chris Miller (R): 36.79% 
• Nahshon Nicks (D): 17.54%
• Jerry "Tub" Rorabaugh (LPF): 1.4%
City Council District 1: 
• (W) Ken Amaro (R): 66.36% 
• Alton McGriff Jr (D): 33.64% 
City Council District 2:
• (Runoff) Lindsey Brock (R): 32.77%
• Jennifer Casey (R): 24.74%
• (Runoff) Mike Gay (R): 42.49%
City Council District 3:
• Natalie Alden (R): 46.57%
• (W) Will Lahnen (R): 53.43% 
City Council District 5: 
• (W) Joe Carlucci (R): 63.72%
• Morgan Roberts (R): 36.28%
City Council District 6:
• (W) Michael T. Boylan (Incumbent) (R): 64.89%
• Tom Harris (R): 35.11% 
City Council District 7:
• (Runoff) Joseph Hogan (R): 31.51%
• Parrish King (NPA): 2.47%
• (Runoff) Jimmy Peluso (D): 34.73%
• John Phillips (D): 19.02%
• Kim Pryor (D): 12.27%
City Council District 8:
• Charles "Scooter" Barr (R): 27.30%
• (Runoff) Reggie Gaffney Jr. (incumbent) (D): 34.28%
• (Runoff) Tameka Gaines Holly (D): 31.98%
• Solomon Olopade (D): 5.32%
• Ronald Tracy Robison Jr. (LPF): 1.12%
City Council District 9:
• Shanna Carter (D): 10.57%
• (Runoff) Tyrona Clark-Murray (incumbent) (D): 14.74%
• Celestine Mills (D): 9.55%
• (Runoff) Mike Muldoon (R): 47.01%
• TaNita S. Noisette-Woods (D): 5.29%
• Kamren Stowers (D): 12.84%
City Council District 10:
• Vanessa Cullins Hopkins (D): 10.52% 
• Keshan Gainey Chambliss (D): 13.69% 
• Kim Stephens Perry (D): 10.39%: 
• (W) Ju'Coby Pittman (incumbent) D): 64.56%
• Write-in: 0.84% 
City Council District 11:
• (Runoff) Raul Arias (R): 34.96%
• Norman Brewer (R): 21.77%
• (Runoff) Ramon Day (D): 43.27%
City Council District 12:
• Johnny "JC" Causey (D): 10.99%
• Tammyette Thomas (D): 24.21%
• (W) Randy White (incumbent) (R): 64.80%
City Council District 13: 
• (W) Rory Diamond (incumbent) (R): 86.98%
• Write-in: 13.02%
City Council District 14:
• (Runoff) John Draper (R): 30.14%
• Alberta Hipps (R): 23.56%
• (Runoff) Rahman Johnson (D): 46.3%