March traditionally marks the start of the homebuying season that runs through summer and cools when school resumes.
Based on March numbers, prospective buyers will have more choices at prices slightly below the same month a year ago.
Sellers can expect their houses to sell a bit below their asking price.
The median price for a single-family home in March was $363,990, an increase of 0.7% from February and down 2.2% from a year ago, according to the March report by the Northeast Florida Association of Realtors.
The median price in March 2022 was $371,990.
NEFAR tracks home sales activity in Baker, Clay, Duval, Nassau, Putnam and St. Johns counties.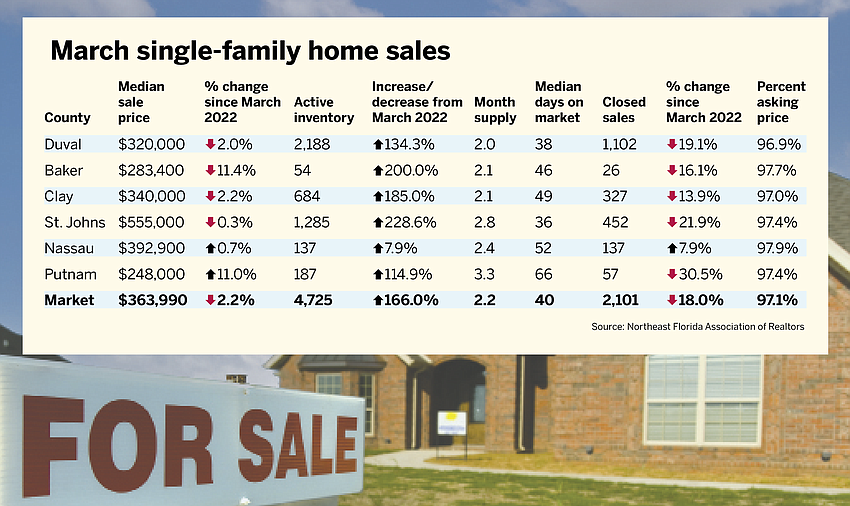 The median price means half sold for more and half for less.
In the past year, the median price peaked at $399,900 in July 2022, followed by steady price reductions over the next eight months.
Sellers received 97.1% of their asking price in March, compared with 100.6% in March 2022. 
The number of sales closing over the asking price was 12.8% in March compared with 43.1% in March 2022.
There were 2,205 pending sales in March compared with 2,290 in March 2022, a 3.7% drop.
There were 3,202 new listings in March,  a 22.4% increase from 2,617 in March 2022.
Inventory up
Active inventory increased compared with the same time period last year, as did the months of supply.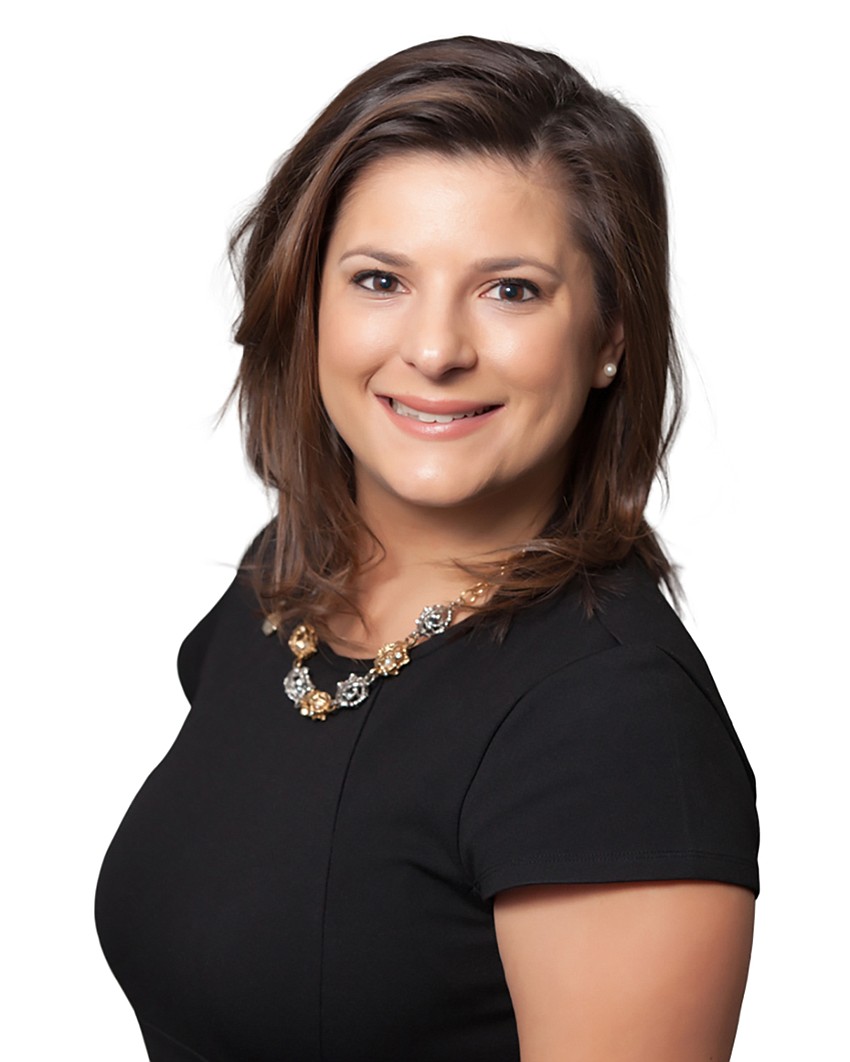 Active inventory in March was 4,725 compared with 1,776 units in March 2022, an increase of 166% and providing a 2.2-month supply of houses to sell. The supply was just over half a month in March 2022.
But supply still is below the industry goal of six months of inventory.
"Median sales price and price per square foot is up after dropping slightly in previous months. This is due to the overall lower months' supply of inventory," said President Diana Galavis in a news release.
The price per square foot reached $198 in March compared with $186 in March 2022. 
Over the last year, the price peaked at $208 per square foot in June 2022. 
Nevertheless, sellers are feeling confident about the market, Galavis said.
"Many buyers were quick to make an offer and secure the property shortly after its listing was introduced to the market," she said.
"Sellers appear to be unfazed by interest rate ups and downs. People are choosing to step into the real estate market in Northeast Florida."
Moving to Jacksonville
Buyers are accepting the compromises that higher interest rates bring to a monthly payment, said Ali Wolf, chief economist for Zonda, a data collection company specializing in the housing market and wider economy. 
During the beginning of the coronavirus pandemic, homebuyers "feared missing out" on low interest rates and the freedom that remote work allowed in relocating, Wolf said at a recent joint event of the Northeast Florida Builders Association and Urban Land Institute North Florida.
As interest and inflation grew simultaneously, however, buyers pulled back because of a "fear of buying on top" of the market and being stuck with high monthly payments on a less desirable house.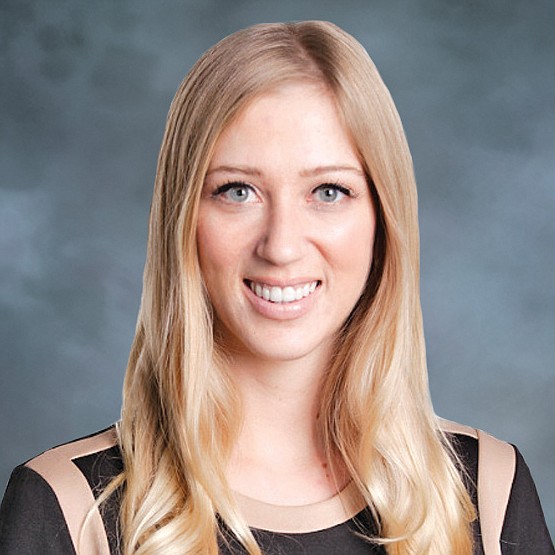 "We know the number one reason that renters are renting, from our research, is that consumers are waiting for prices to drop," Wolf said.
Price isn't deterring those from out-of-state from moving to Jacksonville, Wolf said.
She said U-Haul data, which tracks its moving vans, shows that Jacksonville rose from the fourth destination in the country in 2018-19 to No. 1 in 2021-22.
First-time buyers that faced higher prices than desired could buy older homes to remodel or settled for a smaller home with fewer amenities, she said.
New homes are 30% more expensive than existing homes, Wolf said. 
She has found that many first-time buyers are willing to invest in a house that needs work.
"We know from consumer research that 80% of consumers are willing to purchase a home that they have to put some money into but most commonly they will get a lower price," she said.
The average size home sold in Jacksonville is 2,400 square feet. The national average is 2,000 square feet. 
Interest rates
The consumer price index showed a 5% increase in inflation in March, sparking optimism that interest rates could fall slightly by the end of the year.
"Calmer inflation means lower mortgage rates, eventually," said National Association of Realtors Chief Economist Lawrence Yun in a statement. 
"The 5% consumer price inflation in March is a steady improvement from 9% last summer, 8% in autumn, 7% during Christmas, and 6% in the early months of this year. Mortgage rates slipping down to under 6% looks very likely towards the year's end," he said.