Community First Credit Union is preparing to build its first retail building that will have additional space that can accommodate tenants.
The Jacksonville-based credit union will anchor the building under development on 1.22 acres at 5617 Beach Blvd. in Boulevard Crossing at northwest Beach and University boulevards.
The city issued a permit May 4 for Jacksonville-based Auld & White Constructors LLC to build an 8,843-square-foot office building with another 1,720 square feet of exterior space at a job cost of $2 million.
Another permit allows Auld & White to build-out 2,660 square feet in the building for Community First along with drive-thru lanes at a cost of $650,900.
Community First said it is the first retail space that it owns and is developing that has additional spaces for lease.
It said the project is not far enough along to know whether it will have tenants.
Plans and a site brochure show up to four retail units, with the credit union in the first unit.
Available tenant spaces start at 1,750 square feet up to the entire remaining space at about 6,000 square feet.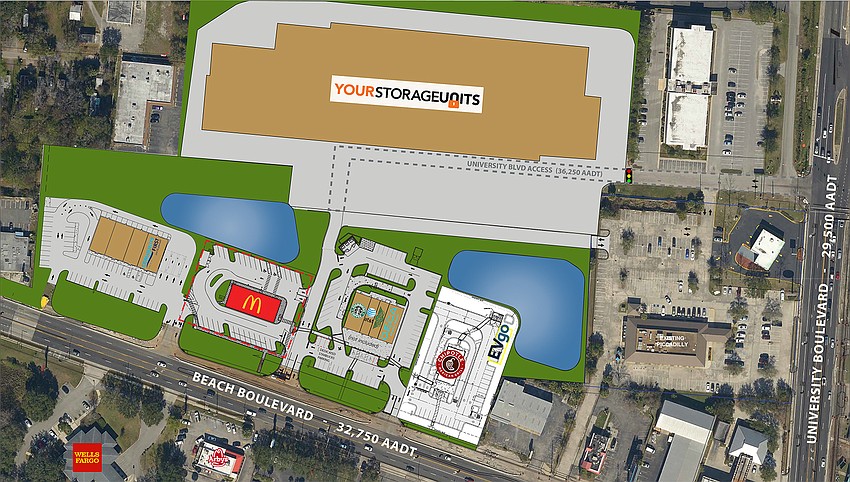 NAI Hallmark Partner Jonathan Heldenbrand is the leasing representative.
Community First Credit Union announced Dec. 29, 2021, it bought a 1.22-acre outparcel at Boulevard Crossing, the redevelopment project on the parking lot of the former Kmart at 5689 Beach Blvd.
Community First said it paid $1.1 million for the land. 
Community First said then it would build a 2,500-square-foot branch and drive-thru. 
The credit union said the site is between its Lakewood and Arlington branches, two of its highest volume locations.  
It is one of Community First's first new branches since it built a free-standing expansion Oakleaf location, which opened in 2018. 
Christian Harden, NAI Hallmark managing partner, represented Community First in the Boulevard Crossing land purchase.
"Boulevard Crossing is an excellent in-fill development and we're proud to bring the credit union's services to this area," said John Hirabayashi, Community First CEO and president.

The 8-acre Boulevard Crossing retail redevelopment is a partnership between Hallmark Partners and NAI Hallmark and includes the outparcel sites fronting the former Kmart building, which was redeveloped into a storage center.
Boulevard Crossing has been under redevelopment since 2019 and includes a free-standing Starbucks with a drive-thru and a prototype McDonald's with two drive-thru lanes.
McDonald's had been at the site, in another location, for more than 40 years. Starbucks moved from a smaller in-line location across the street. 
Boulevard Crossing is near Memorial Hospital and the Brooks Rehabilitation Center campus.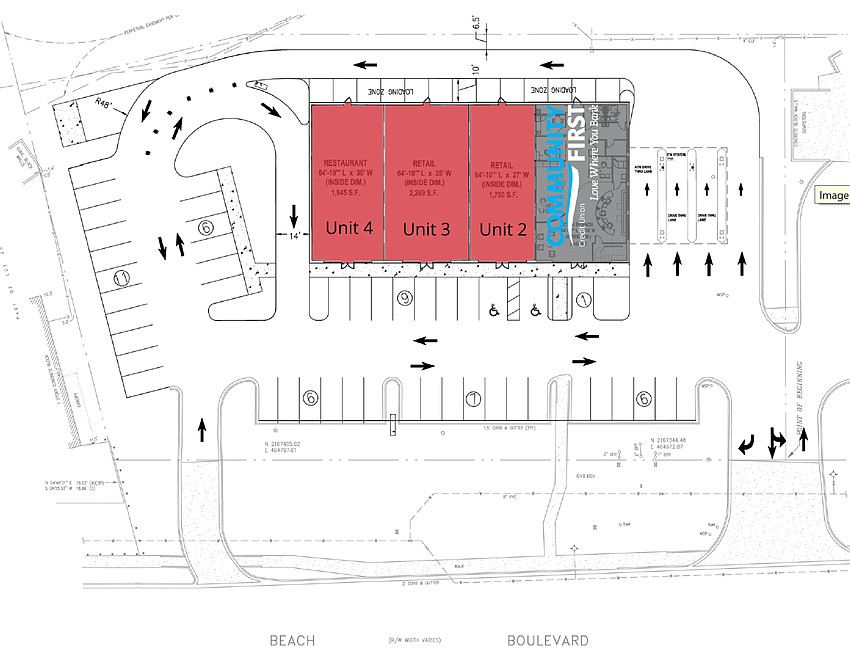 The Community First branch is part of the credit union's branch transformation project, which the release said is the credit union's comprehensive branch upgrade.
The project "seeks to improve member service by configuring the offices to create a more modern retail experience."
The new branch interiors feature upgrades including an open floor plan and advanced self-service technologies. 
Community First Credit Union of Florida is a state-chartered credit union based in Jacksonville and serves anyone who lives or works on the First Coast. It is a full-service financial institution offering banking, loans, mortgages and investments for consumers and businesses.
It has $2.7 billion in assets and serves 171,000 members.
Community First has 19 locations and nearly 400 employees. 
It announced April 25 it has purchased a St. Johns County site for its 22nd area branch.
Community First Credit Union of Florida paid $2.3 million on April 24 for a site at northwest Florida 16 and Pacetti Road in Murabella.