Most chief executive officers of public companies headquartered in the Jacksonville area had an increase in pay in 2022, in line with national trends.
But some of the biggest compensation packages were given to CEOs who left their jobs last year.
Five companies brought in new chief executives in 2022 and three of the departing CEOs ranked among the highest paid at the 20 publicly traded companies.
Anthony Jabbour, executive chairman of Black Knight Inc., received a total package of $50.2 million, which included a previously disclosed $40 million bonus payment related to Intercontinental Exchange Inc.'s agreement to buy the mortgage technology company.
ICE's agreement to buy Black Knight remains in limbo a year after it was first announced because the U.S. Federal Trade Commission opposes the merger, saying it will have anticompetitive effects on the mortgage technology market.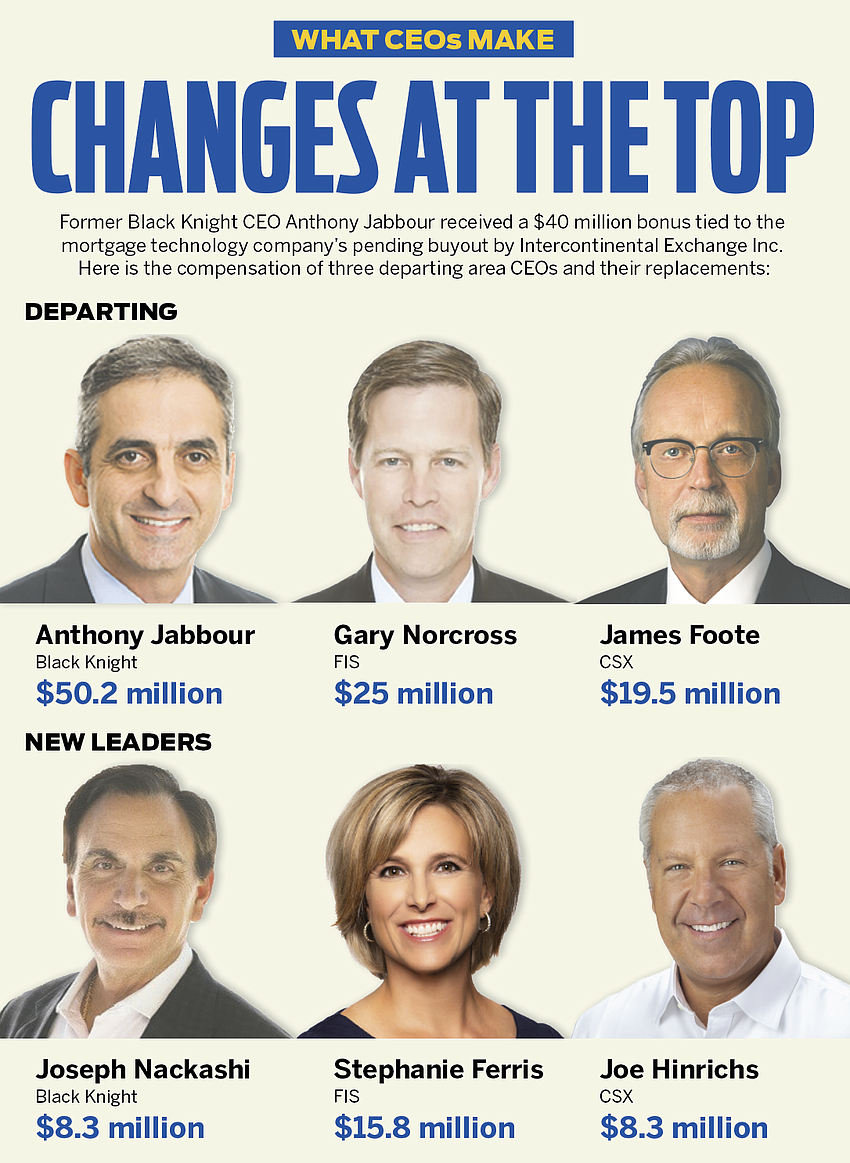 However, Black Knight said in a December Securities and Exchange Commission filing that it paid Jabbour the bonus before the end of 2022 for tax reasons.
That filing said Jabbour will have to pay back the after-tax proceeds of the bonus if the merger is terminated.
Jabbour was CEO of Black Knight but gave up that position in May 2022 and was succeeded by Joseph Nackashi.
Jabbour had been CEO of two Jacksonville-based companies and remains chief executive of Dun & Bradstreet Holdings Inc.
His compensation from Dun & Bradstreet alone, $29.2 million in 2022, would have ranked him among the highest-paid Jacksonville CEOs last year.
Gary Norcross, who left Fidelity National Information Services Inc. in December, had the second-highest package behind Jabbour at $45.3 million, which included stock awards valued at $30.6 million.
His successor as CEO, Stephanie Ferris, received a compensation package valued at $15.8 million. She served as president of FIS for most of 2022.
James Foote, who retired as CEO of CSX Corp. in September, was also one of the top-paid chief executives with a package valued at $19.5 million.
His successor, Joseph Hinrichs, received $8.3 million.
Only six of the CEOs had a drop in compensation, including three whose 2021 pay was boosted by stock awards after their companies went public: Warren Kanders of Cadre Holdings Inc., Patrick Zalupski of Dream Finders Homes Inc. and Peter Cannito of Redwire Corp.
A May 3 report by corporate leadership data company Equilar said median CEO pay rose 7.7% at the 100 largest U.S. companies that filed their annual proxy statements by March 31.
The median pay for the 100 CEOs was $22.3 million.
Equilar said the pay increases were led by a 19.7% increase in the value of stock awards and said most of those awards were granted early in 2022, before stock markets became volatile. 
To download a PDF of the CEO pay chart below, click here: