St. Johns County is reviewing an application for Bass Pro Shops Outdoor World on 18 acres on World Commerce Parkway at Interstate 95.
The application is for site work and construction of a 100,000-square-foot Bass Pro Shops with parking and a boat showroom in World Commerce Center.
The site is south of the Costco Wholesale lot. The address of the vacant commercial land is 655 World Commerce Parkway in St. Augustine.
The property owner is World Commerce Center LLP of Jacksonville.
Bass Pro Shops had been working toward a store in Durbin Park East. However, that deal ended, according to Frankie Gatlin IV, principal of Gatlin Development Co., a Durbin Park developer.
Bass Pro Shops had been shown as a 100,000-square-foot store facing Florida 9B that would anchor Durbin Park East, but those plans were in flux when the pandemic shutdown began in spring 2020.
Plans surfaced 11 years ago for Bass Pro Shops when the Springfield, Missouri-based retailer announced in 2012 it would open a Bass Pro Shops Outdoor World by mid-2014, but that was delayed.
Bass Pro Shops announced in December 2012 it would open a 104,000-square-foot Outdoor World store in St. Johns County.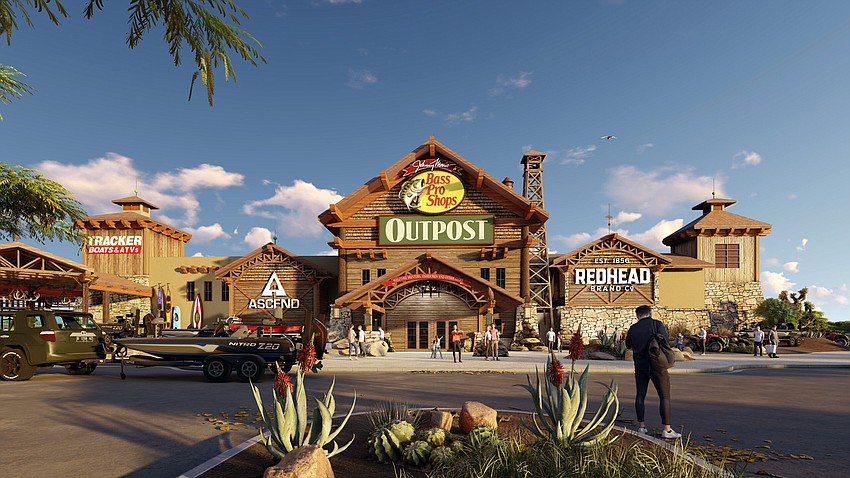 It said it would create 250 jobs and open along at the new Florida 9B and I-95 interchange in Northern St. Johns County.
Bass Pro Shops said the store would open in the second quarter of 2014 subject to completion of the new interchange and supporting road system.
Former St. Johns County Administrator Michael Wanchick said then that Bass Pro Shops also had considered a site at the World Commerce Center near World Golf Village.
Bass Pro Shops says it is a national retailer of outdoor gear and apparel, with 200 stores and Tracker Marine Centers across North America.
The company says it was founded in 1972 when angler Johnny Morris began selling tackle out of his father's liquor store in Springfield, Missouri.
It says it offers destination retail, outdoor equipment manufacturing, world-class resort destinations and more. 
In 2017 Bass Pro Shops acquired Cabela's. It also operates White River Marine Group, offering boat brands, and Big Cedar Lodge, America's Premier Wilderness Resort.