Bass Pro Shops announced May 19 it plans to open an Outdoor World retail store in St. Johns County in 2024.
The site is in St. Augustine on vacant land along World Commerce Parkway south of Buc-ee's and Costco Wholesale. It is west of Interstate 95 at the International Golf Parkway exit south of World Golf Village.
The company said it will be the 13th Bass Pro Shops in Florida and expects to employ more than 115 "outfitters" at the store.
"We love the great state of Florida and all of the world-class fishing, hunting and outdoor recreation opportunities it provides," Bass Pro Shops founder Johnny Morris said in a news release. 
"This new store will make it easier for people and families throughout the First Coast region to spend time together in the great outdoors."
Bass Pro Shops said it "has been searching for the perfect location to serve the greater Jacksonville market, and now with the astonishing growth to the south, into St. Johns County, this 100,000-square-foot location will be convenient and accessible for the entire region for years to come."
By comparison, the Costco north of the planned Outdoor World is 162,000 square feet.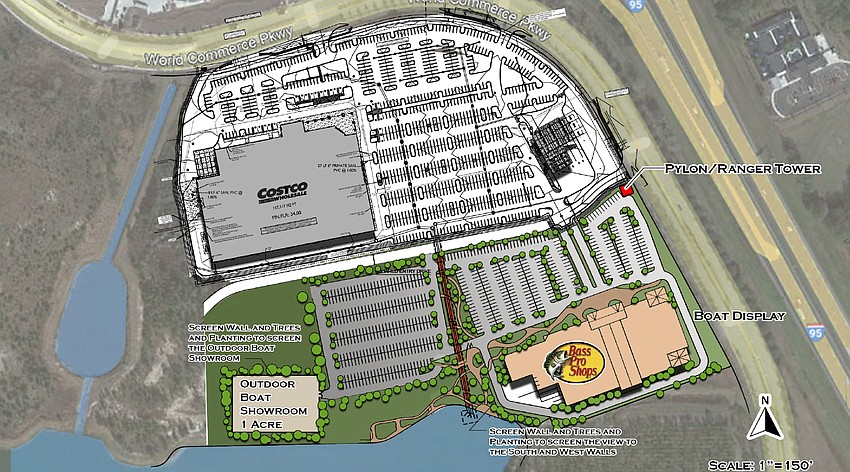 Bass Pro Shops sells fishing and outdoor gear for activities including hiking, backpacking, wildlife viewing, camping and more. The store will showcase boats, ATVs and side-by-side vehicles.
"We are planning to make World Commerce Center one of the most exciting destinations for retail in the region and Bass Pro Shops certainly helps lead that effort," said Duke Steinemann of Steinemann & Co., the developer of World Commerce Center.
The property owner is World Commerce Center LLP of Jacksonville.
Plans filed with St. Johns County show a boat display on the eastern side of the 18-acre site next to I-95 and an outdoor boat showroom on 1 acre on the western side.
The address is 655 World Commerce Parkway in St. Augustine.
Kinetic Design + Development of Springfield, Missouri, where Bass Pro Shops is based, is the representative.
Bass Pro Shops feature an aquarium and water features stocked with native fish species along with "thousands of local antiques and artifacts, hundreds of trophy fish and wildlife mounts, and murals depicting local scenes."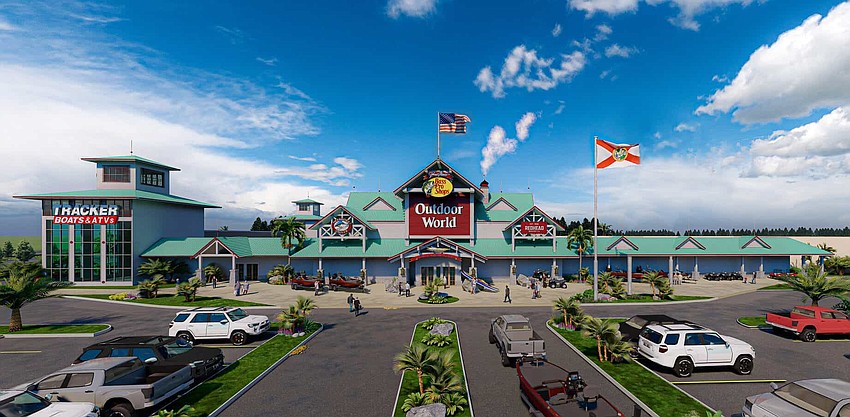 The locations offer dozens of events throughout the year including hands-on demonstrations and interactive activities.
The company says it was founded in 1972 when Morris began selling tackle out of his father's liquor store in Springfield, Missouri.
In 2017, Bass Pro Shops acquired Cabela's. It also operates White River Marine Group, offering boat brands, and Big Cedar Lodge, America's Premier Wilderness Resort.
The announcement comes after abandoned efforts to enter the Northeast Florida market.

Bass Pro Shops had been shown as a 100,000-square-foot store facing Florida 9B that would anchor Durbin Park East, but those plans were in flux when the pandemic shutdown began in spring 2020.
Plans surfaced 11 years ago for Bass Pro Shops when the Springfield, Missouri-based retailer announced in 2012 it would open a Bass Pro Shops Outdoor World by mid-2014, but that was delayed.
Bass Pro Shops announced in December 2012 it would open a 104,000-square-foot Outdoor World store in St. Johns County.
It said it would create 250 jobs and open along at the new Florida 9B and I-95 interchange in Northern St. Johns County.
Bass Pro Shops said then the store would open in the second quarter of 2014 subject to completion of the new interchange and supporting road system.
Former St. Johns County Administrator Michael Wanchick said then that Bass Pro Shops also had considered a site at the World Commerce Center near World Golf Village.
Karen Brune Mathis contributed to this report.