Developer Southern Ventures Corp. is moving ahead on construction plans for an Embassy Suites by Hilton hotel in Glen Kernan Park.
Civil engineering firm Prosser Inc. filed civil engineering plans with the city May 19 for the proposed seven-story hotel on almost 3.6 acres at northwest Butler and Hodges boulevards.
Plans indicate 186 rooms, although when announced in August, it was said to be 176 rooms and the developer's website says 174 rooms. That site, venture.realestate, says it will be completed in spring 2025.
The project includes a pool and other amenities.
Glen Kernan Park is a 50-acre mixed-use development at northwest Butler and Hodges boulevards near Mayo Clinic in Florida.
Southern Ventures Corp. President and CEO Lowell Larson announced Aug. 18 that the company closed on the land purchase and was awarded the franchise for the hotel chain.
Fort Walton Beach-based Southern Ventures, The Real Estate Company, is developing Glen Kernan Park with Jacksonville-based RISE - A Real Estate Company.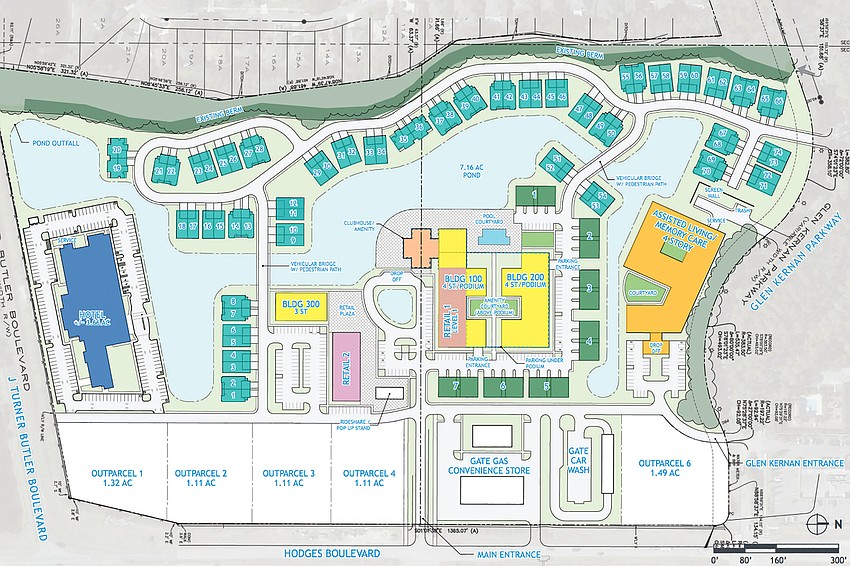 The hotel will be owned by Southern Ventures Corp. affiliate St. Johns Hotel LLLP, which bought the hotel site July 15 for $4.31 million from Hodges Properties I LLC. 
Hodges Properties I and RISE share an address in Valdosta, Georgia.
St. Johns Hotel LLLP took out a $2.5 million mortgage on the property with ServisFirst Bank.
The hotel will feature guest suites with living, bedroom and workspace areas.
"A two-story glass encased Atrium greets guests with a monumental staircase flanked with a water-wall on one side and the Grand Lobby Bar on the opposing side," the company said in the August news release.
The hotel will have more than 8,000 square feet of banquet room space, breakout rooms, a pre-function area and a boardroom.
Amenities include a fitness center, swimming pool, laundry and quick mart. A terrace will overlook a lake and features twin fire pits and lighted fountains.
Brickstones Kitchen & Bar will offer breakfast and dinner.
Southern Ventures said the hotel development team includes Base-4 Architects, Prosser and ACC Interior Design. 
The Embassy Suites will be managed by Myrtle Beach, South Carolina-based Strand Hospitality.
Founded in 1976, Southern Ventures says it develops hospitality projects across the Southeast. Projects include the Embassy Suites in Destin; the Hampton Inn & Suites in Navarre; the Fairfield Inn & Suites in Crestview; a Courtyard by Marriott in Pensacola West; a Fairfield by Marriott in Conway, South Carolina; and a SpringHill Suites by Marriott in West Melbourne.
The company also develops residential projects in Northwest Florida.
Glen Kernan Park also will feature housing development, all for 55+ residents. 
A Culver's restaurant and a Gate gas station and convenience store are under development there, the Daily Record reported in March.
Slim Chickens, an Arkansas-based wings and tenders chain, intends to open a 2,800-square-foot restaurant and drive-thru there, too. 
The hotel will be Jacksonville's second Embassy Suites by Hilton hotel.
Jacksonville's first Embassy Suites is in Baymeadows. That seven-story hotel was built in 1985 and a four-story addition was developed in 1998, property records show.