Regency Centers Corp. CEO Lisa Palmer is happy with the company's $1.4 billion agreement to acquire New York area shopping center operator Urstadt Biddle Properties Inc.
In a May 18 conference call after the Jacksonville-based shopping center developer announced the deal, Palmer said Regency may have gotten a bargain.
"We do believe both companies are trading at a significant discount to NAV (net asset value)," she said.
"We believe that this is a fair transaction. We paid market value."
Regency is buying the company with stock valued at $20.40 per Urstadt Biddle share at the time of the merger announcement, a 20% premium to Urstadt Biddle's trading price before the deal.
In a research note, Raymond James analyst RJ Milligan said consensus estimates put Urstadt Biddle's NAV at $27.25.
"We believe Urstadt Biddle would likely have had a tough time trading closer to NAV in the current environment given its higher leverage and low liquidity – so we believe it's an attractive outcome for both companies," he said.
Regency operates 404 properties across the country, mostly grocery-anchored shopping centers. Urstadt Biddle operates 77 properties in the New York metropolitan area, also with an emphasis on grocery-anchored centers.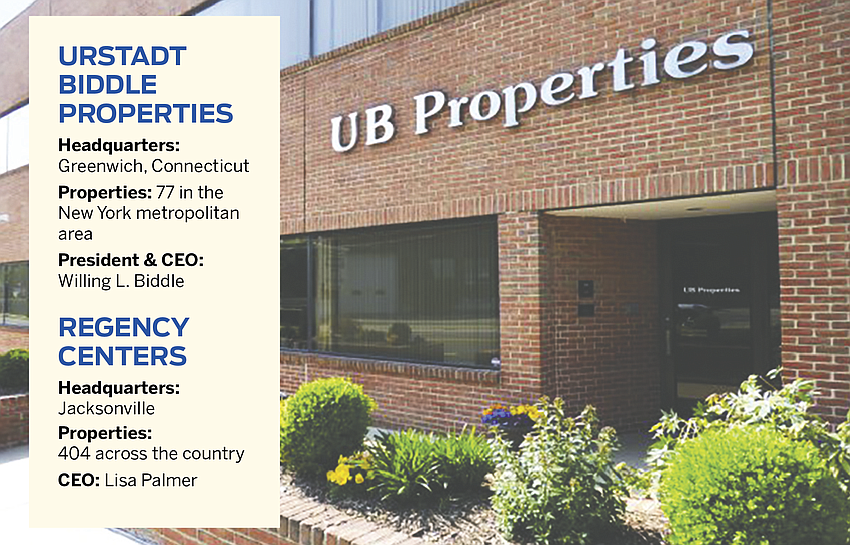 "Our take is that the single biggest driver of the acquisition is that Regency is acquiring what it sees as a complimentary & high-quality portfolio in strong markets where it already has a presence, and it is able to do so accretively," J.P. Morgan analyst Michael Mueller said in his research note.
Regency's portfolio of shopping centers has had a heavy concentration in Florida and California.
"It does reduce, on the margin, our concentration in California and concentration in Florida and increases in New York. So from that fact, it actually enhances the diversification across the U.S.," Palmer said.
Jefferies analyst Linda Tsai said in a note that when the deal is completed, California will remain Regency's biggest market with 24% of the portfolio but the Northeast, with 22%, will pass Florida's 19%.
"Regency's increased presence in the New York metro market makes the company a formidable competitor to sector peer Kimco Realty which has historically had the largest presence in the tri state market," Compass Point analyst Floris van Dijkum said in his note.
"On the call, management noted the transaction was less about an entrance or exit of specific markets but rather an opportunistic acquisition of a high-quality accretive portfolio of comparable assets," he said.
Duos Technologies expects big growth in second half
Duos Technologies Group Inc. reported increased first-quarter revenue but is expecting much higher revenue in the second half of the year.
The Jacksonville-based company's first-quarter revenue rose 84% to $2.64 million, as the company reported a net loss of $2.14 million, or 30 cents a share.
Duos provides technology that allows companies to monitor fast-moving vehicles, with a focus on the railroad industry.
Duos reiterated its projection of full-year revenue of $20 million to $21 million, which would be an increase of 33% to 40% over 2022.
In the company's May 15 conference call, Chief Financial Officer Andrew Murphy said while the overall guidance for the full year remains intact, the timing of contracts and revenue recognition make it difficult to predict quarter-by-quarter results.
"We anticipate we will see a slowdown in the second quarter due to delays by customers, before picking up again in the latter half of 2023," Murphy said, according to a transcript of the call posted by the company.
CEO Chuck Ferry said in the call that Duos' technology continues to receive more attention because of a national focus on railroad safety.
"We have also remained in active discussions with many congressional leaders, regulators, rail operators and other major stakeholders in providing support and technical information for the Rail Safety Act, which is continuing to make its way through Congress. Current versions of the bill include our technology as one of several types of wayside detection systems," Ferry said.
"While our operational roadmap is not reliant on this bill passing, we have seen increased levels of interest from a wide range of rail operators and railcar owners who are looking to accelerate their technology investments to improve safety standards," he said.
Ferry, who joined Duos in September 2020, said he is optimistic about the company's outlook.
"I think it's fair to say we're officially done turning the company around and are now, proactively, introducing technical advances, new subsystems and more AI and are ready to scale up quickly, if necessary, in response to the Railway Safety Act and the increased interest it has already created," he said.
ParkerVision reports rare profit
ParkerVision Inc. reported a rare first-quarter profit, as expected, after receiving $25 million in revenue from patent and license settlement agreements.
Jacksonville-based ParkerVision has no products on the market and is focused on a series of patent infringement lawsuits alleging several large telecommunications product manufacturers are illegally using its wireless technology.
ParkerVision hasn't officially named the company, which paid the $25 million, but it has said in Securities and Exchange Commission filings it resolved a lawsuit against Intel Corp. in February.
With the proceeds of the settlement, the company reported net income of $13.1 million, or 16 cents a share, in the first quarter.
"Our profitable financial results this quarter indicate the significant impact of receiving licensing compensation for the unauthorized use of our technologies by others," CEO Jeff Parker said in a May 15 news release.
"The patents that are the subject of our enforcement actions represent innovations that we have invested hundreds of millions of dollars in over the last fifteen years to develop and bring these technologies to market and which we believe have become a mainstay for infringing companies," he said.
GEE Group revenue, earnings down
GEE Group Inc. reported revenue for its second quarter ended March 31 fell 2% to $38.9 million and adjusted earnings fell to $849,000, or 1 cent a share, from $2.2 million, or 2 cents, the previous year.
The Jacksonville-based staffing company said revenue fell from fiscal 2022 because of better-than-expected direct hire placements and a more robust economy last year.
In a May 17 conference call, Chief Financial Officer Kim Thorpe said GEE Group is seeing positive signs for its business.
"Two recent indicators, the outstanding jobs report and, in contrast, recent significant lay-offs of IT professionals by larger employers, also are positive indicators for the remainder of fiscal 2023," Thorpe said, according to a transcript of the call posted by the company.
"Rising employment suggests increasing demand for our services, while recent IT corporate downsizing actions mean more IT candidates available to fill demand," he said.
LFTD sees loss on compensation charge
LFTD Partners Inc. reported a first-quarter loss due to a one-time noncash employee compensation charge.
The company reported a loss of 1 cent per share but excluding that expense, it would have reported net income of 9 cents a share, it said.
Revenue decreased 31% to $12.5 million in the quarter.
LFTD is headquartered in the Jacksonville home office of CEO Gerard Jacobs but its main business is Kenosha, Wisconsin-based Lifted Made, which manufactures and sells hemp-derived and psychoactive products.
In a May 15 conference call, Jacobs said LFTD is debt-free and would like to raise additional capital, but its low stock price is making that difficult.
LFTD's stock has fallen from a 52-week high of $7.80 in August 2022 to a range mainly between $2 and $3 for the last two months.
Jacobs said because of "profoundly negative investor sentiments for equity securities that is present in the cannabis industry in light of the mammoth losses that have been experienced by most of the publicly traded companies in the cannabis industry, we are not inclined to raise capital by selling equity."
Jacobs also said LFTD continues to seek possible acquisitions.
On April 28, the company acquired Oculus CRS, an Aztec, New Mexico-based supplier of hemp flower products.
LFTD paid $368,488 in cash to buy Oculus.
Safe & Green revenue falls
Safe & Green Holdings Corp. reported a first-quarter net loss of $3.2 million, or 22 cents a share, with revenue dropping 36% to $5.5 million.
The company, which converts cargo shipping containers into buildings, said May 11 the revenue drop resulted from a discontinuation of a need for COVID-19 testing facilities.
Safe & Green had a big increase in business during the coronavirus pandemic by constructing medical facilities that  were needed immediately.
Safe & Green moved its headquarters from Jacksonville to Miami in early 2023, after moving from Brooklyn, New York, to Jacksonville in January 2022.
The company is spinning off its real estate development subsidiary into a separate public company called Safe and Green Development Corp.
The spinoff should occur within 90 days, Safe & Green said in its first-quarter report.
Paysafe revenue up but earnings lower
Paysafe Ltd. reported first-quarter revenue rose 7%, adjusted for currency fluctuations, to $387.8 million.
However, the London-based payment processing, digital wallet and online cash solutions company said adjusted earnings fell by 8 cents a share to 54 cents.
Paysafe announced in November it would establish a North American headquarters in Jacksonville with 600 jobs.
However, the company has not discussed the move in its quarterly conference calls since then and has barely mentioned it in its financial reports.
The only mention, in its annual report, noted Paysafe entered into a 63-month lease in December with Dun & Bradstreet.
Dun & Bradstreet owns its headquarters, the Town Center Two building at 5335 Gate Parkway across Butler Boulevard from St. Johns Town Center.